This chicken pasta dish is the ultimate comfort food that is perfect for when you are looking for new chicken meals and craving some decadence too. With a garlic cream pasta sauce that is also cheesy, this pasta will have you feeling deliciously indulged! 
Garlic Cream Pasta: A Meal Ready in under 1 Hour! 
Not only does this recipe have simple ingredients, but it takes just under an hour to make. The steps are relatively straightforward and make this a feasible dish to throw together at the last minute for a weeknight supper when you are out of meal ideas. The main ingredients for this dish are chicken, tomatoes, baby spinach, milk, cream, cheese, some bacon bits, and of course, a pasta of your choice. Once the chicken has been cooked, the sauce can be made while the pasta is cooking. The chicken is then added to the sauce, and the pasta is added to the complete mixture, and you are done! Top with some more chicken strips and shredded parmesan cheese if you would like.  
Full of Rich and Creamy Flavor 
This pasta dish has a base of a creamy tomato sauce, that is made with tomatoes, full cream milk, cream, and cheese. These ingredients contribute to the richness and creaminess of the sauce. The sauce is spiced with paprika and Italian seasoning, and garlic is added for added pungent savoriness. Crispy bacon bits add to the crunchy texture of the pasta, and tender chicken bits are complemented by the silky and decadent sauce. Red peppers are also sliced and added to this pasta for some more crunch!
Enjoy this dish when you are craving a decadent meal, to spoil the family, or when you are just wanting to make a pasta dish that has some protein in it! It will be a sure treat for your tastebuds!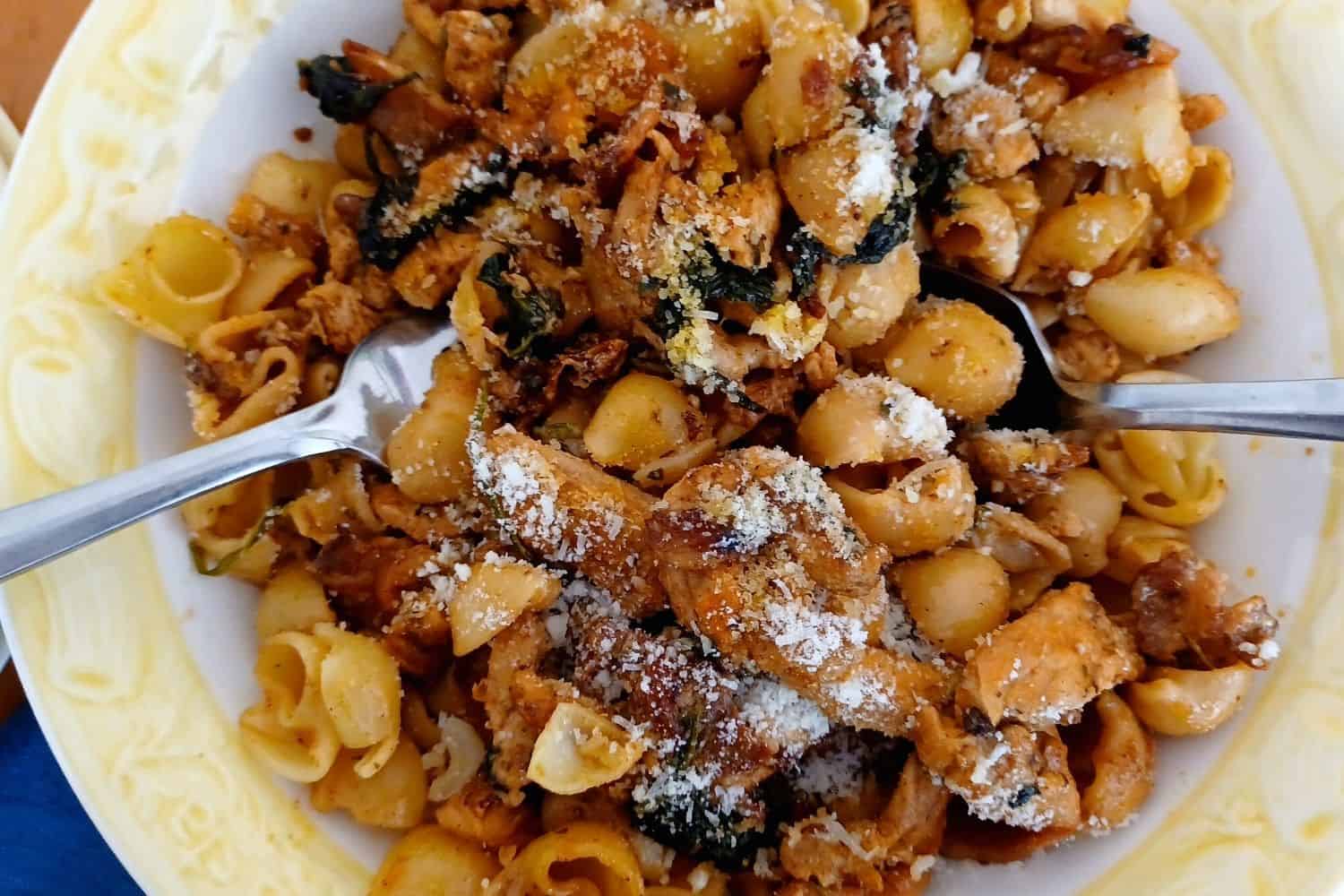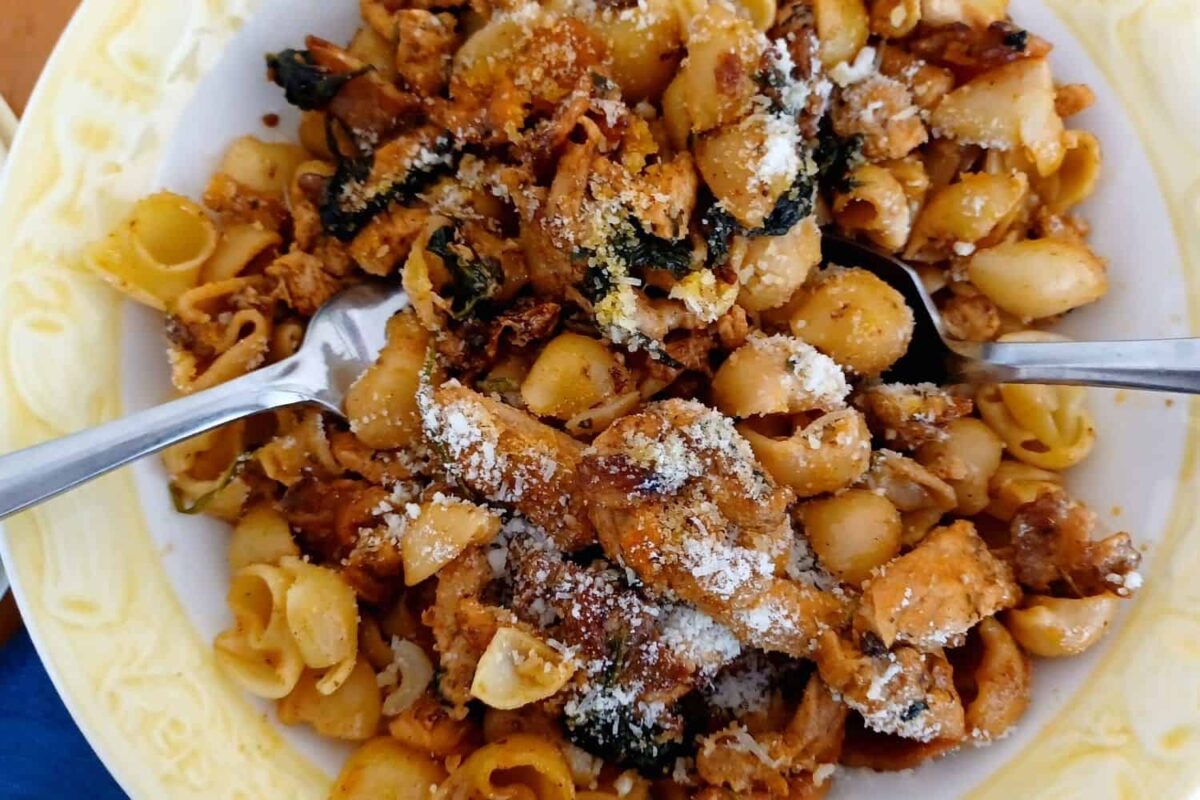 Ingredients
2

tbsp

olive oil

500

g

chicken

chicken breasts sliced thinly

1

tsp

paprika

1

tsp

Italian seasoning

5

tomatoes

medium, chopped in large cubes

1

cup

baby spinach

washed

5

cloves of

garlic

minced

½

red pepper

depicted and sliced

250

g

bacon strips

sliced and braised

300

g

full cream milk

300

g

cream

250

g

hard cheese

shredded

1

packet

pasta of your choice

250

g

Parmesan cheese

shredded for serving
Instructions
In a large skillet, on high heat, heat 2 tablespoons of olive oil until hot. Add chicken and cook on one side on high heat for 1 minute.

While it cooks, sprinkle the uncooked sides of the chicken with paprika and Italian seasoning. Flip the chicken over and cook on the other side for 1 minute on high heat.

Reduce heat to medium, flip chicken over again and cook, covered, for several minutes until no longer pink in the centre.

Remove chicken from the pan and keep chicken warm.

To the same pan (but without chicken), add chopped tomatoes, spinach, garlic, red pepper, ⅓ of the chicken and half the bacon (already cooked and drained). Mix everything.

Add milk and cream, when boiling, add shredded hard cheese, immediately re-duce to simmer and stir, while simmering, until the cheese melts and makes the sauce creamy, only about 1 minute (at most 2 minutes). Then, immediately remove from heat.

Season with more crushed red pepper and salt, if needed.

In the meantime bring a large pot of water to boil, add pasta and cook it according to instructions.

Drain the pasta, rinse with cold water and drain again.

Add pasta to the skillet with the sauce. Add the remaining half of the bacon.  Season with more salt if necessary. Slice the remaining ⅔ of chicken into thinner strips if needed.

Top the pasta with chicken strips and shredded Parmesan cheese.