The main keywords to focus on: BACON WRAPPED. What more convincing do you need to try this succulent recipe for bacon wrapped pork fillet?
Indulge in this simple and oh so tasty dish the next time you are in the mood for some meaty goodness. This recipe is fantastic if you do not have a lot of time, or if you are simply not in the mood to cook. With only 8 needed ingredients and almost no prep time required, you'll be enjoying this delectable and filling meal in less than an hour. Did we mention how impressive this dish is on presentation and it is less expensive than other proteins making it perfect for filling a table full of guests!
This recipe also adds a twist to a classic mashed potato side dish with a pop of strong English mustard coming through. The mustard compliments the garlic and pepper seasoned meat so well, and no need to worry about the pork becoming too dry – with the effective yet fast cooking it will remain juicy and moist! Besides, the bacon wrapping it will also serve as a great insulator to keep the goodness inside!
Chefs Tip for Bacon wrapped Pork Fillet…
Pre-heating the oven is essential as we do not want to be slow cooking the pork. As this dish only goes into the oven for 35 minutes it needs to be the correct temperature when going in!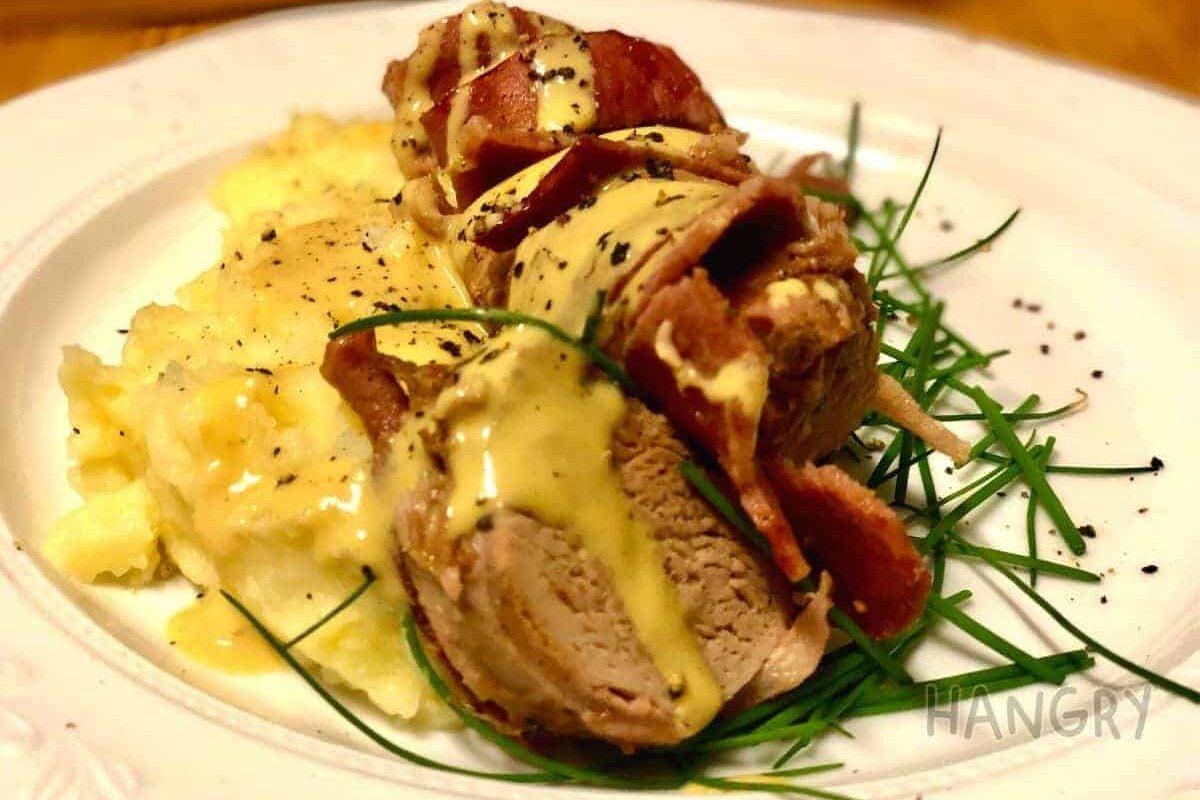 Ingredients
2

Pork Fillets

2

packs

Bacon

4

tbsp

Garlic

crushed

Salt and Pepper

to taste
FOR THE MUSTARD MASH
4

large potatoes

1

cup

milk

4

tbsp

whole grain mustard
Instructions
Preheat the oven to 180 degrees celsius

Rub the pork with garlic, salt and pepper

Wrap the bacon around the pork fillets and place into an oven dish

Place the dish into the oven and bake for 35 minutes
For the Mustard Mash
Boil a pot of water and place potatoes in the pot to cook until soft

Peel the potatoes and mash them in a bowl

Add the mustard and milk and mash until smooth and creamy