When you just came back from work, are super hungry and to top, up the cake, you do even have groceries at home to cook yourself a meal…. A pretty miserable situation right!
This is the time when you need easy to make a recipe that takes minimal time and also brings peace to your hungry taste buds…….Tad ha I present you the mac and cheese.
Mac and cheese are one of the easiest and simple recipes that satisfy your cravings as well as can be used as a meal for long days.
No-bake Macaroni and Cheese is the simplest form of mac cheese in which you don't need multiple utensils and one simple pot is all ever need.
This recipe is the real deal because it's an effortless put-together feed that contains everyone's favourite cheesy.
You can easily transform the dish using your style and taste, there are so many ways you can do that, for example using different Macaroni shapes, even better different colors; I recently saw macaroni in different amazing colors which I am really excited to use.
Other than the macaroni shape and colors, we can use different variants of cheese according to your taste, if you want thicker cheesy mac cheese then you should probably go for sharp cheddar because it's the best when it comes to coating the macaroni. there are so many cheesy types to choose from so you can always try new cheese and have a unique cheesy experience.
You can even add any leftover vegetable or meat if you like, it will only increase the nutrients of your meal and probably make it wealthier and healthier.
To sum up the dish qualities, I will only say that its creamy, fantastic and extremely satisfying mac and cheesy especially when you are using extra cheese.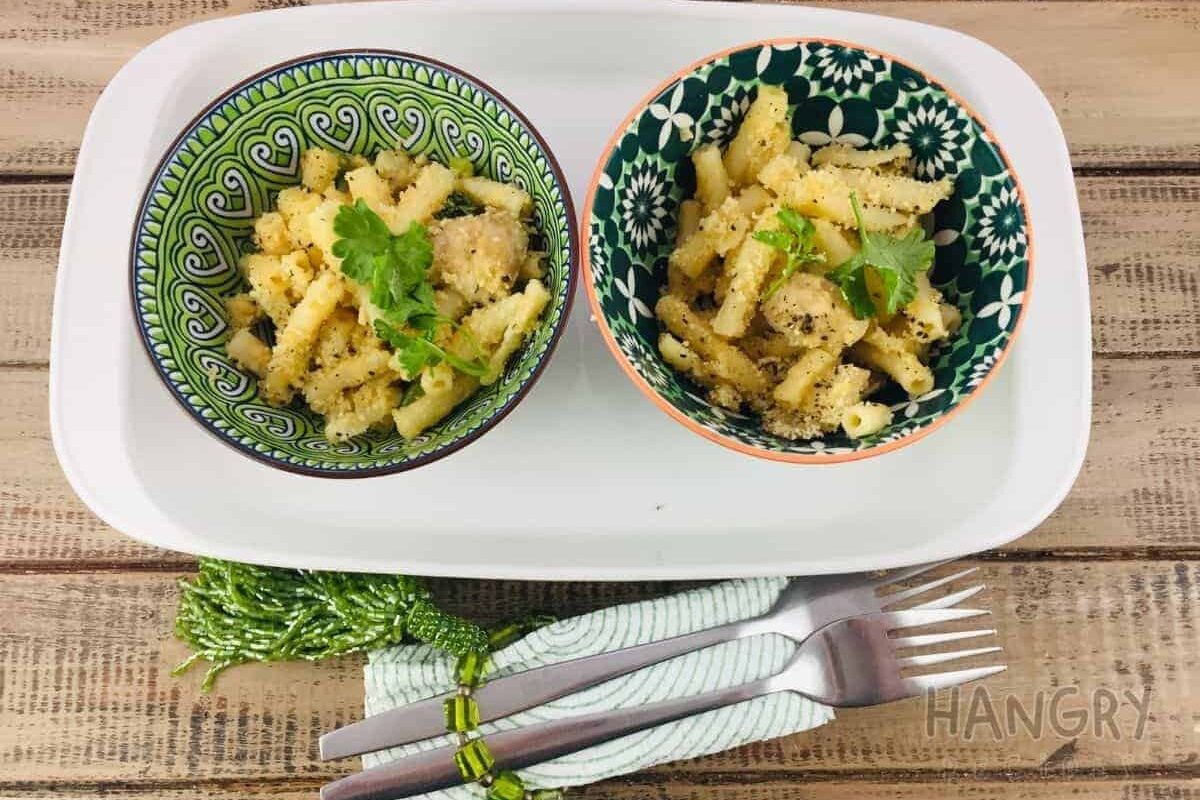 Ingredients
500

g

Macaroni pasta

(small pasta tubes)

30

g

butter

750

ml

milk

250

ml

cream

250

g

cheddar cheese

finely grated

3

tbsp

butter

to fry the mushrooms

250

g

mushrooms, sliced finely

(brown or white)

1

large

onion

ground to a paste

2

cloves

garlic

ground to a paste

50

g

parmesan cheese

finely grated

Salt and pepper

to taste

bunch

flatleaf parsley

washed and de-stemmed
Instructions
Bring a large cooking pot with enough salted water to a boil over high heat. Add the macaroni and cook according to the packet's instructions until almost al dente.  About a minute less. Drain in a colander.

Meanwhile, in a large saucepan over medium heat, melt the butter. Add the flour and whisk the mixture until golden brown, for about 3 to 4 minutes.

Gradually add cold milk while whisking, allowing the mixture to come to a boil. Then add the cream and cheddar cheese and stir to combine.

Add the cooked pasta to the sauce.  Season with salt and pepper to taste and let it cook for about 5 minutes more on extremely low heat.

Meanwhile, melt the butter in a frying pan over medium-high heat and fry the mushrooms until golden. Then add the onion and garlic paste and cook for another minute until golden and fragrant.

Fold the mushrooms into the pasta and sauce, add a handful of parsley.

Sprinkle with parmesan before serving.