Nachos are a great snacking option and they can also be prepared with meals. Some people prepare nachos for certain occasions like game days such as a Super Bowl snack. Would you like to present some crispy, delicious nachos? This could be for a traditional gathering or event or for your friends and family. Get ready to impress with this Meaty Nachos recipe!
This recipe takes approximately 1 hour to get ready so it can be a perfect choice for quick snack preparation! All the ingredients are easily available and budget-friendly as well.
A tip to save it for later!
This dish can also be stored for later usage – a good tip is to deconstruct the nachos and store them in an airtight container.
Consider using sturdy tortilla chips if you plan to use several creative topping ideas. Flavorful toppings alongside the meat you will be using (can be beef, chicken, or pork) include beans, cheese, onions, olives, avocados, or even some jalapeños.
You can add extra cheese or tomato paste to the meat according to your liking. Other variations can also make use of corn or garlic.
Serve these meaty nachos with sour cream, tomato salsa, or guacamole.
You can serve the toppings separately to allow different choices and combinations for your friends and family to try according to their preference.
Although fried nachos might not be the healthiest snacking option, these meaty nachos can be made healthier if you consider baking the nachos. Some of your personalized touches such as adding beans can also improve the health benefits of this dish, as beans are rich in protein and fiber. Add your favorite vegetables to further help add some healthy touches. Meat is also essential in a balanced diet and so can help provide important vitamins and minerals.
We hope you enjoy this healthy meaty nacho recipe!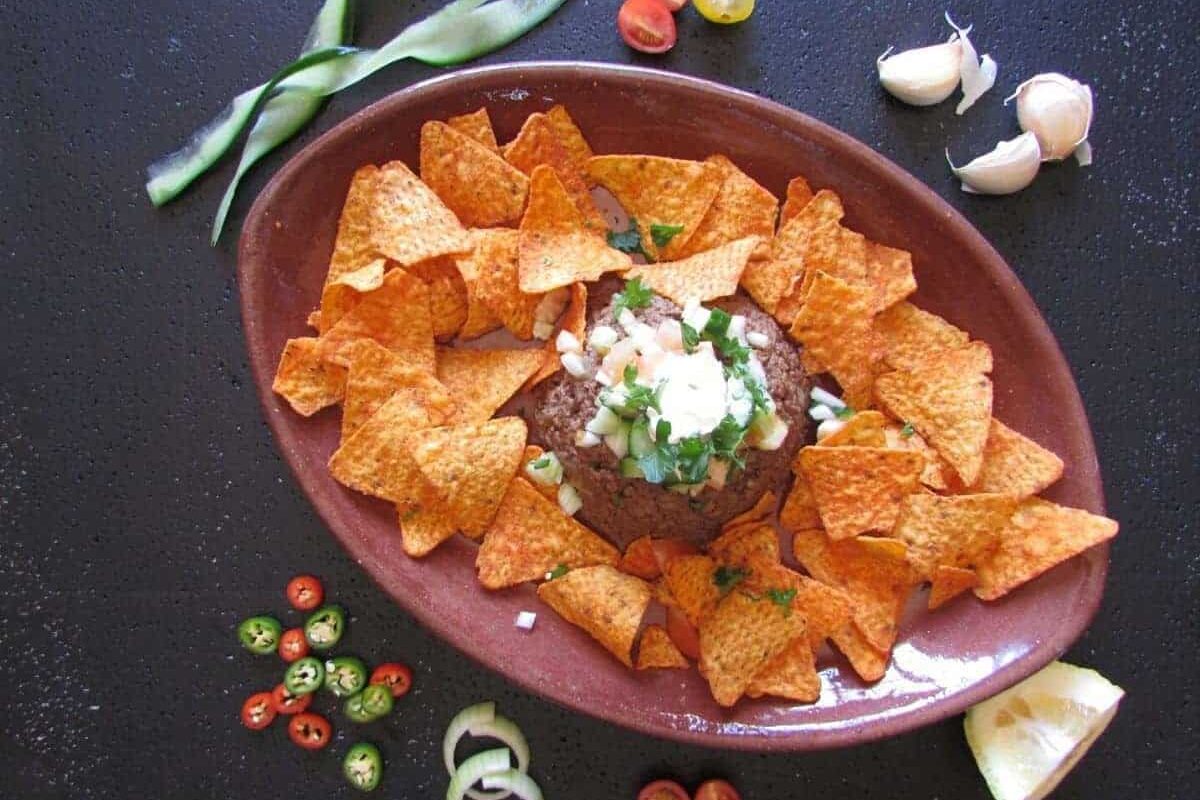 Ingredients
1

bag of

nachos or Doritos chips (any flavour)

15

ml

oil

500

grams

lean beef mince

1

onion

chopped

1

clove of

garlic

crushed

salt and pepper

BBQ spice

1/2

chopped fresh chilli

1

tbsp

Worcestershire sauce

1

tsp

tomato sauce

100

ml

water

1

tsp

beef stock powder
CONDIMENTS
chopped cucumber

chopped tomato

chopped onion

chopped chilli

sour cream

lemon slices

chopped fresh parsley

grated cheese (optional), melt under the grill if needed

chopped avocado
Instructions
In a saucepan, heat the oil

Add the onion, mince and garlic

Cook the mince until brown

Add the water, stock, Worcestershire sauce, tomato sauce and chilli

Simmer for 10 minutes on low heat, uncovered

Serve on the nachos with selection of condiments

Cheese can be sprinkled over the nachos and meat, place under the grill for 5 minutes if desired