A vegetarian and possibly vegan dish that offers a ton of flavor and loads of different options to enjoy, this Grilled Portabello Mushroom, Hasselback Potato, Pumpkin Fritters and Chakalaka dish is a nutritional yet tasty meal that bursts with flavor and texture. Lose the parmesan cheese topping on the potatoes for a completely vegan dish!
Loaded With Delicious Vegetables such as the famous Hasselback Potato! 
This dish is made up of mostly vegetables such as the portobello mushrooms, hasselback potatoes, and butternut in the pumpkin fritters. This contributes to a nutritional dish, but with no compromise on flavor. The portobello mushrooms are seasoned and marinated with olive oil and balsamic vinegar, and simply grilled in a pan until caramelized and rich. The hasselback potatoes are seasoned with salt, pepper, and rosemary, and are roasted in the oven until golden and crisp, and then sprinkled with parmesan cheese, which will melt and add a decadent richness to the potatoes. The pumpkin fritters are one of the most delicious parts about this dish, and are so simple to make. Butternut, flour, aquafaba (the liquid made from cooking chickpeas), and baking powder are combined to form a smooth batter and are fried in dollops in a pan. These are then dusted with cinnamon sugar, but feel free to add some golden syrup if you would like to add a touch more sweetness.
What is Chakalaka? 
The last part to this dish is chakalaka. This is traditionally a South African spicy tomato, onion, and bean relish that is eaten as a side dish with other foods- so it is the perfect complementary sauce for the other flavors in this dish! It is made from white onion, red and green peppers, carrots, plum tomatoes, chickpeas, and seasoned with rice vinegar, ginger, and ground cinnamon. It is sweetened with chutney and treacle sugar. You can add a bit more spiciness if you would like, by adding some paprika or chili. The sweetness of the chakalaka makes it a great pairing for the savory mushrooms and potatoes! This refreshing relish is also quite simple to make- just cook all of the ingredients in a pan until softened and thickened and you have got yourself chakalaka!
This dish offers loads of flavor on its own and does not need any other sides with it, but if you would like to add some freshness, you could serve it with a side salad of your choice.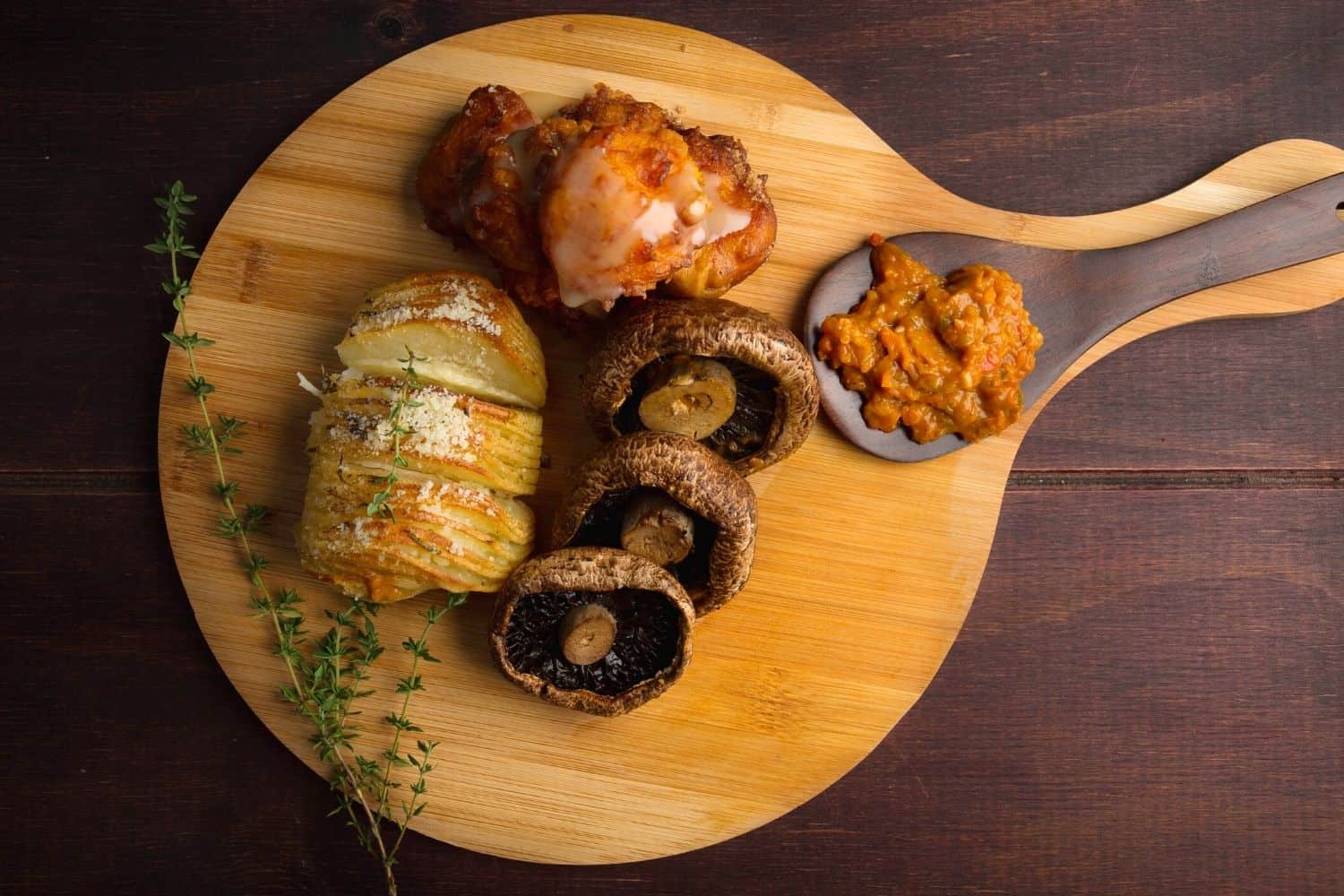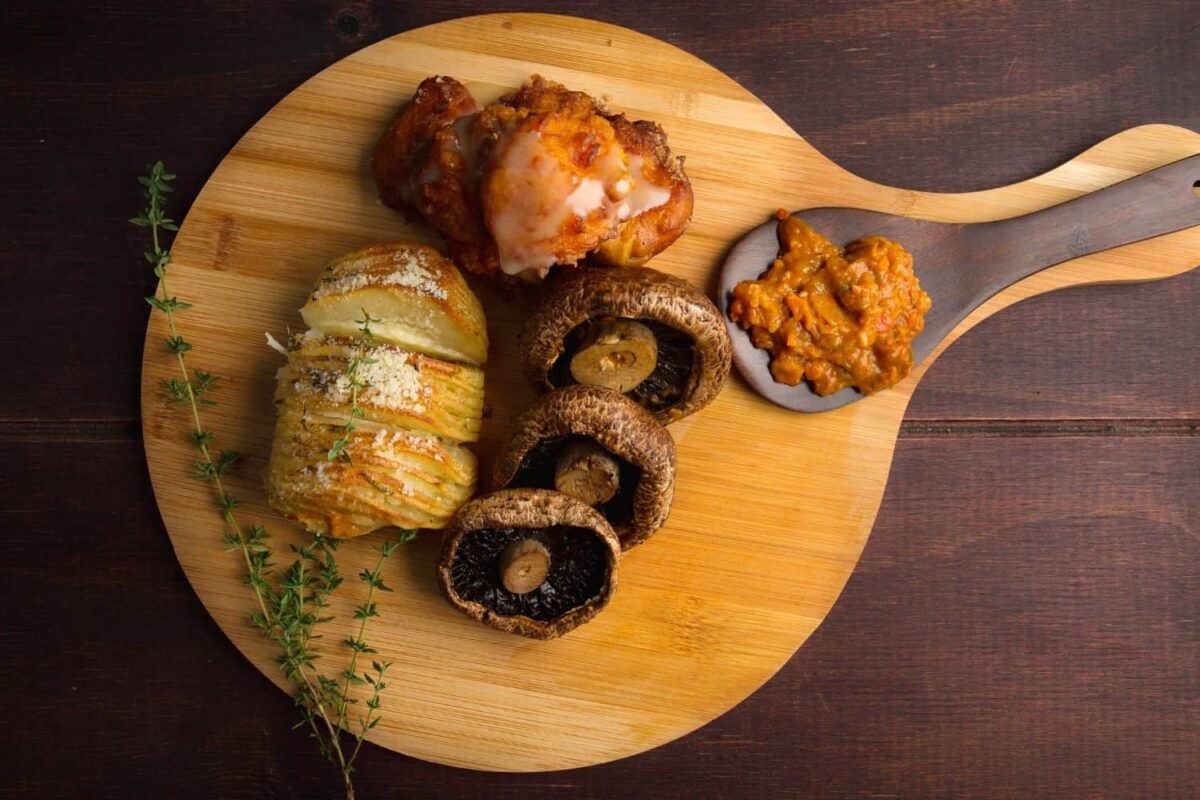 Ingredients
For the Grilled Mushroom
200

g

Portabello Mushroom

1

g

Tumeric

1

g

Fine Salt

15

ml

Olive Oil

10

ml

Vinegar
For the Hasselback Potato
250

g

Potato

1

g

Tumeric

1

g

Fine Salt

15

ml

Olive Oil

2

g

Rosemary

5

g

Parmesan Cheese
For the Pumpkin Fritters
150

g

Butternut

30

g

Cake Flour

45

ml

Aquafaba

1

g

Baking powder

2

g

Tin Butter Bean

0.125

g

Whole Coriander
For the Chakalaka
5

g

White Onion

Chopped

5

g

Red Pepper

Diced

5

g

Green Pepper

Diced

15

g

Carrot

Grated

10

g

Plum Tomato

Chopped

100

g

Tin Chickpea

10

ml

Chutney

2

ml

Rice Vinegar

1

g

Ginger

1

g

Ground Cinnamon

2

g

Treacle Sugar
Instructions
For the Mushroom
Season mushroom, marinate in olive oil & balsamic.

Sear in a hot pan & cook until caramelised.
For the Hasselback Potato
Place potatoes on baking tray, brush with half of the oil, sprinkle with salt, pepper & rosemary.

Roast at 210'C for 30 minutes.

Remove from the oven & brush with the remaining oil & sprinkle with cheese. Bake until cooked.
For the Pumpkin Fritters
Combine butternut, flour, aquafaba & baking powder into a smooth batter.

Deep fry dollops of batter in hot oil.

Dust with cinnamon sugar.
For the Chakalaka
Fry all the vegetables in olive oil until it starts to soften.

Add spices & cook until fragrant.

Add tomato paste, chutney & baked beans. Continue cooking for a few minutes.