This easy and versatile Chicken Stir Fry with Crunchy Veg Egg Noodles is a simple and relatively healthy dinner than can be prepared in just an hour. This stir fry is also a great way to use up any leftover chicken that is not going to be eaten, and avoid any wastage.
What Are Egg Noodles?
Egg noodles are similar to noodles that are made with flour and water, but they also consist of egg. Egg noodles boast a bouncy and chewy texture that is unlike any other noodle. The fat from the egg also creates a richer flavor and silkier texture. The protein in the noodles (that comes from the eggs) makes them more sturdy and resilient in dishes like soups and stir fry's where they are tossed. Egg noodles are therefore the perfect choice for this dish!
Veggies Galore in this Chicken Stir Fry!
This recipe uses tons of vegetables such as onion, green and red pepper, red and white cabbage, and carrots. However, you can really add whatever veggies you would like- we would suggest the addition of mushrooms and celery. These vegetables contribute to the stir fry being of high nutritional value, as they consist of many important vitamins and minerals.
The stir fry sauce is made from soya sauce, oyster sauce, and mirin, and seasoned with garlic, coriander, and ginger. However, if you would like your stir fry to be a bit spicier, add some chili or paprika into the mix. You can also add any other spices that you would like to personalize the dish a bit more.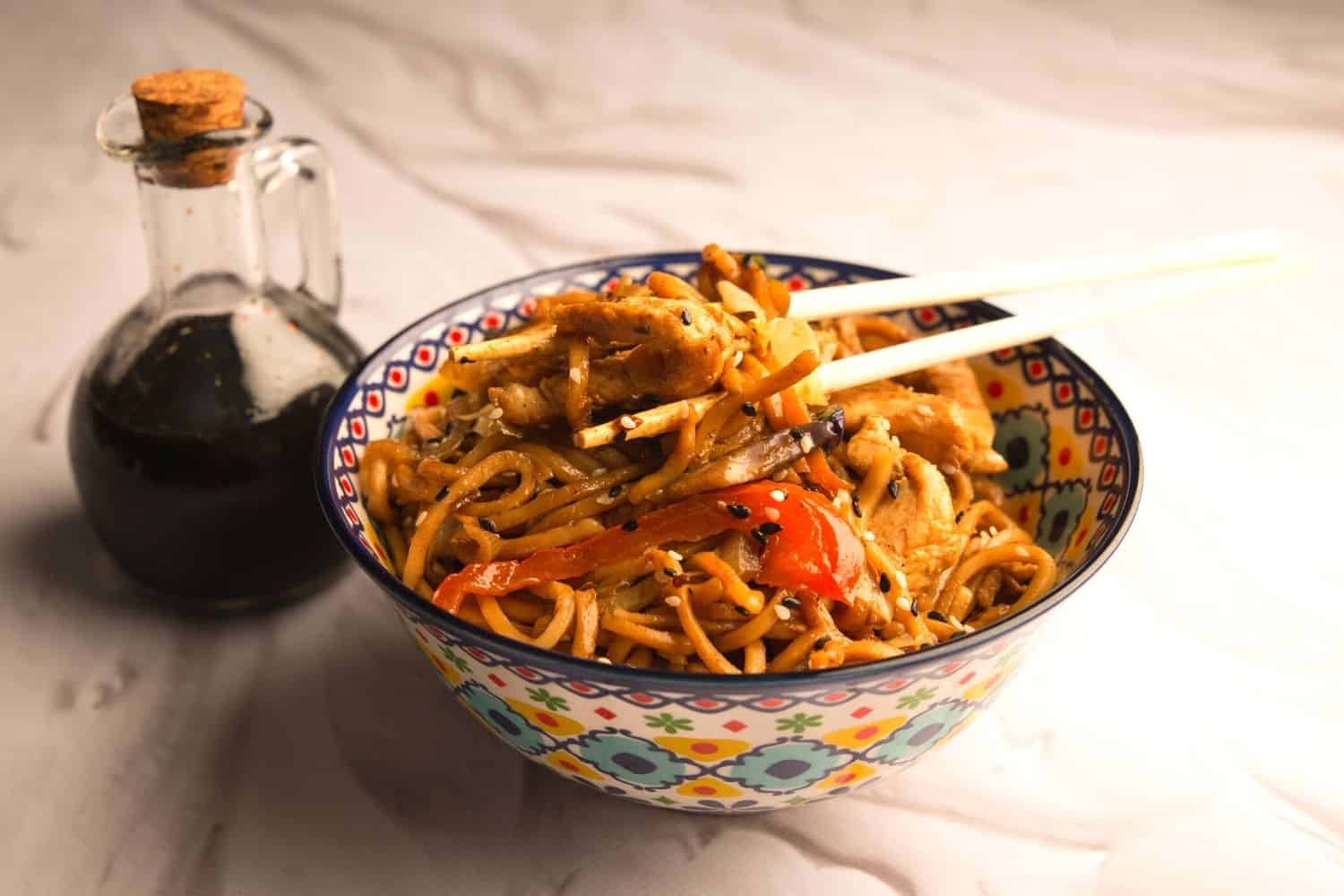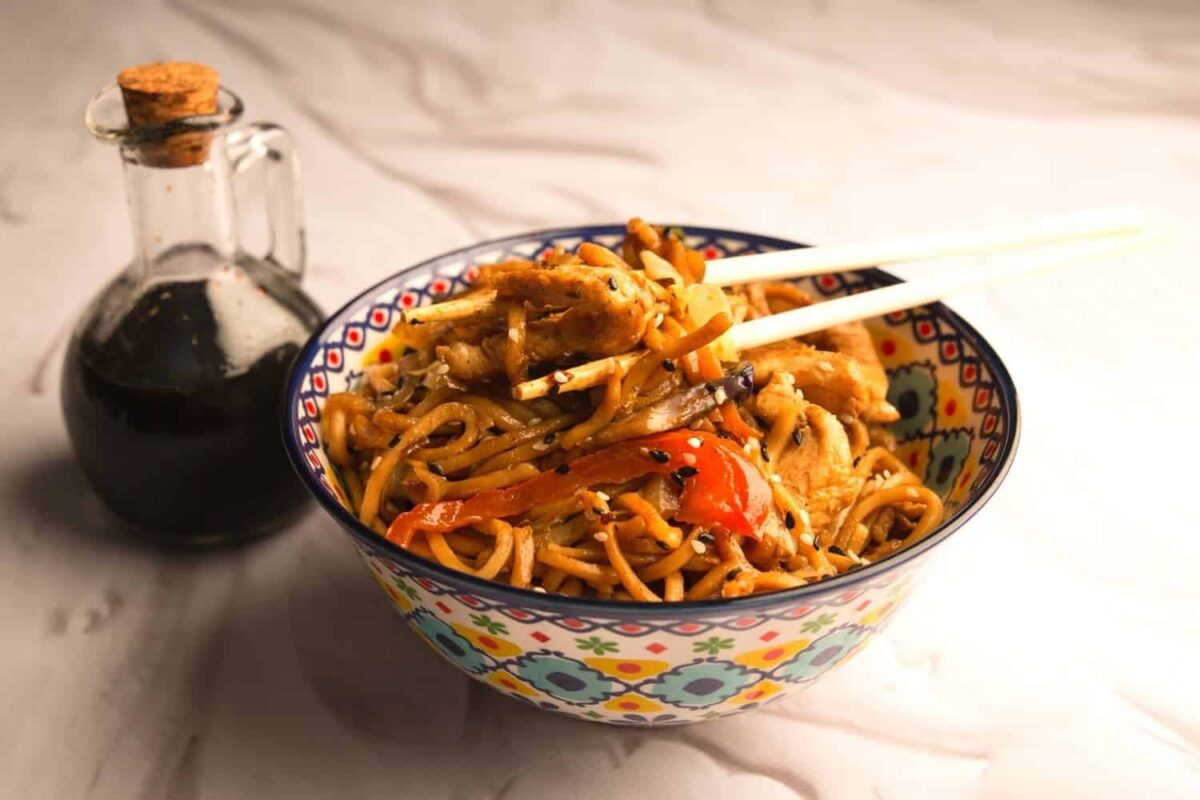 Ingredients
For the Sauce
30

ml

Soya Sauce

5

ml

Oyster Sauce

10

ml

Mirin

5

g

Coriander

Finely chopped

5

g

Garlic

Chopped

4

g

Ginger

Chopped
For the Crunchy Veg
20

g

White Onion

Sliced

40

g

Red Cabbage

Shredded

40

g

White Cabbage

Shredded

40

g

Carrot

Julienne

40

g

Red Pepper

Julienne

40

g

Green Pepper

Julienne
For the Chicken
1

g

Tumeric

1

g

Fine Salt

150

g

Chicken Breast

Strips
Remaining ingredients
5

g

Bay Leaf

80

g

Egg Noodles

Cooked al dente

15

ml

Olive Oil
Instructions
For the Sauce
Fry coriander, ginger & garlic in olive oil over low heat for 3 minutes.

Add remaining sauce ingredients, bring to a boil & cook for 5 minutes
For the Crunchy Veg
Heat oil in a large frying pan. Fry all veg until cooked, with a crunch.
For the Chicken
Heat oil in a large frying pan. Brown chicken strips & season with salt & pepper.
To Finish
Heat oil in a wok/large frying pan.

Add meat & fry for 1 minute.

Add egg noodles & crunchy veg to the meat. Continue cooking for a few minutes.

Pour in sauce & continue cooking for 2 minutes while stirring to combine.