This Petit Beef Pot Pie with Mashed Potato is the perfect comfort food for when you are craving some meaty indulgence! It takes just under an hour to cook, and is suitable as an on-the-go snack, a main meal with sides, or a mini appetizer at a dinner party with friends.
What is a Petit Pot Pie? 
A petit pot pie is a type of meat pastry, or simply put, a meat pie, that consists of a type of meat and some vegetables, encased in flaky and buttery pastry. The petit means that these pot pies are mini size– this makes them perfect as appetizers, or served as a main meal with some mashed potatoes, beans, and salad.  
This pot pie consists of a beef and veggie mixture, consisting of beef goulash, white onion, carrot, garlic, olive oil, turmeric, and brown sugar. The meat and veg mixture is made by frying the beef in a pot until browned. The beef is set aside and the onions, carrots, and garlic are fried in the pot and cooked until caramelized. Flour is then used to thicken the mixture, and the meat is placed back in the pot, along with the beer and beef stock. This mixture is left to simmer for 2 hours in order to create a thicker sauce for the pie filling. For the pie itself, a buttery puff pastry is used, and egg is reserved to brush over it and create a glaze. Once assembled, the pies themselves only take 20 minutes to bake in the oven.  
A Balanced Meal 
This dish does not only consist of the petit pot pies, but it also features mashed potato and green beans which are friend in a pan. This dish contributes to a healthy mix of protein from the meat, carbohydrates from the pastry and the mashed potato, and vegetables from the green beans. If you are looking to keep the meal as healthy as possible, use less butter in the mashed potatoes, or just enjoy the dish in moderation.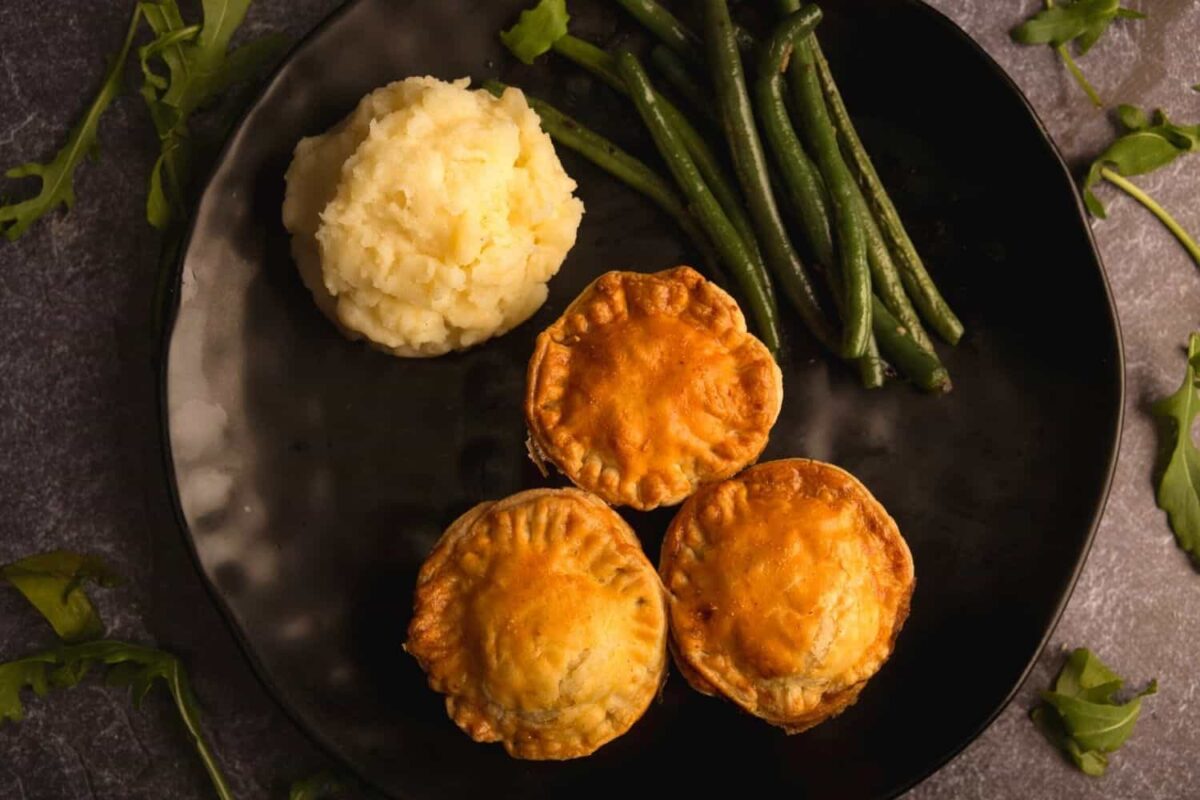 Ingredients
For the Filling
80

g

Beef Goulash

30

g

White Onion

Finely chopped

25

g

Carrot

Cubed

5

g

Garlic

Chopped

7.5

ml

Olive Oil

5

g

Cake Flour

0.25

g

Brown Sugar

0.25

g

Tumeric
For the Pot Pies
35

g

Puff Pastry

0.125

each

Egg
For the Mashed Potato
85

g

Potato

Peeled and cubed

2

g

Butter

5

ml

Milk

0.25

g

Tumeric

0.25

g

Fine Salt
Instructions
For the Filling
Heat oil in a large pot. Brown beef on all sides. Remove & set aside.

Fry onions, carrots & garlic in the same pot. (add more oil if needed) Cook until golden & caramelized.

Sprinkle flour, salt & pepper into the pot & cook, while scraping the bottom for 1 minute.

Return meat & juices to the pan, add beer & beef stock. Bring to a boil.

Reduce heat & simmer for approx 2 hours until tender & sauce has thickened.
For the Pies
Spoon the beef mixture into serving dishes.

Top with pastry lid, press down firmly on the sides to seal. Cut a small cross in the middle of the lid.

Brush with beaten egg & bake @ 200'C for 20 minutes until golden.
For the Green Beans
Heat oil in a frying pan.
For the Mashed Potato
Place mashed potato in a pot over medium heat. Stir to evaporate any excess water.

Add butter & milk, stir through until creamy.

Season with salt & pepper.