Calling all potato lovers! This Creamy Potato and Burnt Leek Soup is a rich and thick potato soup featuring cooked and charred leeks, and will hit the spot every time! Served with the cheesiest buns with bacon bits, this meal is a little bit of everything- everything that you will absolutely love! 
Simple Ingredients, and the Simplest Steps 
For such a rich and luscious soup, the indulgence really is not that hard to achieve, and uses simple ingredients you might already find in your kitchen! The soup base is made from potato and vegetable stock, and is flavored with leeks that are cooked in butter, as well as garlic, salt and pepper, and optionally coconut cream or milk that will in turn thicken it and add a unique nutty flavor. Once the leeks have cooked, and the garlic and potatoes have been added, add your vegetable stock and water, and bring it to a boil, then reduce the heat and let it simmer for 30 minutes. Once your potatoes are tender, blend the mixture using a stick blender until smooth, and return the mixture to the heat for 5 minutes. Garnish and serve immediately. It really is that simple! 
A Comforting Soup for Those Cold Winter Days 
This soup really is a Winter warmer- it is indulgent and comforting, and would work perfectly as a pick-me-up for when you are feeling under the weather, or just need some delectable comfort food. This soup is also served with homemade cheesy bread rolls with bacon bits, which are baked until crispy and golden, and are perfect for dipping into the warm soup! The grated cheese on the bread will melt and leave you with even more richness than you expected.
This burnt leek soup truly is a bowl of delight, and will be the perfect meal option for when you are looking for a simple yet rich and succulent dish to enjoy whenever you please!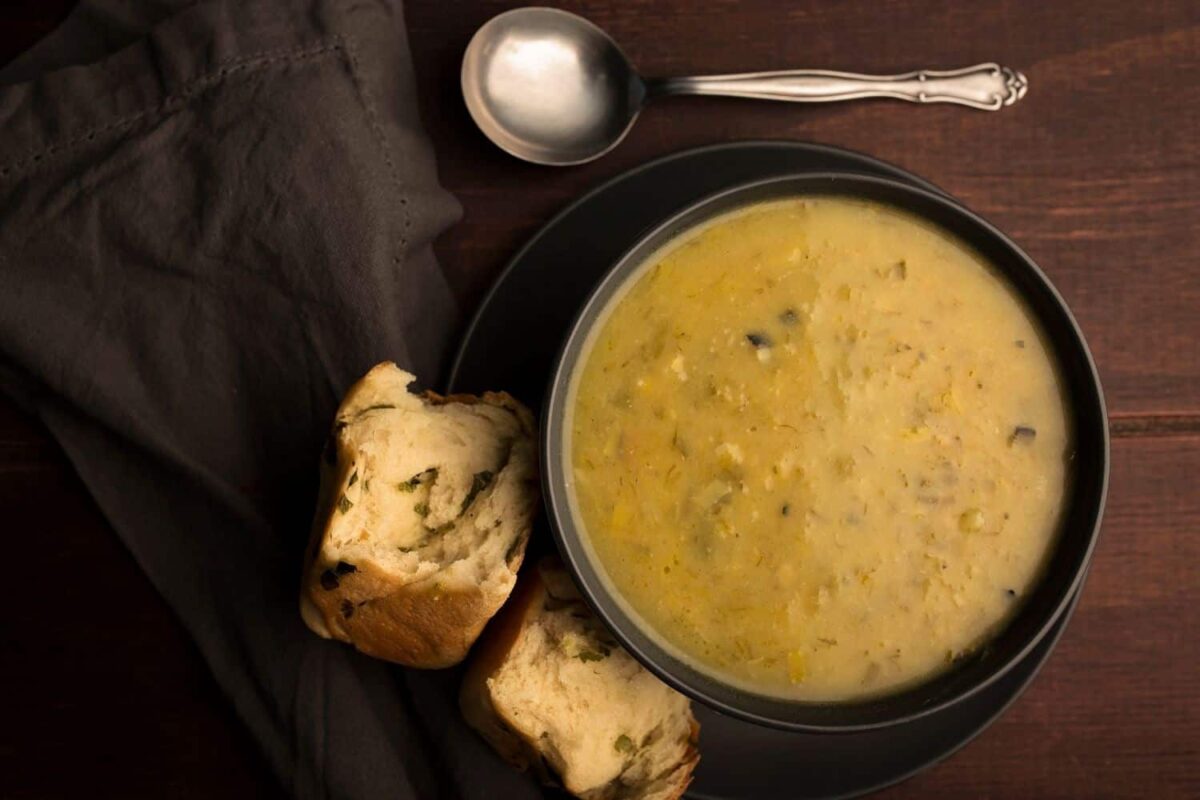 Ingredients
For the Soup
10

ml

Olive Oil

80

g

Leek

Sliced

4

g

Garlic

Chopped

160

g

Potato

Cubed

0.5

g

Vegetable Stock

250

ml

Water

For the stock

100

ml

Water

1

g

Fine Salt

1

g

Fine Pepper

60

ml

Coconut Milk

60

ml

Coconut Cream
For the Buns
80

g

Bread Dough

20

g

Cheddar Cheese

Grated

20

g

Bacon Bits

Cooked until Crispy

5

ml

Olive Oil
Instructions
For the Soup
Melt butter in a large pot over medium heat. Add leek & cook for 10 minutes.

Add garlic & potato. Cook, stirring occasionally, for 5 minutes.

Add stock & water. Season with salt & pepper. Cover & bring to a boil.

Reduce heat to low, simmer for 30 minutes until the potato is tender.

Use a stick blender & blend until smooth. Return to the heat & simmer, covered, for 5 minutes.

Garnish with fresh cream & chopped chives.
For the Buns
Roll dough into rectangle, about 2 cm thick. Brush with olive oil, top with cheese & bacon.

Roll into a "swiss roll" & divide into portions.

Bake in sprayed mini loaf tins.