Considered the king of lamb cuts, lamb shanks are a rich and flavourful meal worthy of restaurant fine dining, yet so simple to make.
In order to obtain the fall-off-the bone tender meat, slow cooking is absolutely necessary, as lamb shanks are naturally a tough cut of meat that need time in order to soften and become succulent and tender. The lamb shanks need to sit in the slow cooker for just over an hour in order to achieve tenderness, but you need not worry, it is very difficult to overcook them! The most that will happen is that they become extremely tender and even more succulent and juicy!
Before placing the lamb shanks into the slow cooker, it is important to brown them in some olive oil once they have marinated for 1 hour. This is an important step that should not be skipped, as it ensures that the flavours are locked in. If you do happen to take the lamb out of the slow cooker too soon and it is not yet fork tender, just add a bit of water and continue cooking. The marrow from the bone of the lamb shank will merge into the juices and add some more rich and juicy flavours.
When pairing a red wine with the lamb, we suggest you go for a full-bodied red, such as a merlot or a cabernet sauvignon. Expensive wine is not needed, as after hours of cooking, the natural flavours of the red wine will come out and compliment the lamb shanks, expensive or inexpensive. There is also no need to worry about your lamb taking on the pungent flavour of alcohol, as about 99 percent of the alcohol in the wine evaporates, leaving you with only its natural and unique flavour.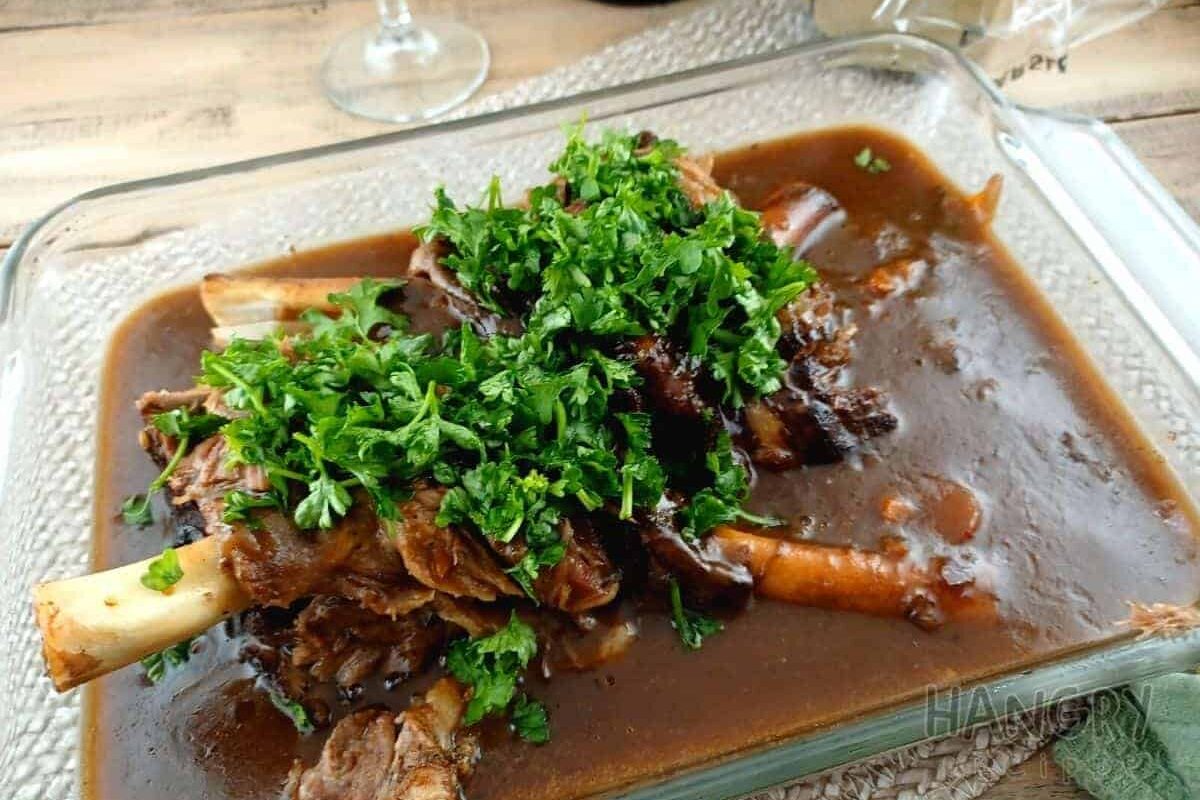 Ingredients
1

kg

Lamb shanks

Olive oil

for frying

2

Carrots

peeled and sliced

1

Onion

peeled and thickly sliced

2

Bay leaves

500

ml

Red wine

500

ml

Chicken stock

Parsley or mint

about a hand full
Marinade:
2

Green chilies

deseeded and sliced, to taste

2

Red chilies

deseeded and sliced, to taste

2

tsp

Smoked Paprika

2

tsp

Dried Oregano

1

tsp

Cumin seeds

1

stick

Cinnamon

snapped in half

3

cloves

Garlic

peeled, roughly chopped, and crushed

Olive oil

Sea salt and freshly ground black pepper
Instructions
Mix the chilies (use only one of each if you don't like hot dishes), smoked paprika, oregano, cumin seeds, cinnamon sticks, garlic, 1 tablespoon of olive oil, season, and combine the mixture. Rub the mixture into the lamb so that it is well flavored. Marinate for at least 1 hour or more.

Place the pressure cooker on high heat, add olive oil,  brown the lamb on all sides.  Set aside.

Add the leftover marinade, onions, carrot, and bay leaves, deglaze the pan, scraping up die bits from the bottom. Add the red wine and stock, bring it to boil, transfer back the lamb shanks to the pressure cooker.

Place the lid on the pressure cooker and let it cook at high pressure for 1 hour 15 minutes.

When meat is ready and really almost falling off the bone, remove it from the pressure cooker and let it rest. 

Strain the juices from the pressure cooker, pressing the veggies through the strainer, return the sauce to the pot, bring it back to boil, and add 3 tablespoons cornflour mixed with a little water to thicken the sauce. 

Place the meat on a serving plate, serve with polenta or mashed potatoes and the lovely thickened sauce,*Garnish with torn mint leaves or parsley