A classic dessert with a tasty twist, these Caramel Lamingtons are the most delectable squares of cake and coconut goodness. What is even better is that they require minimal ingredients to make! For an authentic cake, make the sponge yourself, or make it easier and use a box mix- the real star of the show is the chocolate butter syrup that coats the sponge as well as the coconut!
What Are Lamingtons? 
Lamingtons are desserts originally from Australia. They are squares of butter or sponge cake that are coated in a layer of a chocolate syrup sauce and rolled in desiccated coconut. The syrup seeps into the outer part of the sponge cake, giving it a moist texture, with a slight crunch from the coconut. These little squares make truly unique desserts that you will absolutely love if you are a fan of all things cake, chocolate, and coconut!
A Delectable Dessert in Just 30 Minutes 
This dessert is a classic for sure, and is loved by so many. These lamingtons also only take just 30 minutes to make! While the time does not include the baking of the actual sponge cake, you can do this ahead of time and use a box mix to save yourself some time and effort. The ingredients for these Lamingtons are also simple- you will need sponge cake, caramel, coconut, as well as sugar, boiling water, cacao, butter, salt, and vanilla essence to make the syrup that coats the sponge cake. That will be absolutely all you need! Once your syrup is made, you need only spread the caramel on the sponge cake halves and stick them together, soak the outside of the sponge in the syrup, and cover in the coconut. 
These caramel lamingtons are the perfect desserts for functions as they can be cut into bite size squares, and can therefore feed many. They are extremely satisfying when you are craving some moist sponge cake! Try them and experience the joy of these unique lamingtons for yourself!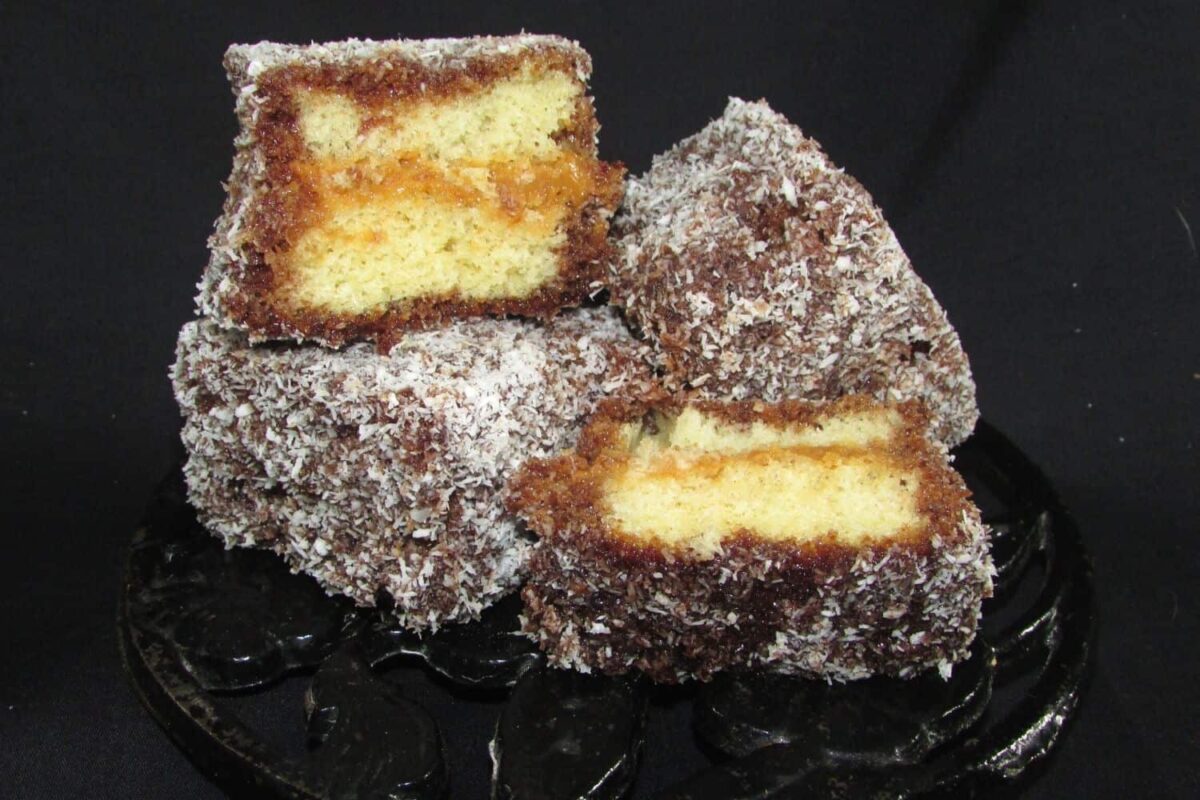 Ingredients
1

cubed

vanilla sponge cake (16 pieces)

150

ml

caramel

180

ml

boiling water

350

ml

sugar

salt

30

ml

cacao

10

ml

butter

½

tsp

vanilla essence

200

g

coconut to roll the cakes in 
Instructions
In a sauce pan, bring the water, sugar,salt, cacao, butter and vanilla essence to a boil. Remove from heat.

In a shallow dish, pour a third of the sauce in the dish.

In second dish, have your coconut ready.

Slice each cake in half, spread a generous amount of caramel and stick together the 2 halves.

Roll each  cake in the sauce, covering each side.

Place the cake in the middle of your coconut dish, covering the cake with coconut. Place on dripping tray to cool and dry.

Repeat from step 2 until all the cakes are done