Get ready to wow your friends and family with a classic curry dish! Bursting with rich flavors and a smooth, creamy texture, our recipe for Thai Green Prawn Curry is a traditional Asian dish filled with flavors such as lime, ginger, coconut, garlic, and chili. It is deliciously seasoned with aromatic spices such as green curry paste, cumin, and turmeric.
What is Thai Green Curry?
Thai Green Curry is a curry dish that originated in South-East Asia and evolved under the reign of Thai King Rama VI in the 1900s! It gets its name from the color of the dish itself, a rich green that comes from the use of green chilis and green curry paste.
Flavorful and Healthy!
Can you include prawns into a Thai Green Curry? Why of course, it is actually a crucial element to the Thai Green Curry to include prawns, which add a lovely crunchiness to the curry. They also add a meaty, slightly sweet taste to the curry, and are extra great, as they are healthy too! Prawns are generally low in fat, low in calories, and very high in protein! The curry is abundant in flavors, and uses coconut milk to give it its creamy consistency. The main flavors in this dish are savory from the soya sauce, fish sauce, and spices, but there is a slightly nuanced sweetness in the background that comes from the prawns, lime juice, coconut milk, and petit peas. The curry gets its unique aromas from the kaffir leaves and the lemongrass, which completely elevate the tasting experience, and add just the right amount of freshness to balance out the savory flavors of the curry.
Enjoy your Thai Green Curry dish with some fluffy and fragrant coconut rice, and take your tastebuds on the ultimate Asian taste adventure!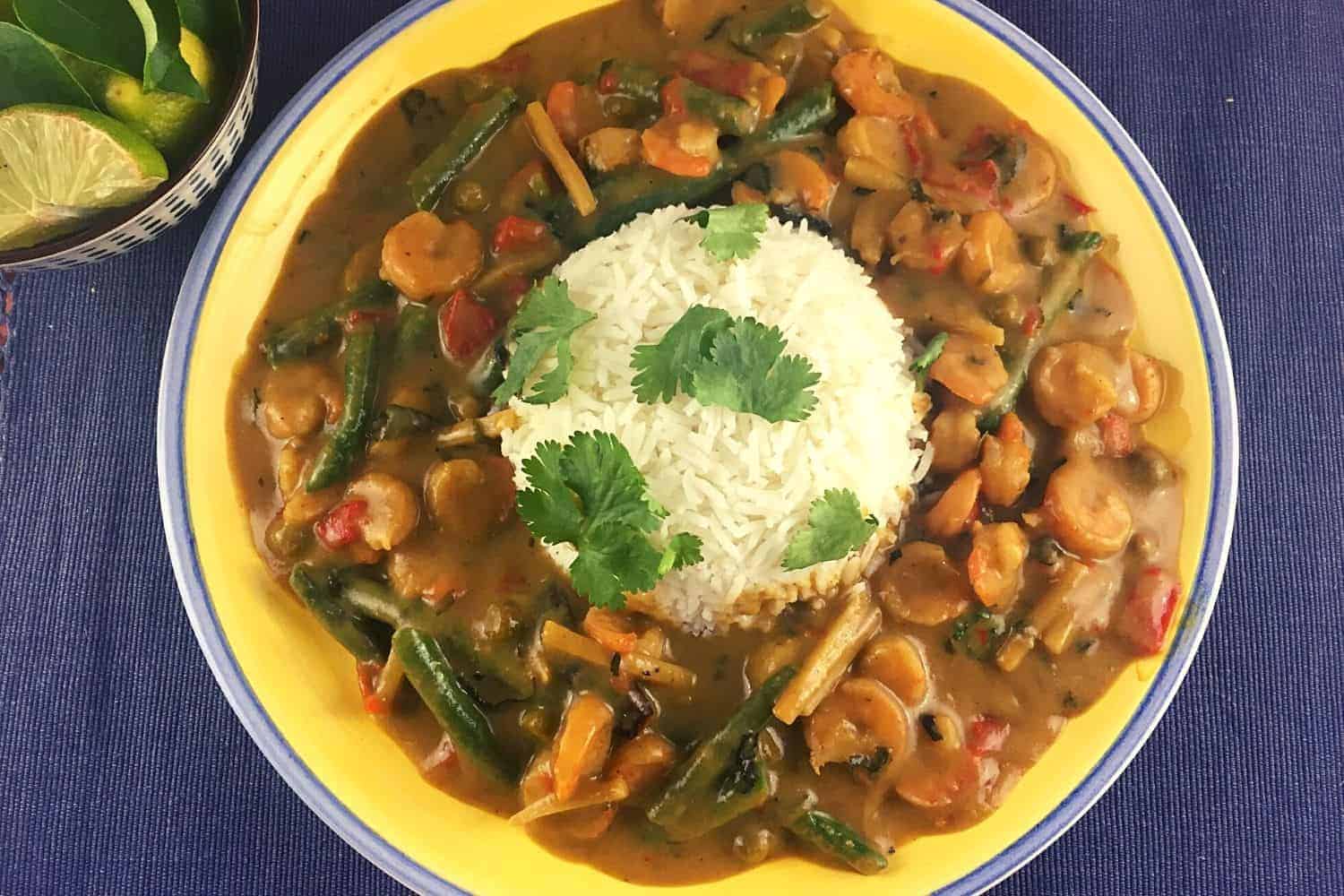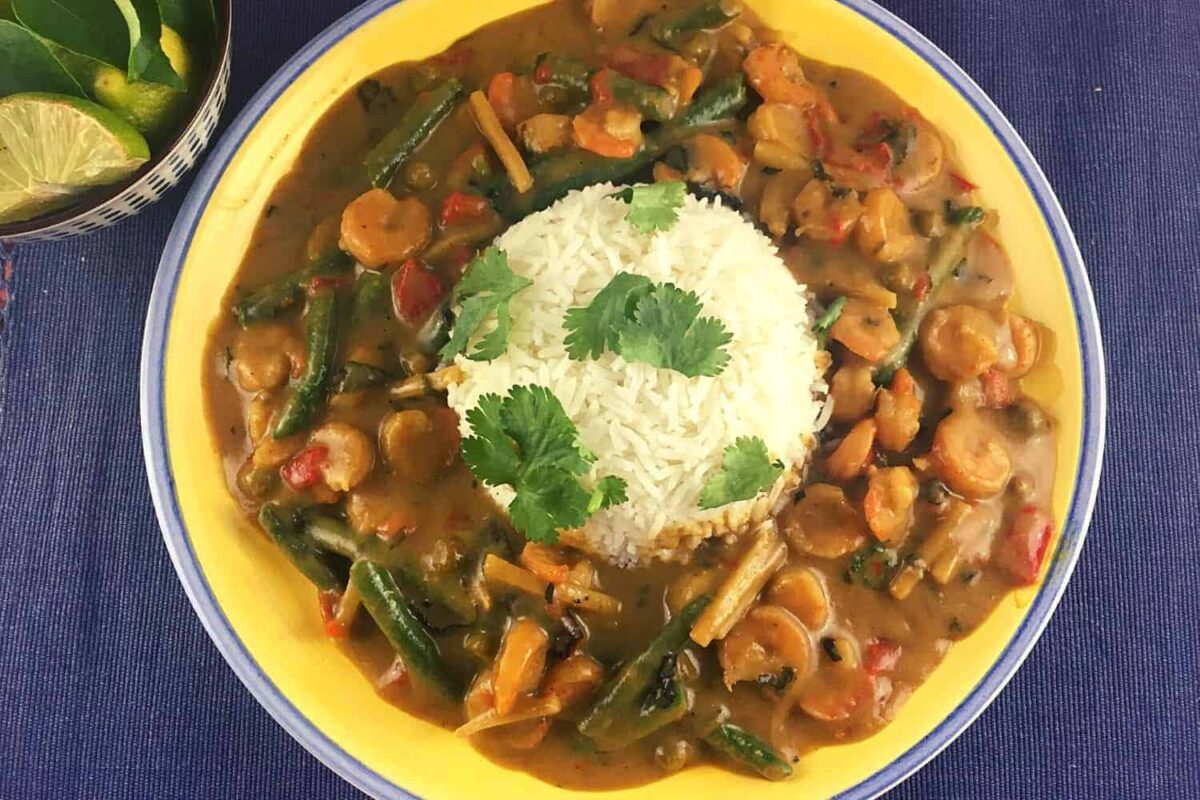 Ingredients
500

g

medium to small prawns of your choice

1 ½

cups

cups coconut milk

1

cup

water

1-3

tbsp

Green Curry Paste

1

tsp

cumin powder

½

tsp

turmeric

2

cloves

garlic

2

shallots

finely diced

1

tsp

salt

1

tsp

1 teaspoon white pepper

6

curry or kaffir lime leaves

dried or fresh

100

g

green beans

sliced in two

2

tbsp

fish sauce

2

tbsp

soya sauce

2

tbsp

lime juice

2

tbsp

grated lime rind

2-3

red or green chillies

fresh or dried

2

stalks

Lemongrass

trim the base, remove the rough outer layers, and finely slice the white interior

2

tbsp

petit peas

frozen

1

red and yellow pepper

deseeded and chopped 

2

tsp

soft brown sugar

1

cup

fresh coriander leaves

de-stemmed

Bamboo shoots

optional
Instructions
Peel the prawns, if you wish to, leave the tails intact. Cut down the back and devein. Set aside.

Using a wok or heavy-based pan, bring the coconut milk and water to medium heat and add the shallots, garlic, lemongrass, curry paste, kaffir lime leaves, red pepper, peas, chillies and beans, mix well.

Bring the coconut and ingredients to a boil until slightly thickened. 

When beans are almost cooked but still firm, add the prawns and simmer for about 5  minutes or until prawns are pink in colour.

Add the fish sauce, soy sauce, lime juice, lime rind, and sugar. Taste the curry, season with salt and pepper.

Garnish with coriander leaves.