These Pecan Chocolate Shortbread cookies are a luscious combination of a buttery shortbread, topped with a rich melted chocolate layer and chopped pecan nuts- the perfect pairing of chocolate, nuts, and shortbread cookie if you ask us!
These cookies are abundant with flavour and lovely impactful textures. The softness of the shortbread perfectly complements the crunch of the pecan nuts. As there are minimal ingredients for this dessert, we recommend that you use the best quality you can find – go for real butter and a rich, quality chocolate that can be light or dark (we suggest using a rich dark chocolate to cut the sweetness of the cookie). If you want to go the extra mile with the flavours, toast the pecans in the oven on a baking tray for about 6-8 minutes until fragrant. This will really enhance the nutty flavours in the cookie. You can also swap the pecans for some walnuts or almonds, just make sure they are crushed!
These shortbread cookies are baked and ready in just 40 minutes, a small amount of time for the absolutely delectable results you will achieve. You will probably be going back for a second cookie in no time, so maybe double the batch and make sure that you have more than enough for you and your family!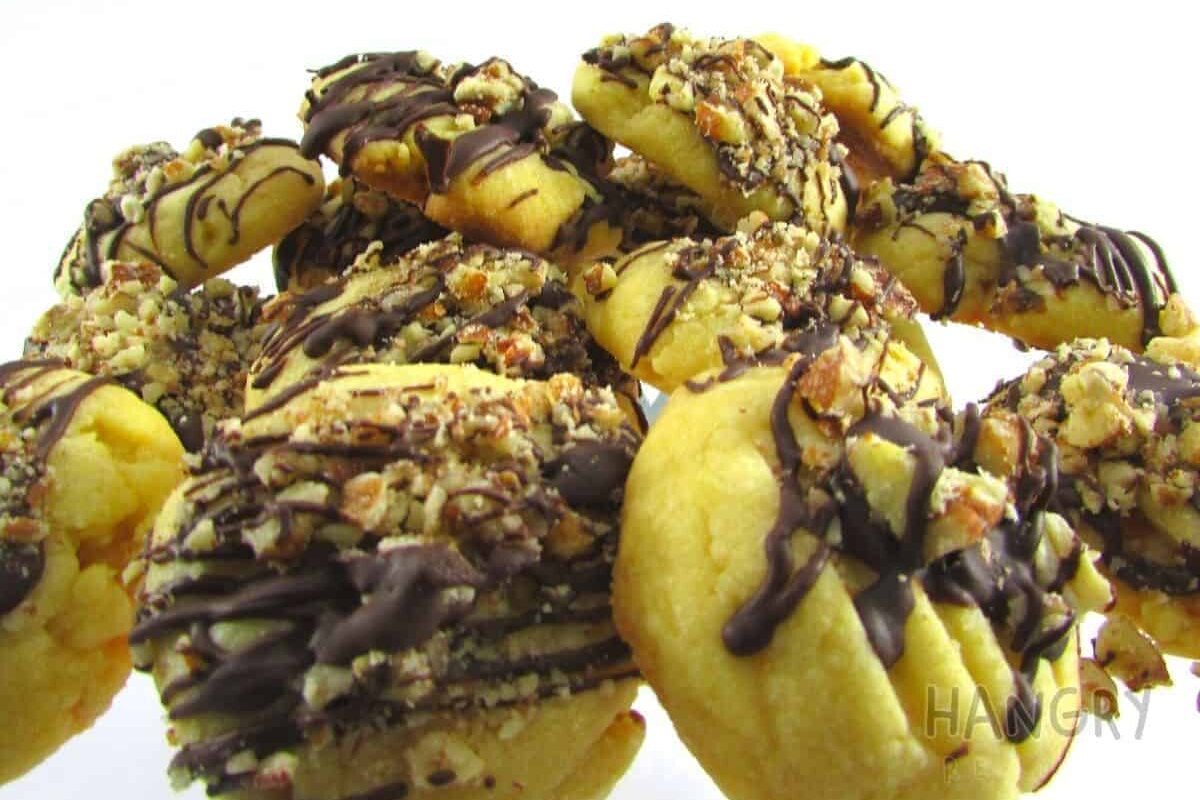 Ingredients
3

cups

all purpose flour

1

cup

Maizena

1

cup

icing sugar

500

grams

butter (soft)

200

grams

melting chocolate

150

grams

crushed pecan nuts
Instructions
Mix all the ingredients together

Make balls the size of a walnut

Place on a greased baking tray, 2 inches apart

With a fork, press gently on each ball and flatten it slightly

Bake for 15 minutes at 160 degrees Celsius

In a double boiler, melt the chocolate

Drizzle the chocolate over the cooled biscuits, and sprinkle the nuts over the wet chocolate

Bake for further 5 minutes