We love an Indian classic meal that is so quick and easy to make! This curry combines fragrant spices with lovely tender beef, uses only an instant pot, and is ready in 30 minutes! This Beef Masala Curry is sure to satisfy your tastebuds…
The only equipment needed to make this dish is an instant pot or a pressure cooker- which saves so much time and effort as it makes the dish essentially a one pot meal. The meat is browned in the pot, then set aside, the onion, garlic, and spices are added, along with tomato paste and lemon zest, and lastly the beef and potatoes are added and left to cook on medium heat for 30 minutes. The instant pot really does all the work for you and reduces so much added cooking time!
Healthy Ingredients!
The spices used to flavour the meat are salt and pepper, turmeric, garam masala, cumin, coriander, cayenne pepper, smoked paprika, and hot curry powder. These Indian spices do not only result in a fragrant and flavourful dish, but a healthy one too! Cumin has been used as a traditional medicine as it is a great source of iron and antioxidants, and has been shown to exhibit anti-inflammatory properties. This beef curry also includes Turmeric, which not only adds a lovely yellowy orange colour, but many medicinal properties too! It has been used in India for thousands of years as not only a spice, but as a medicine too. Its main active ingredient is curcumin, which has anti-inflammatory properties and can aid in digestion, and help reduce or even stop the growth of cancer cells in the body.
Enjoy this dish on its own or with some fluffy Jasmine rice and experience a unique Indian meal like no other!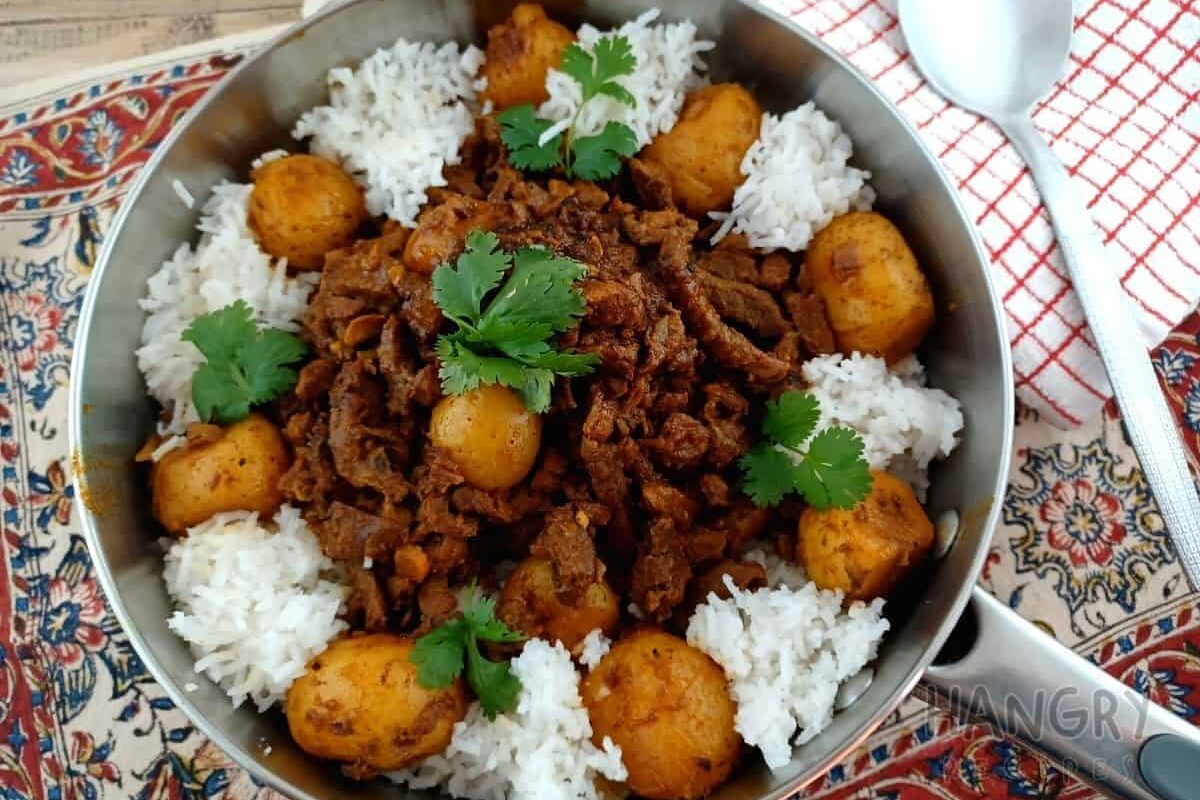 Ingredients
1

big

yellow onion

chopped

3

cloves

garlic

minced

1

kg

lean stewing beef

cubbed or cut in stripes

3

tbsp

tomato pasta

2

cups

good quality beef stock

1

tbsp

olive oil

zest of a lemon

350

g

baby potatoes

washed
Spice Mix
2

tsp

salt

1

tsp

freshly ground black pepper

1

tsp

turmeric

1

tbsp

garam masala

½

tsp

cumin

½

tsp

coriander

½

tsp

cayenne pepper 

½

tsp

smoked paprika

1

tsp

hot curry

coriander or parsley for garnishing
Instructions
Place the pressure cooker on medium heat. 

Add half of the oil and brown the meat on all sides, sauteing in batches, set the braised meat aside.

Add oil, chopped onions, garlic, spices, salt, and pepper in the same pot, cook until onions become soft and golden, for about 3 minutes. Then stir in the tomato paste and bring to a boil. Add lemon zest.

Return the meat to this mixture, add the potatoes.

Now add the 2 cups of beef stock.

Cover with the lid and cook for 30 minutes on high pressure.

*Serve this incredibly tender and flavourful beef masala curry with steamed rice and chopped cilantro and lemon zest.