Chicken Shawarmas are filled with warm and authentic flavors from the Middle East that boast a uniquely savory taste that is too good not to enjoy. This Sandwich is just that, a classic from the Middle East that will leave you feeling indulged and fully satisfied! 
What is Chicken Shawarma? 
Chicken Shawarma is a traditional Middle Eastern chicken dish consisting of chicken breast pieces that are seasoned and marinated with garlic and yoghurt, as well as other fragrant spices, and added to pita breads– a yeast-leavened round flatbread. Vegetables such as diced tomatoes, cucumbers, gherkins, and lettuce are added to the pita bread, and it is topped off with an authentic Middle Eastern or Mediterranean sauce.  
Don't Forget the Sauce 
Chicken shawarma pita breads cannot be completed without some traditional sauce. Usually, a garlic and yoghurt sauce, otherwise known as tzatziki, is used to top of the pitas. For this recipe, yoghurt, garlic, and lemon is combined along with tahini, a sesame paste present as a main component in hummus and baba ghanoush, to create a unique and homemade tzatziki sauce.
This chicken shawarma sandwich is a perfect on-the-go meal that is quick and easy, yet still full of unique and authentic flavor. If you are a fan of Middle Eastern foods and flavors, you will definitely love this staple dish!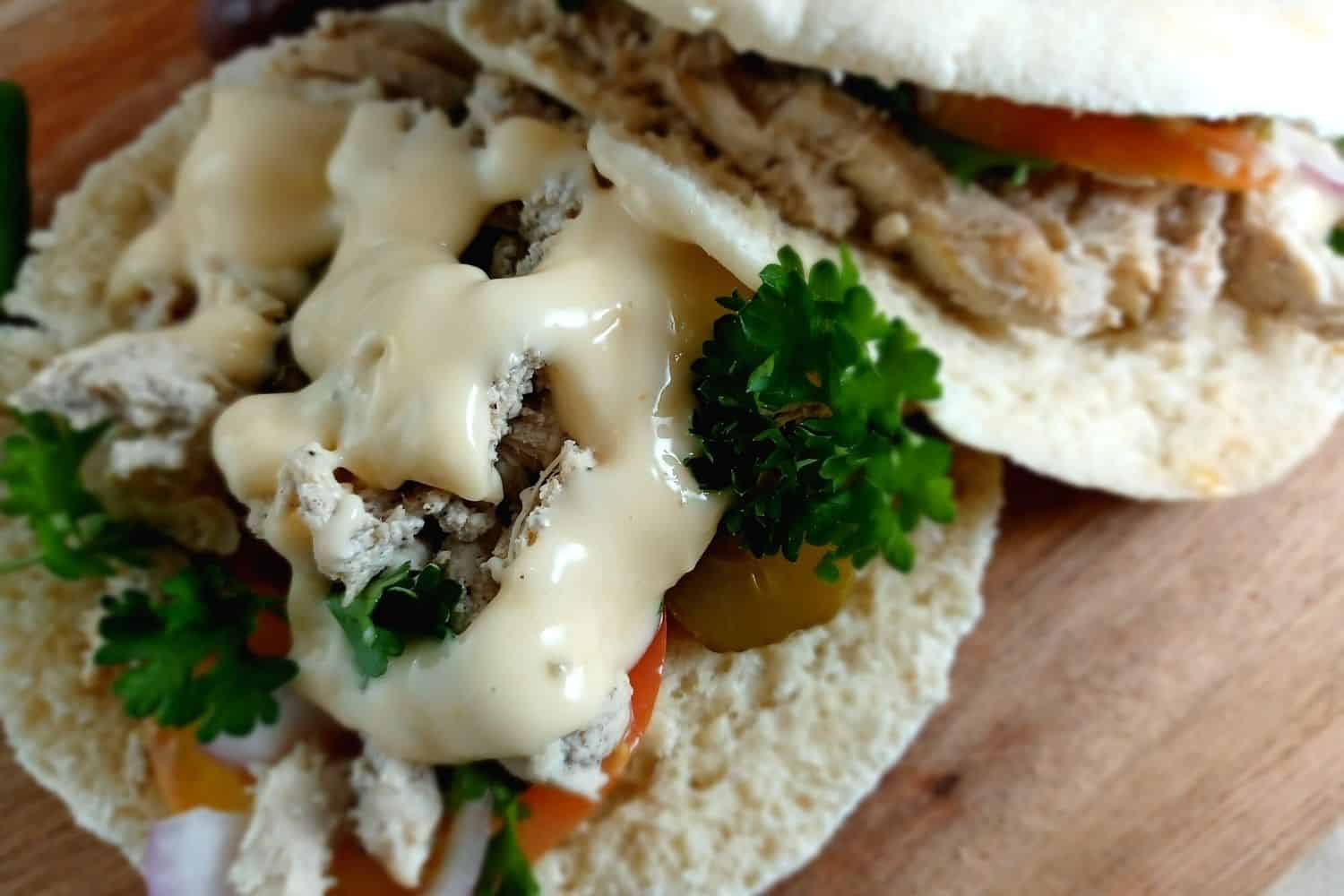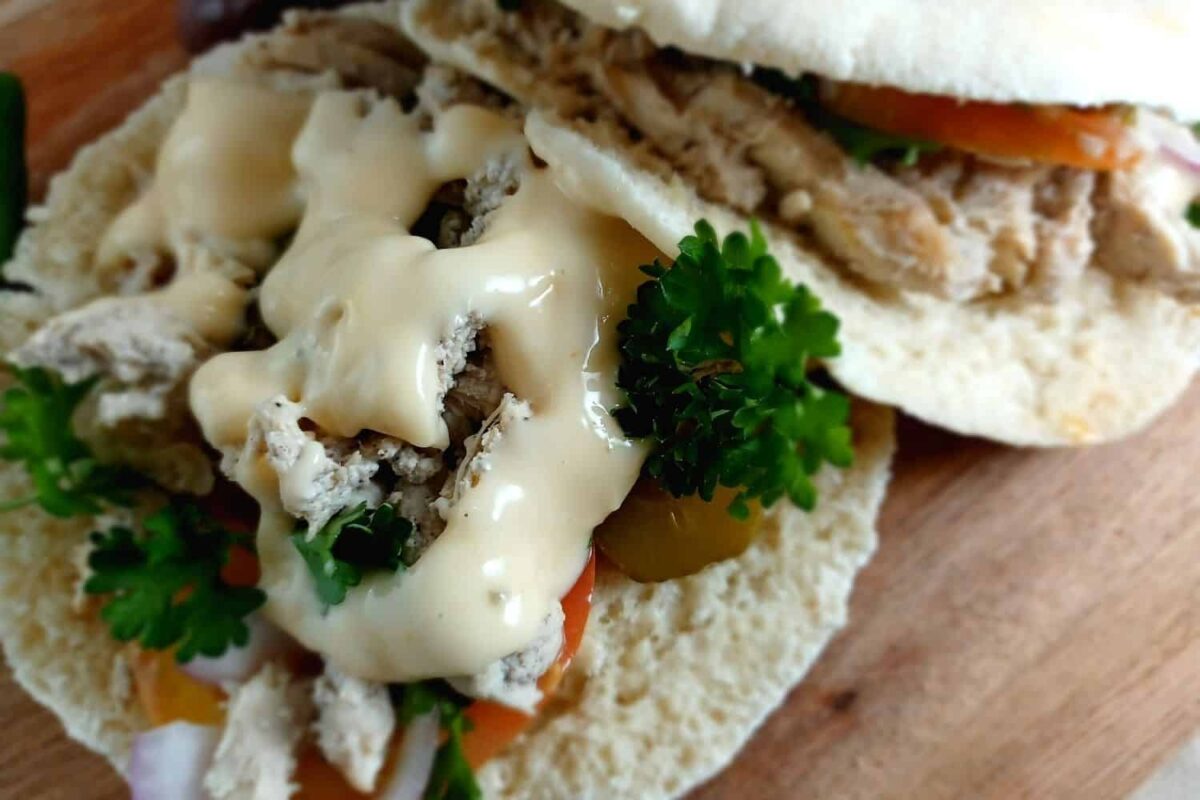 Ingredients
650

g

chicken breast

deboned and skinless and sliced thinly 
Marinade
1

cup

yogurt (plain)

¼

cup

vinegar

2

cloves garlic (crushed)

1

tsp

pepper

½

tsp

salt

3

cardamom pods

1

tsp

allspice

2

tbsp

fresh lemon juice
Sauce
1

cup

tahini

2

cloves garlic (crushed)

¼

cup

lemon juice

2

tbsp

yogurt
Sandwich
1

onion (thinly sliced)

2

tomatoes, thinly sliced 

1

cucumber, thinly sliced

½

cup

mixed seeds and finely chopped dried fruits(optional)

½

cup

fresh parsley- chopped

6

small, pickled Gherkins, thinly sliced

5

ready-made pitas 
Instructions
Marinade
In a large bowl, combine all the marinade ingredients and set aside, then slice the chicken in thin slices and add to the marinade, make sure all the chicken is coated well with the marinade.

Cover with cling-wrap and refrigerate for at least 8 hours, after the chicken has marinated, remove it from the fridge, cook chicken in a saucepan over medium heat for 20 minutes or until done.

Be sure not to overcook cook the chicken, when the chicken is done, you can shred it or leave it in slices and set it aside.
Sauce
While the chicken is cooking, prepare the sauce with all the sauce ingredients, mix well and set aside.
Pita Sandwich
Prepare the salad in a large bowl, add onions, tomatoes, and cucumbers, and sprinkle with the seeds and dried fruit.

Add the parsley and pickle slices and mix well, then set aside

Slice the pita in half, or make a slit to serve the pita open to form a pocket and stuff it.

Place enough chicken on each pita so that it covers 1/4 of the bread, then add the salad and pour some sauce over.

Roll like a burrito or have it as a shawarma sandwich! 

Serve shawarma with fries.