For those days you really can't decide between the two, meet the ultimate combo- stuffed chicken breast wrapped in bacon! This truly is a dish that will look like you put a lot of time and effort into, but it really only takes just under 1 hour to prepare and half of that time is to marinate the chicken which practically takes no man-power at all.
The sun-dried tomato and basil cream cheese stuffing adds a creaminess and tanginess to the chicken, and the streaky bacon really takes this dish to the next level in terms of richness. The flavour of the chicken itself is also great as it is marinated in an olive oil, garlic, chicken spice, and salt and pepper marinade for 20 minutes. You can up the ante by stuffing some actual sun-dried tomatoes inside the chicken and garnish with basil leaves as to allude to the cream cheese inside.
What is so great about this dish is that it is a mixture between healthy and indulgent, which is just what we love! The chicken and bacon contribute to a high amount of protein, while the stuffing and marinade creates a truly mouthwatering experience.
This one is perfect for the days you just aren't so keen for your usual bland and mundane chicken dish. You really don't want to miss out on this Bacon-wrapped Stuffed Chicken Breast!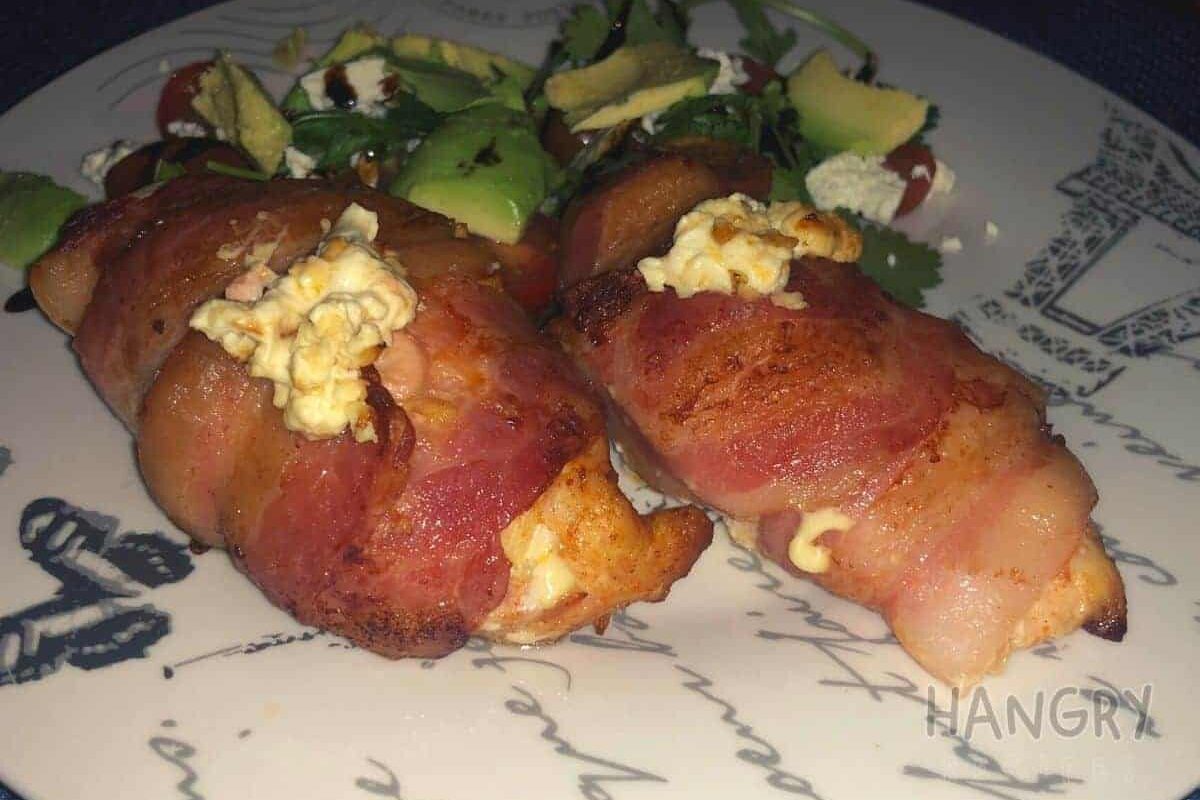 Ingredients
800

gram

chicken breasts

8

tsp

sun-dried tomatoes and basil cream cheese

2

tbsp

garlic

crushed

250

ml

olive oil

extra virgin

8

strips

streaky bacon

2

tbsp

chicken spice

salt & pepper

freshly ground to taste
Instructions
Make the marinade by mixing the olive oil and chopped garlic into a bowl

Add the spices of salt, pepper and chicken spice and give it a final stir.

Cut a slit through the middle of each chicken breast

Once cut, place the chicken breasts into the marinade bowl

Make sure all of the chicken is submerged into the marinade and leave for 20 minutes

Once the chicken breasts are marinated, add two teaspoons of cream cheese into the middle of the chicken breast where the slit was made

Wrap two pieces of bacon around the chicken breast and place into oven dish for cooking

Place the prepared chicken breasts into the preheated oven at 180 °C for 25 minutes

Remove from the oven and enjoy!