A completely meat-free meal, this Indian inspired Cauliflower Tikka Masala is served with a fragrant seeded basmati rice and a red onion salsa, ticking all of those flavor and texture boxes. And for the meat eaters, we challenge you to go meatless and try this dish, we are almost sure you won't be missing the chicken due to the ample amount of flavor!
A Vegan Take on an Indian Classic 
Traditionally, a Chicken Tikka Masala is a popular Indian curry that consists of a tomato gravy base, featuring ingredients such as chicken breasts or thighs, tomato paste, plain yoghurt, garlic, garam masala, cumin, ground coriander, and turmeric. This recipe leaves out the chicken pieces and the yoghurt, making it completely vegetarian and vegan. The star of the show for this dish is the cauliflower florets that are seasoned with paprika, garam masala, cumin, pepper, and leaf masala, and are oven roasted until crispy. Beans are also added into the dish to thicken it and add more substance. No chicken or any added cream is needed here, seriously!
Fragrant Sides 
This meatless Cauliflower Tikka Masala dish is served with the most fragrant basmati rice, that is fried with cashew nuts, sunflower seeds, and caraway seeds, making it texturally full. Coconut flakes are also added to the rice for a fragrant and nutty flavor that will add another dimension completely to the rice. A red onion salsa is made by combining some finely chopped red onion, diced banana, and parsley and coriander. These ingredients can be simply mixed together, tossed, and served immediately- super easy and fuss free! 
This meal will be perfect if you are looking for meat-free dishes to try out or to accommodate your vegan or vegetarian friends at a dinner party, with absolutely no compromise in flavor or texture. We are willing to bet that this dish will be as flavorful (if not more) as a regular Chicken Tikka Masala. Try it and see for yourself!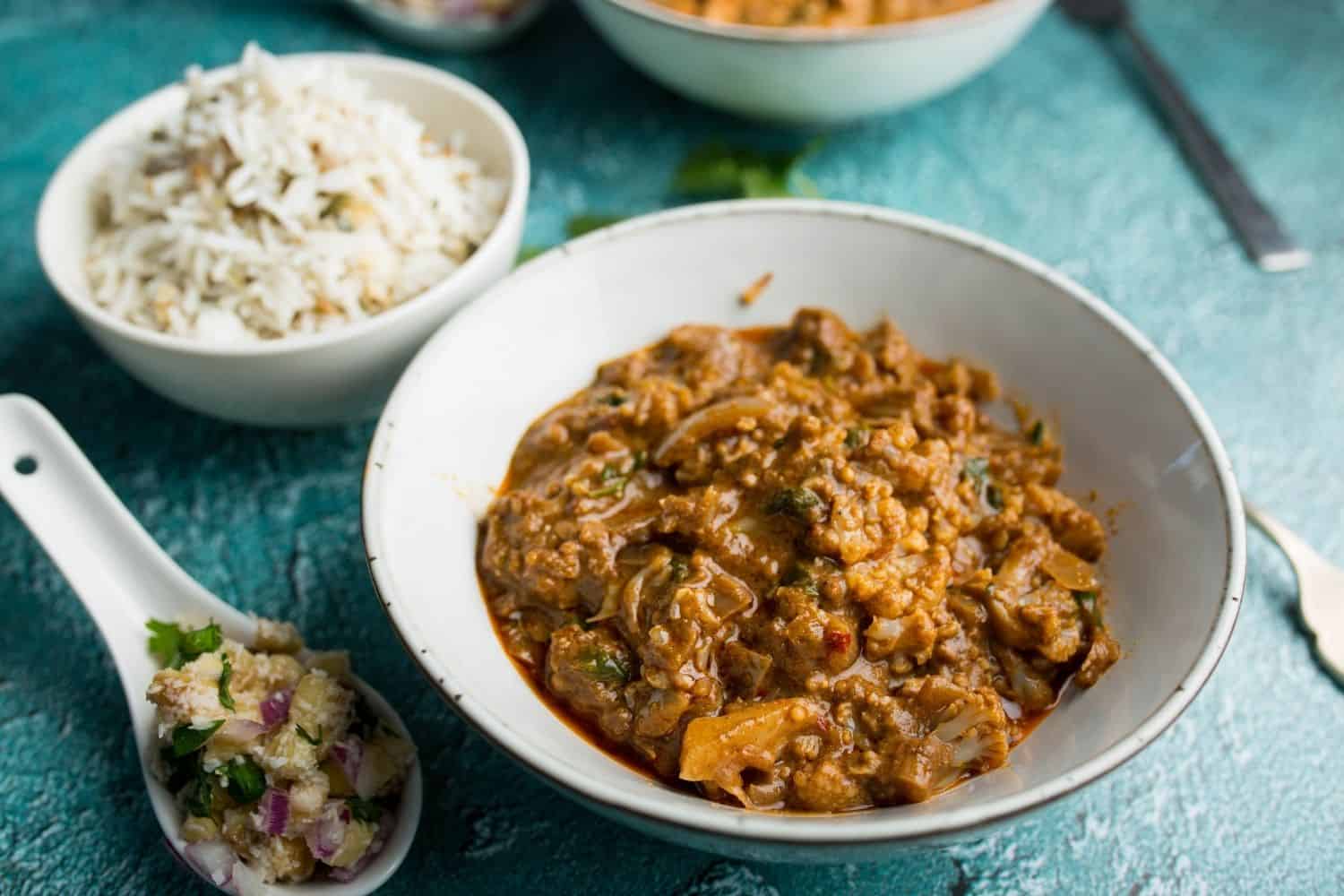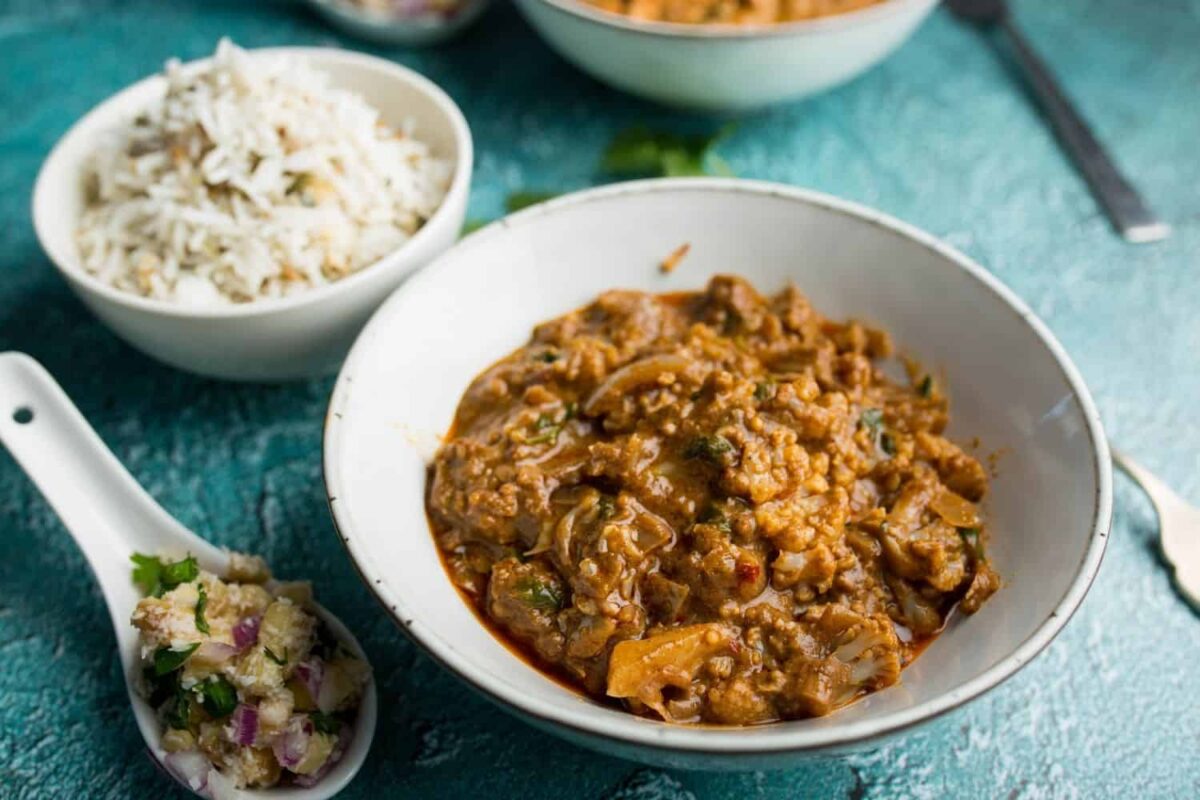 Ingredients
For the Tikka Masala
10

g

Garlic

Chopped

5

g

Ginger

Minced

3

g

Red Chilli

Deseeded and finely chopped

25

g

White Onion

Finely chopped

30

ml

Olive Oil

50

g

Tomato

Chopped

160

g

Cauliflower

Florets

5

ml

Olive Oil

30

ml

Rice Vinegar

5

g

Cake Flour

30

g

Red Kidney Beans

5

ml

Lime Juice

2.5

g

Coriander

Chopped
For the Spice Mix
3

g

Paprika

Fried in some olive oil until it starts to pop

3

g

Fine Pepper

2

g

Garam Masala

2

g

Whole Cumin

5

g

Leaf Masala
For the Seeded Basmati
60

g

Tastic Rice

Boiled in salted water and cooled

15

ml

Olive Oil

1

g

Coarse Salt

0.5

g

Turmeric

10

g

Cashew Nuts

Roasted and roughly chopped

10

g

Sunflower Seeds

Roasted and roughly chopped

10

g

Whole Caraway

Roasted and roughly chopped

5

g

Coconut Flakes

Roasted and roughly chopped
For the Red Onion Salsa
20

g

Red Onion

Finely chopped

40

g

Banana

Diced

2.5

g

Parsley

Finely chopped

2.5

g

Coriander

Finely chopped
Instructions
For the Tikka Masala
Combine everything together for the spice mix. Divide in two.

Combine half of the spice mixture with chilli, garlic, ginger & yogurt in a large bowl.

Add cauliflower & leave to marinade for at least 30 minutes.

Melt butter in a pan over medium heat. Add onions & the remaining spice mix. Cook for 15 minutes.

Sprinkle flour over onions, add tomato puree & water. Stir well & leave to simmer until slightly thickened.

Remove from heat & season with salt.

Place cauliflower in in baking tray & roast in the oven until cooked.

When the cauliflower is cooked, add to the sauce base together with coconut cream & lime juice.

Simmer for a few minutes & then add chopped coriander last.
For the Seeded Basmati
Heat oil in a large frying pan.

Add the rice & toss while toasting for a few minutes.

Add the remaining ingredients & stir to combine.
For the Red Onion Salsa
Mix all the ingredients together & serve separate