A great option for a sweet and savory meal that is completely vegetarian and meat-free, this Sticky Butternut Wedges with Mediterranean Orzo Salad dish is a new and exciting way to do vegetarian meals with vegetables and salads. If you are a fan of Mediterranean or Greek food, this will be a delicious dish for you!
What is an Orzo Salad? 
Orzo, also called risoni, is a short-cut pasta that is shaped like a larger grain of rice. Orzo is typically made from white flour, but can be made from whole-grain flour too. This orzo salad is therefore a pasta salad with a Mediterranean spin on it. It features Mediterranean style ingredients such as kalamata olives, red onion, red peppers, plum tomatoes, Greek feta cheese, cucumber, and parsley. It is similar to a Greek salad, with the addition of the orzo pasta.
Better with Butternut! 
The butternut wedges in this dish are savory, sweet and sticky, seasoned with oregano, rosemary, thyme, garlic, lemon juice, salt and pepper, and treacle sugar. Not only is butternut particularly tasty (especially when seasoned like in this recipe) but it is nutritional too! The butternut ups the nutritional value of this dish greatly. Butternut contains a large amount of fiber, and vitamins and minerals, such as vitamin C, A, and beta-carotene, which promotes healthy immune system function. Butternut is also very high in potassium, and is also low in fat. 
This dish would be perfect for a Mediterranean-style dinner party with friends, or to just spice up those boring vegetarian weeknight dishes. No matter how you enjoy it, there is tons of flavor guaranteed with this dish!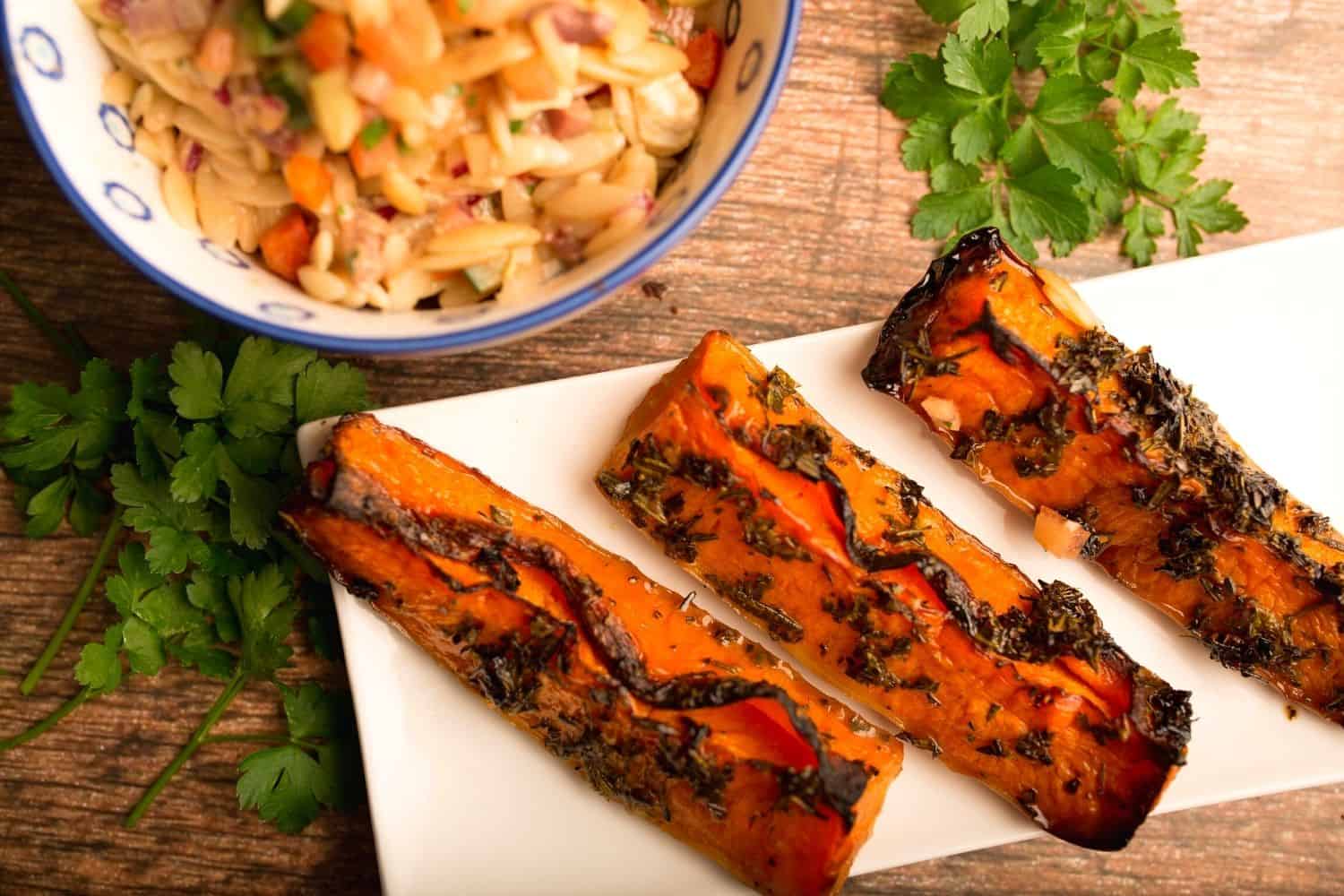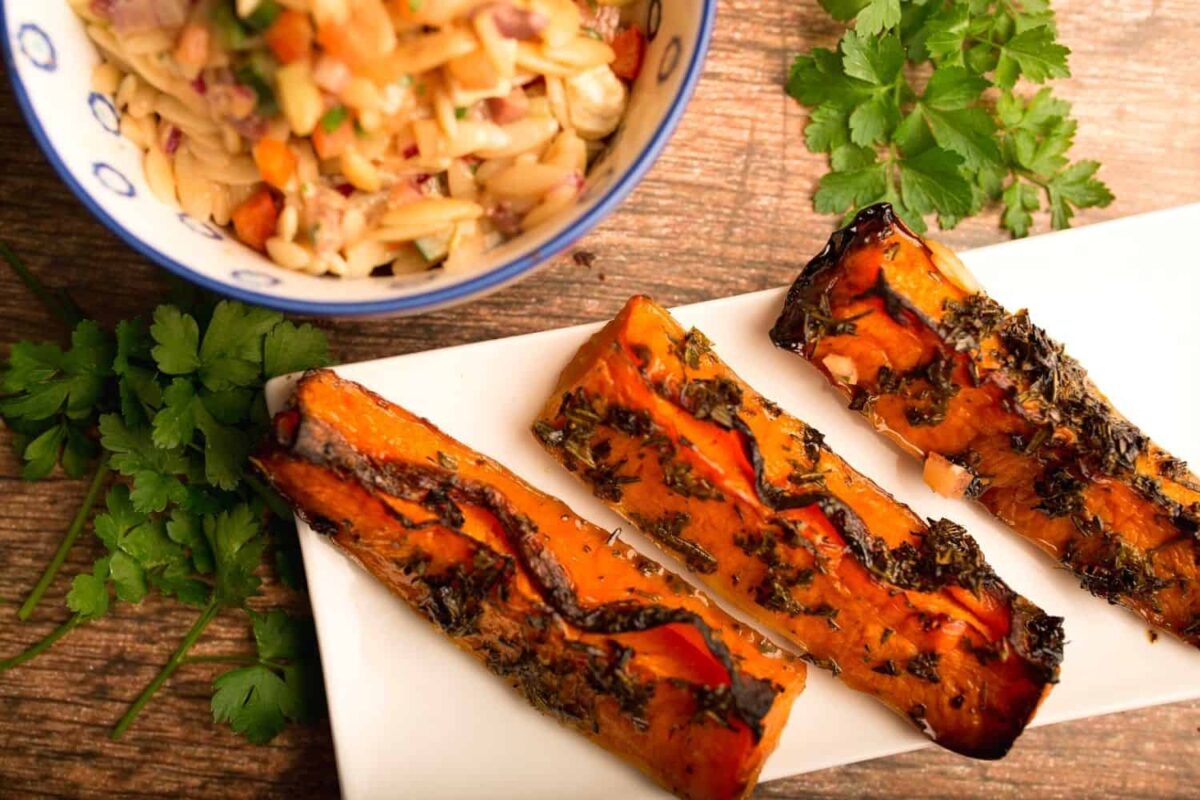 Ingredients
For the Sticky Butternut Wedges
200

g

Butternut

Cut into wedges

3

g

Dried Oregano

2

g

Rosemary

Finely chopped

2

g

Parsley

Finely chopped

2

g

Thyme

Finely chopped

5

g

Garlic

Finely chopped

15

ml

Olive Oil

15

g

Treacle Sugar

15

ml

Lemon Juice

2

g

Fine Salt

1

g

Fine Pepper
For the Orzo Salad
50

g

Orzo Pasta

Cooked al dente

20

g

Kalamata Olive

Pitted and cubed

30

g

Red Pepper

Diced

30

g

Red Onion

Diced

30

g

Plum Tomato

Chopped

30

g

Greek Feta Cheese

Crumbled

5

g

Parsley

Finely chopped

30

g

Cucumber

Diced
For the Dressing
10

ml

Balsamic Vinegar

10

g

Treacle Sugar

1

g

Fine Pepper

20

ml

Olive Oil

50

ml

Coconut Cream

1

g

Garlic

Chopped

1

g

Fine Salt
Instructions
For the Sticky Butternut Wedges
Combine all the ingredients in a bowl & mix well.

Place butternut wedges & marinade in a bowl. Leave to marinade for 1 hour.

Line a baking tray with foil, brush with oil, arrange wedges on baking tray in single layer.

Grill in oven @ 200'C for 30 min to an hour until sticky and cooked through.
For the Orzo Salad
Mix everything together & coat with balsamic dressing.
For the Dressing
Blitz all the ingredients together to make a smooth dressing.