Why struggle to choose between a juicy steak and a succulent burger…when you could have both! This Rump Steak Burger is a gourmet burger with beef rump strips that are tender and juicy, garnished with fresh lettuce, tomatoes, and cheese, and topped with a delectable and unique sauce that you won't find anywhere else. Making a little bit more effort to make this burger will be so worth it when you taste how delectable it is!
2 is Better Than 1 
This burger is the perfect combination of your two popular types of meat dishes- the classic, juicy rump steak, and the burger buns, garnishing, and sauce of a beef burger, combined! The rump steak is marinated in an olive oil and Worcestershire sauce marinade that has spices of thyme, crushed garlic cloves, and salt and freshly ground black pepper. Balsamic vinegar is also added to the steak when it is fried.
Sauce Things Up! 
This rump steak burger is topped with an indulgent sauce that is truly unique in its ingredients. It consists of mayo, ketchup, sweet pickle juice, and sriracha wasabi sauce– a sauce containing wasabi, chili, and horseradish– which darkens the sauce and deepens the flavor. It is spiced with garlic powder, cayenne pepper, paprika, and salt and pepper that adds a saltiness to the sweetness. We suggest keeping this sauce recipe to yourself!
Serve these gourmet steak burgers with some hand cut potato fries and some fresh greens, and you have got yourself one pretty impressive and indulgent steak burger meal that is just as good as the restaurants, if not better!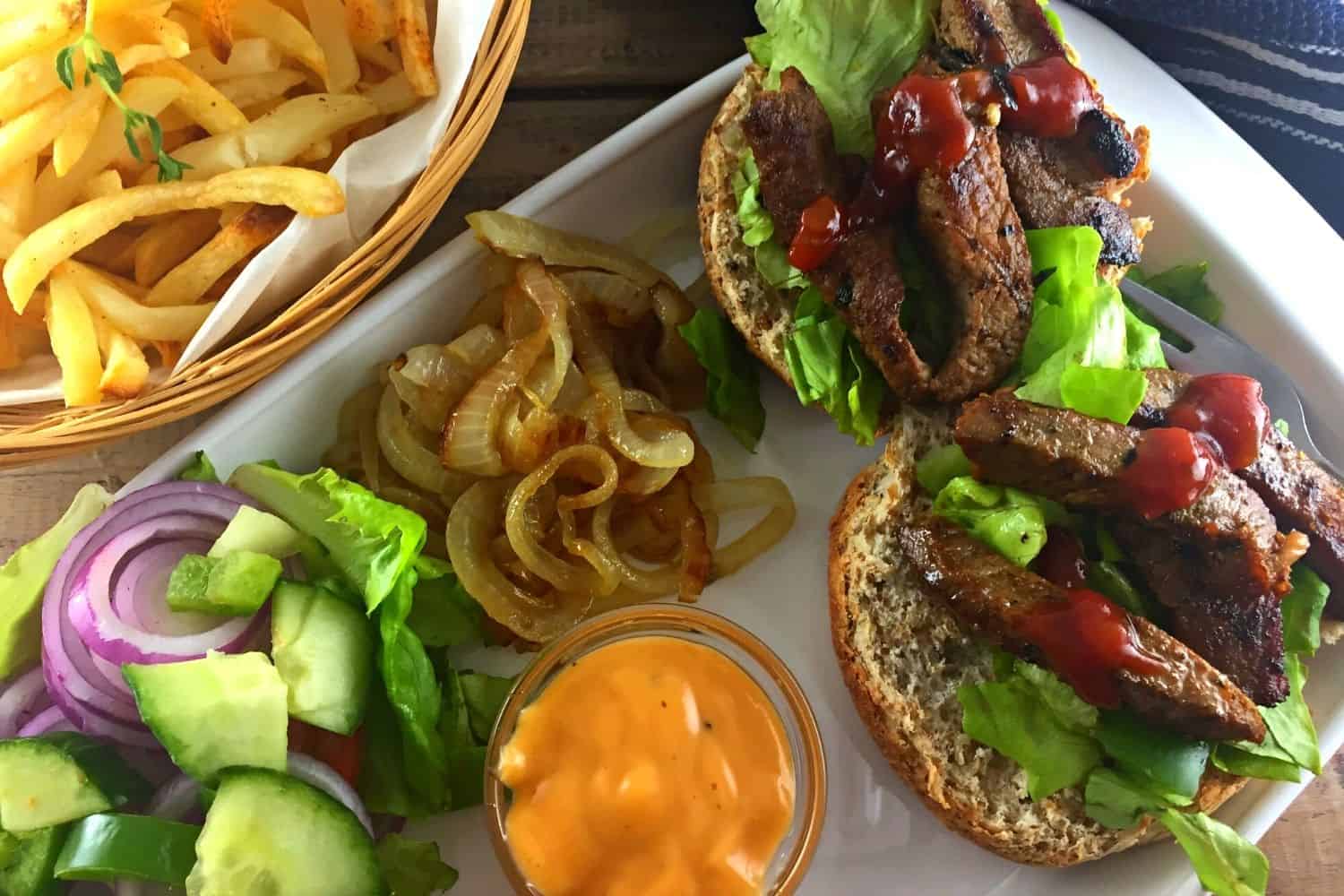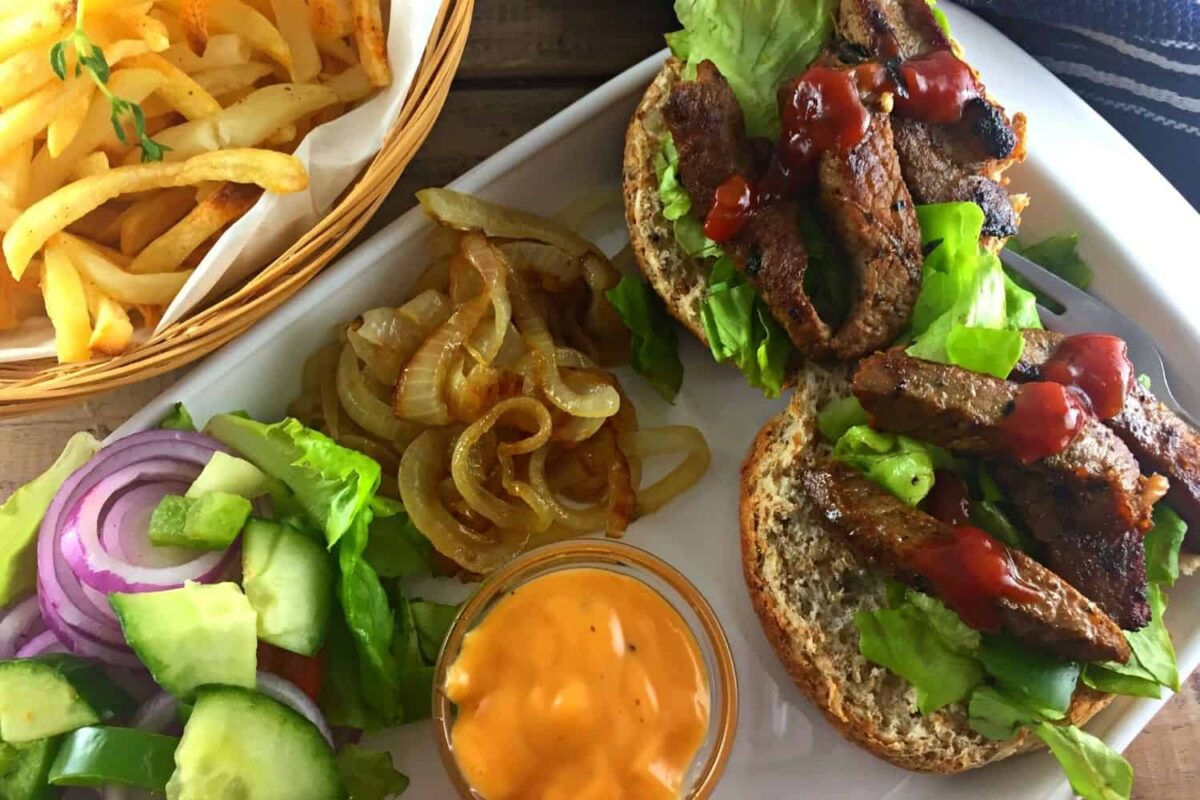 Ingredients
For the burger
400

g

rump steak, sliced very finely 

1

tbsp

Worcestershire sauce

1

tsp

thyme, chopped

1

garlic clove, crushed

1

tbsp

olive oil

salt and freshly ground black pepper 

balsamic vinegar to be added while stir-frying the steak
Garnishing the burgers
6

hamburger buns

toasted (optional)

cheese slices (optional)

tomatoes (sliced)

lettuce

tomato ketchup (optional)
Hamburger Sauce (This special sauce recipe is easy to make and super tasty on burgers, wraps, sandwiches and french fries!)
½

cup

mayo

2

tbsp

ketchup

1

tbsp

sweet pickle juice

¼

tsp

garlic powder

¼

tsp

smoked or regular paprika

a dash of cayenne optional for sauce 

1

tbsp

sriracha wasabi sauce

this makes it darker and yummier (optional)

Add more for darker sauce

Salt & pepper to taste
For the caramelised onions
2

tbsp

olive oil

2

onions thinly sliced

1

tsp

chopped oregano
Instructions
Combine the ingredients together for the sliced steak in a bowl.

Season with salt and pepper and mix well, then place the steak slices on a plate, mix well with the spices, cover with cling film and put in the fridge for an hour.

When steak slices are ready, make the caramelised onions, heat the oil in a frying pan and add the onions, cook over medium heat until golden and caramelised.

Stir in the herbs and set aside, to toast the hamburger buns, heat the olive oil in a frying pan over high heat and toast for 2 minutes on each side.

Stir-fry the steak slices on high heat until cooked to your liking, then add some balsamic vinegar while stir-frying.

Start stacking your hamburgers with the steak and onions, tomatoes and lettuce and serve with the hamburger sauce.If you want to add the cheese, just place it in the microwave for a few seconds for the cheese to melt.