With vegan meals becoming more and more advanced, it is always a great idea to get experimental and see how you could enjoy going meat-free. This Mustard Fry's Chicken Strips dish is a completely vegan meal that is full of many distinct flavors, and is served with braised red cabbage, roasted potato, and broccoli.
Vegan Made Easy 
This chicken strips recipe makes eating meat-free meals so easy! The Fry's brand has been around since 1991, and is a family run business that produces plant-based foods that taste like meat. This recipe uses Fry's chicken strips, that are made with vegetable protein, wheat, and soya. Even though they don't contain meat, these vegan chicken strips are full of protein and are lower in fat and calories! For this dish, the vegan chicken strips are cooked in a homemade mustard sauce, consisting of wholegrain mustard, vegetable stock, garlic and onion, and almond milk for some vegan creaminess. Corn flour is added to the sauce mix to thicken it up so that it sticks nicely to the vegan chicken strips.
All the Bells and Whistles, Please! 
These vegan chicken strips are served with braised cabbage, roast baby potatoes, and broccoli. The braised cabbage is made using onion, sugar, balsamic vinegar, red wine, butter, and warm spices such as cinnamon and star anise. The braised cabbage adds a sweetness to the savory mustard vegan chicken strips. Baby potatoes are tossed in olive oil, seasoned with salt and rosemary, and roasted in the oven. Lastly, fresh broccoli is blanched and seasoned, and adds some more nutrition and color to the overall meal.  
This meal will surely be a winner for you if you are vegan or are wanting to go vegan, or even just experiment with meatless meals. Perfect for a weeknight family meal, this dish will delight you with its unique flavors, and possibly even convince you to eat plant-based meals more often!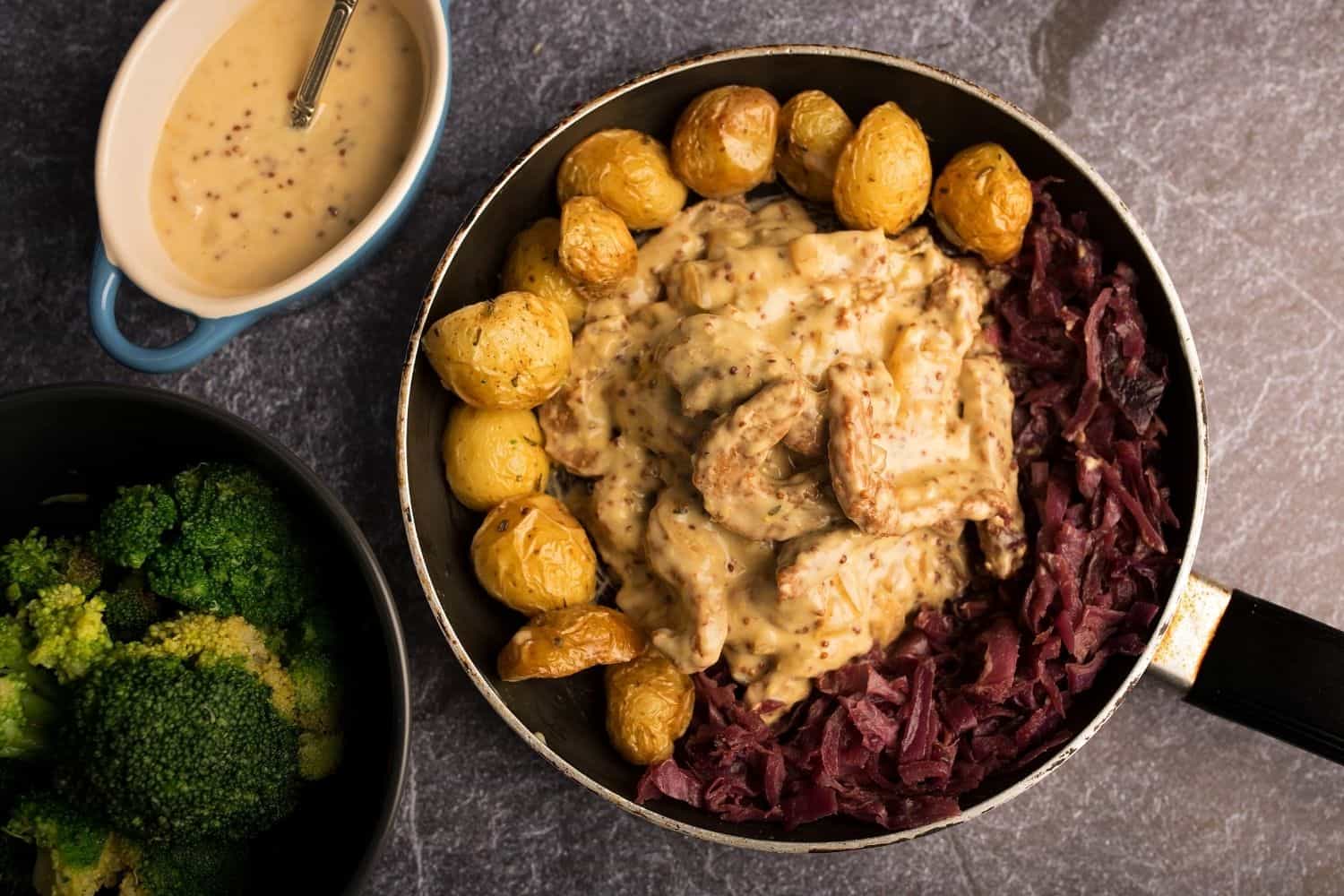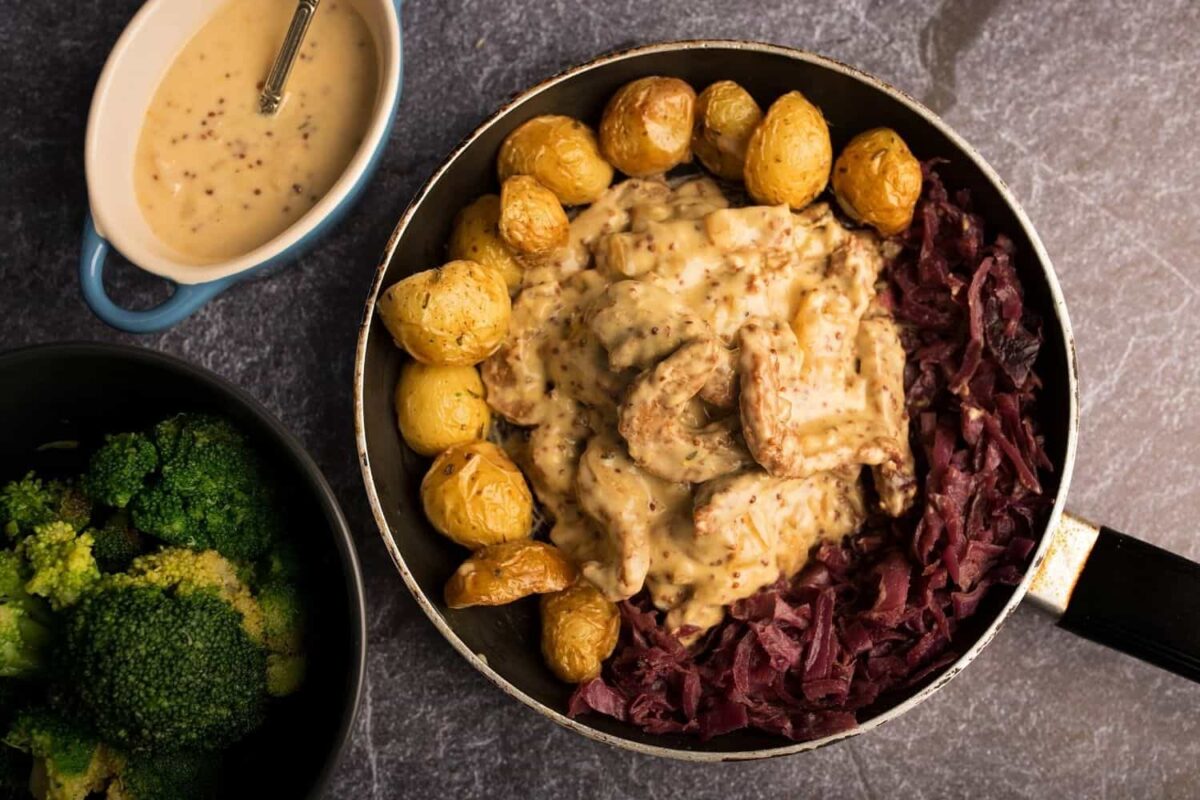 Ingredients
For the Chicken Strips
125

g

Vegan Chicken Strips

15

ml

Olive Oil

25

g

White Onion

Chopped

5

g

Garlic

Chopped

5

g

Wholegrain Mustard

30

ml

White Wine

0.5

g

Vegetable Stock

60

ml

Water

For the stock

2.5

g

Corn Flour

15

ml

Almond Milk

2.5

g

Parsley
For the Braised Red Cabbage
90

g

Red Cabbage

Shredded

30

g

Red Onion

Thinly sliced

10

g

Brown Sugar

10

ml

Balsamic Vinegar

20

ml

Red Wine

10

g

Butter

1

g

Cinnamon Sticks

1

g

Star Anise
For the Roasted Potato
200

g

Baby Potato

1

g

Fine Salt

1

ml

Olive Oil

5

g

Rosemary
For the Broccoli
80

g

Broccoli

1

g

Fine Salt

1

g

Coarse Pepper
Instructions
For the Chicken Strips
Heat olive oil in a pan. Fry strips until golden. Set aside.

Fry onions & garlic until tender. Add mustard then deglaze with white wine. Leave to reduce.

Add veg stock & almond milk leave to boil for a few minutes.

Thicken sauce with a corn flour slurry & add herbs.
For the Braised Red Cabbage
Place cabbage, onion, sugar, balsamic vinegar, red wine, butter & spices in a large pot.

Bring the mixture to a simmer, cover with a lid, lower heat & cook for 1 1/2 hours, stirring often.

Remove the lid & continue cooking for 30 minutes until tender.
For the Roasted Potato
Place the baby potatoes in a baking tray. Drizzle olive oil, seasoning & rosemary. Toss to coat.

Roast at 180'C until golden & crisp.
For the Broccoli
Blanch the broccoli in salted boiling water until cooked (with a crunch).