Stir-Fried Broccoli with Ginger and Almonds
Yumminess awaits in this fast and easy-to-make, nutrition packed, broccoli and ginger stir-fry. With relatively simple ingredients and just over 30 minutes, you could have this flavourful dish ready for devouring. Reward your tummy and your tastebuds!
Tantalize Your Tastebuds
Tantalizing is the first word that comes to mind when reminiscing on how delicious this aromatic stir fry really is! Although there may be quite a few ingredients, they all work together beautifully to create a harmony of exquisite flavours. With every ingredient adding its own little taste twist.
The Healthy Bonus to this Ginger Infused Broccoli Stir-fry
Sugar wise you are looking at next to nothing. There is just a teensy bit of honey in the saucy mix which plays an important role in perfecting the flavors of this vinegar and soya based sauce. But stevia does a beautiful job here too, should you need to avoid sugar all together.
Then there is a long list of health benefits to be reaped from all the fresh and lightly fried vegetables and spices. From carrots, full of the beta-carotene antioxidant that boosts our eye and skin health. To fresh ginger which contains the natural oil gingerol, whose amazing anti-inflammatory and antioxidant properties promote overall good health. This scrumptious dish also provides the body with a good supply of fibre, a nutrient that is vital for digestive health.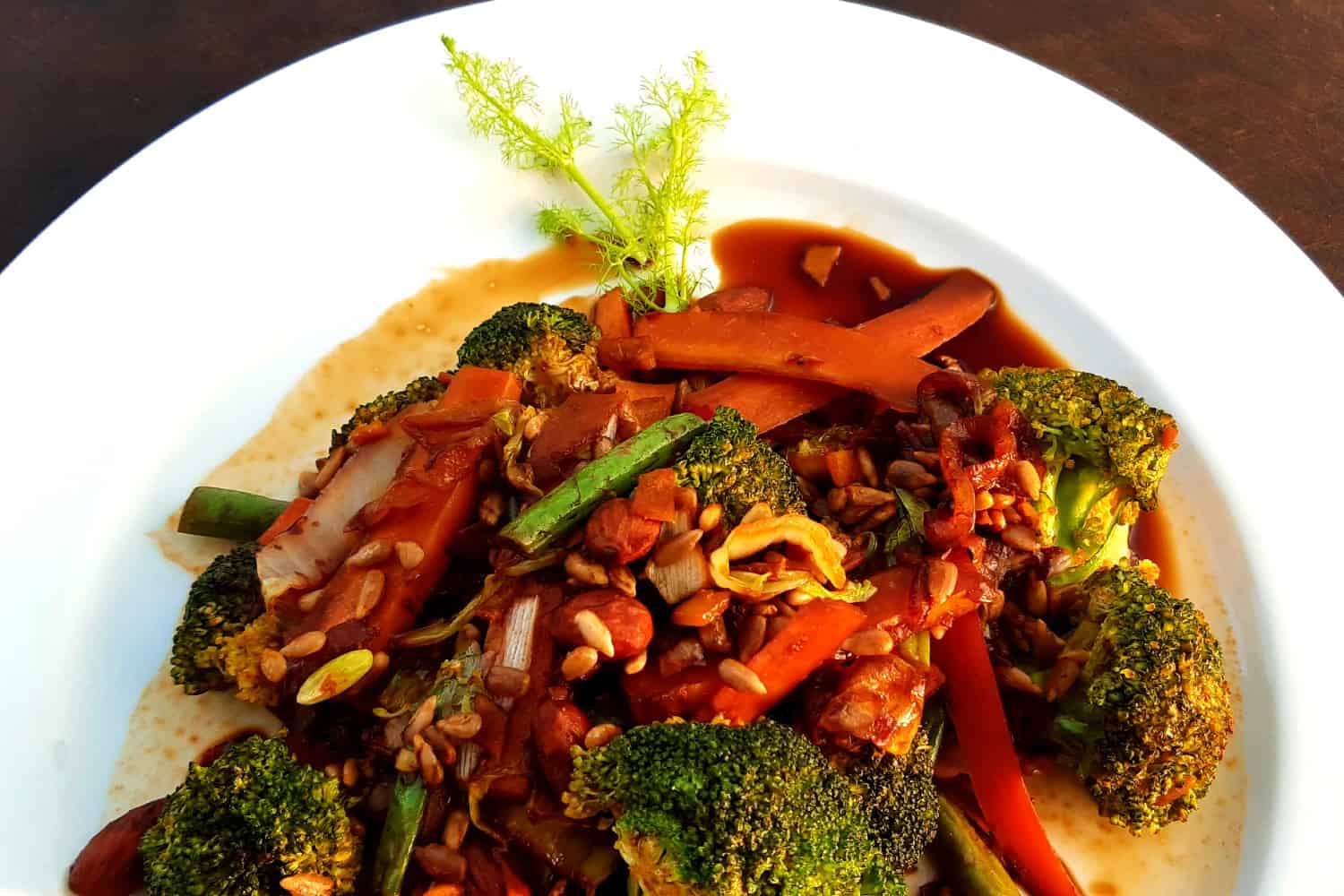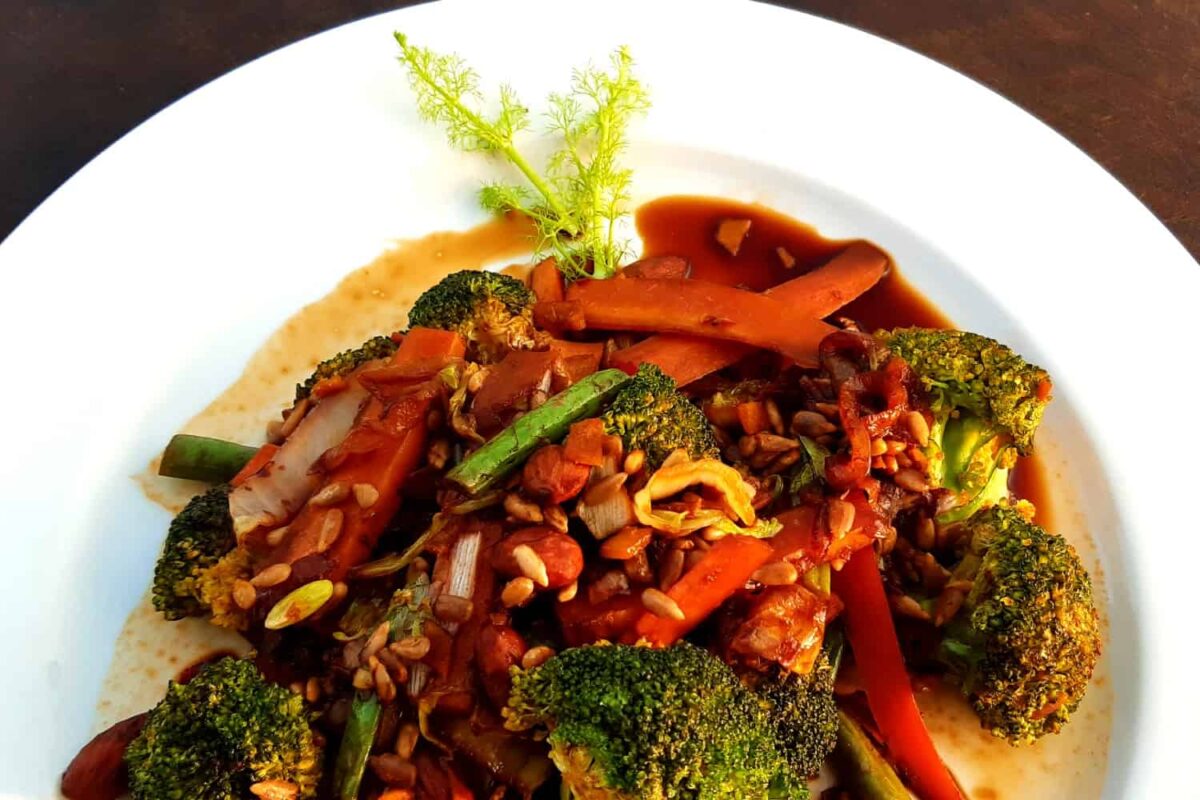 Ingredients
2

tbsp

Soya Sauce

Light or dark

2

tbsp

Honey

1

tbsp

Apple Juice

1

tbsp

Apple Cider Vinegar

2

tbsp

Rapeseed Oil

1

Large Onion

Sliced

2

cloves

Garlic

Sliced

3.5

cm

Fresh Ginger

Sliced

2

Carrots

Cut into strips

400

g

Broccoli Florets

400

g

Chinese Leaf, Asparagus, Fennel, Broad Beans

Finely chopped

100

g

Unblanched Almonds and Sunflower Seeds

2

tsp

Sesame Oil
Instructions
Combine the soya sauce, honey, juice and vinegar into a jar and mix until smooth.

Add water up to the 250ml mark, mix and set aside.

In a large frying pan or wok, heat the rapeseed oil until sizzling hot, add the onion and garlic and stir fry for 5 minutes.

Add the carrots ginger and broccoli and stir fry for 3-4 minutes.

Then add the other vegetables except for any leaf vegetables, and stir fry for another 2 – 3 minutes.

Add the leafy vegetables and fry for 2 – 3 minutes.

Cover, reduce the heat and leave to simmer for 2 minutes.

Add the almonds, sunflower seeds and sesame oil and stir fry for 1 minute.

Pour over the sauce, stirring steadily until the mixture is boiling. Then cook for another 2 minutes and serve.