A warm and inviting curry that is full of authentic aromas, this Spicy Beef Curry boasts major flavor, with an added kick for some extra excitement. While this is a spicy curry dish, you can adjust the level of heat to your liking by adding more or less hot curry powder, or by skipping the addition of the minced jalapénos.
Beef Curry: Full of Exciting Flavor 
This beef curry consists of beef chunks (steak or chuck) that are mixed with onion, beef broth, chopped Roma tomatoes, and gets its distinct flavors from spices such as garlic, turmeric, mustard seeds, fresh ginger, minced jalapénos, and let's not forget the real kicker- hot curry powder! This beef curry is also topped with slices of banana, for a naturally sweet element, some chutney, and shredded coconut for a nutty flavor. All of the ingredients and flavors in this dish work really well together, complementing each other perfectly.
Save Some Time with Your Slow Cooker 
While this curry dish can take quite some time to cook through fully, if you have a slow cooker on hand, let it do all the work for you, and minimize the amount of cooking time drastically. It is perfectly fine to cook this curry in a stove pot, it will just take longer to cook.
This hearty curry can be served with fluffy Basmati rice or buttery naan bread, whatever you fancy really! This dish can be served as a healthy dinner for the family, or for a fancy dinner party with friends, it is extremely versatile and totally foolproof! Just take care when adding your stronger spices, as they might overpower the dish if too much is added.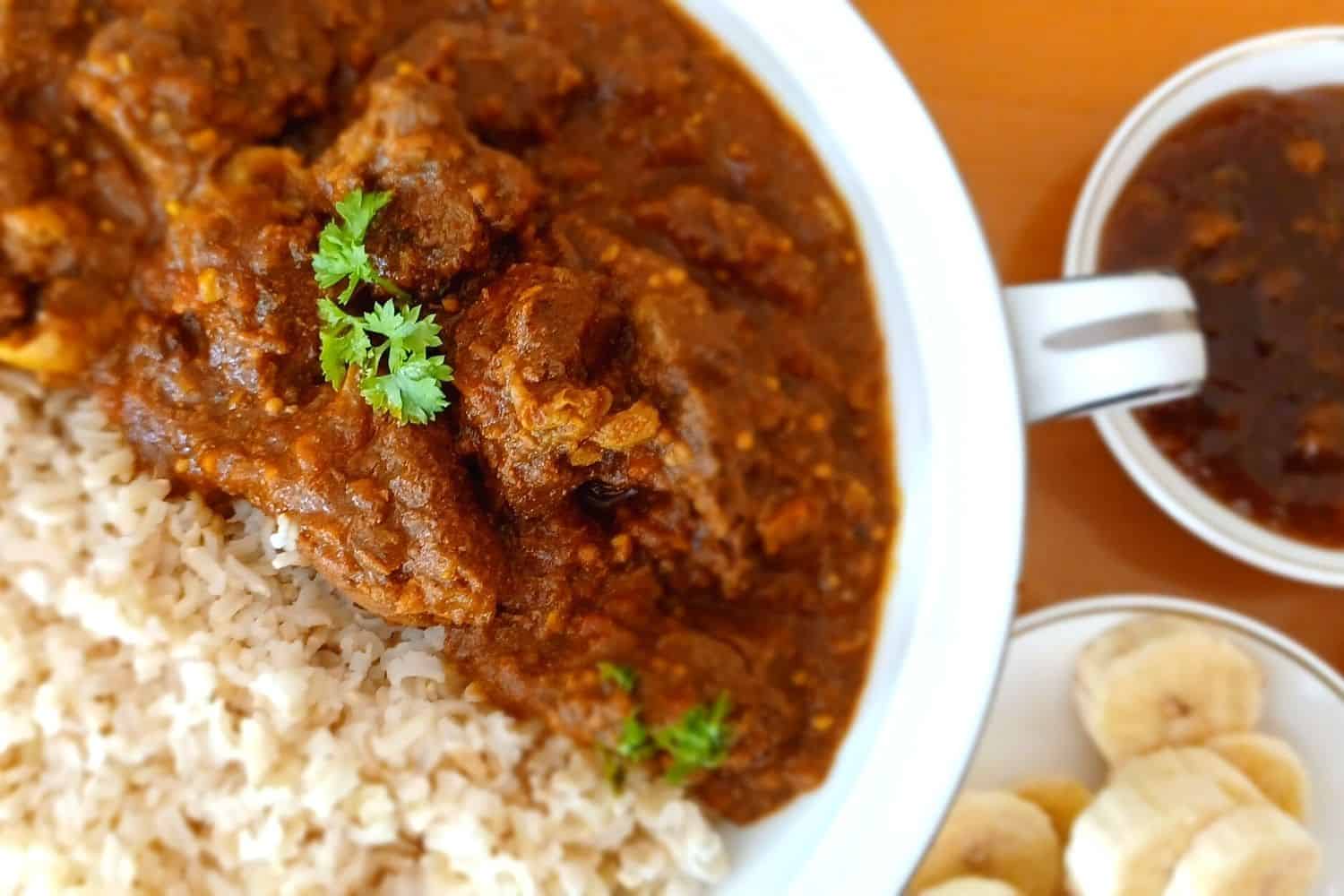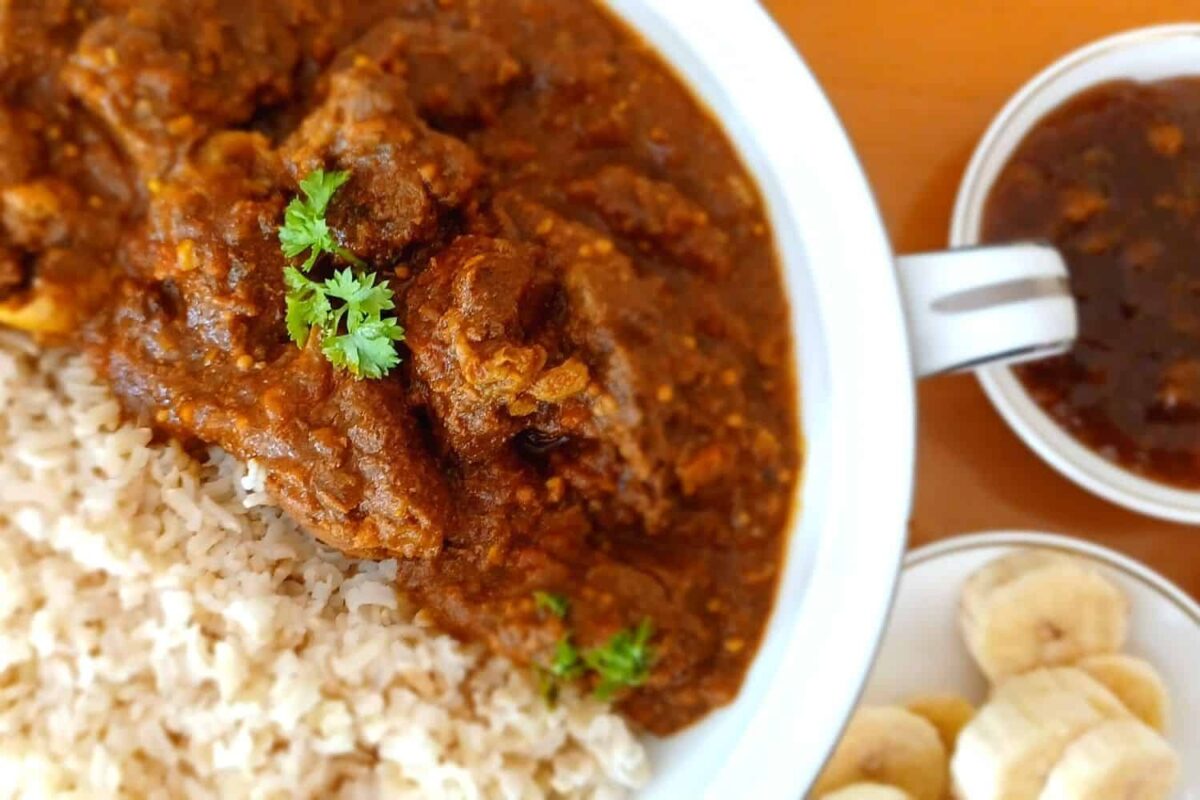 Ingredients
1

kg

trimmed beef, steak, or chuck 

2

onions, peeled and chopped 

¼

cup

Hot curry powder then fill up to ½ with other Curry Spice mix of your choice

2

tbsp

mustard seeds 

1

tbsp

minced garlic 

1

tsp

ground dried turmeric 

2

cups

fat-skimmed beef broth

750

g

Roma tomatoes, rinsed, cored, and chopped 

2

tbsp

minced fresh jalapeño's

(Pickled will be fine)

2

tbsp

minced fresh ginger 

2

bananas

peeled & thinly sliced

½

cup

chutney 

½

cup

sweetened shredded dried coconut

Cooked rice 

Salt to taste
Instructions
Pat the beef dry, and cut it into chunks, then in a large saucepan, combine beef, onions, and 1 cup of water.

Cover and bring to a boil over high heat, reduce heat and simmer for 30 minutes.

Uncover, turn heat to high, and stir often until liquid evaporates and meat and onions are lightly browned for about  5 to 7 minutes, then remove the meat and set it aside.

Add to the pan the curry powder, mustard seed, garlic, and turmeric,  stir until spices are more fragrant for about 1 minute.

Add the broth, tomatoes, chilies, and ginger, saute and scrape any browned bits.

Return the meat to the pan, bring to a boil, and cover, reduce heat, and simmer until meat is very tender for about  2 to 2 1/2 hours or in a pressure cooker for about 30 minutes or until tender.

Serve with cooked rice, bananas, chutney, and coconut.