Scotch Fillet Steak, or more commonly known as Ribeye Steak without the bone, is certainly a well-known and loved steak cut. It is regarded as one of the most flavoursome cuts due to its many seams of fat marbling, contributing to an enhanced flavour and texture. Even though the star of this dish is the steak itself, the mashed potato on the side contributes to the bulk of the cooking- the steak itself is quick and easy!
A very necessary step for cooking this steak is to make sure you sear both sides for 2-3 minutes. This makes sure that the flavours of the olive oil, and salt and pepper are locked in. Scotch Fillet Steak is best cooked on a grill skillet, but it can be cooked on a braai as well! In terms of how you like your steak cooked, we suggest keeping it on the skillet for a total of 4 minutes for medium rare, and longer if you would like it more well done.
The sauce in this dish is an in disposable step and should not be skipped! The red wine and cream sauce is a great pairing for the steak, as it elevates the flavours. As the Scotch Fillet is seasoned with salt and pepper only, it is very versatile and can be paired with a rich and sweet red wine such as a Zinfandel, or a robust and spicy red wine such as a Shiraz. If you wish to season your steak a bit sweeter, make sure not to pair it with a sweet wine as these flavours will fight clash. If you are wanting to season your steak with spicy or stronger seasonings, pair it with a lighter, fruitier wine, such as a lovely Malbec.
The richness of the steak alongside the buttery creaminess of the mashed potato in this dish will easily have you craving a second helping!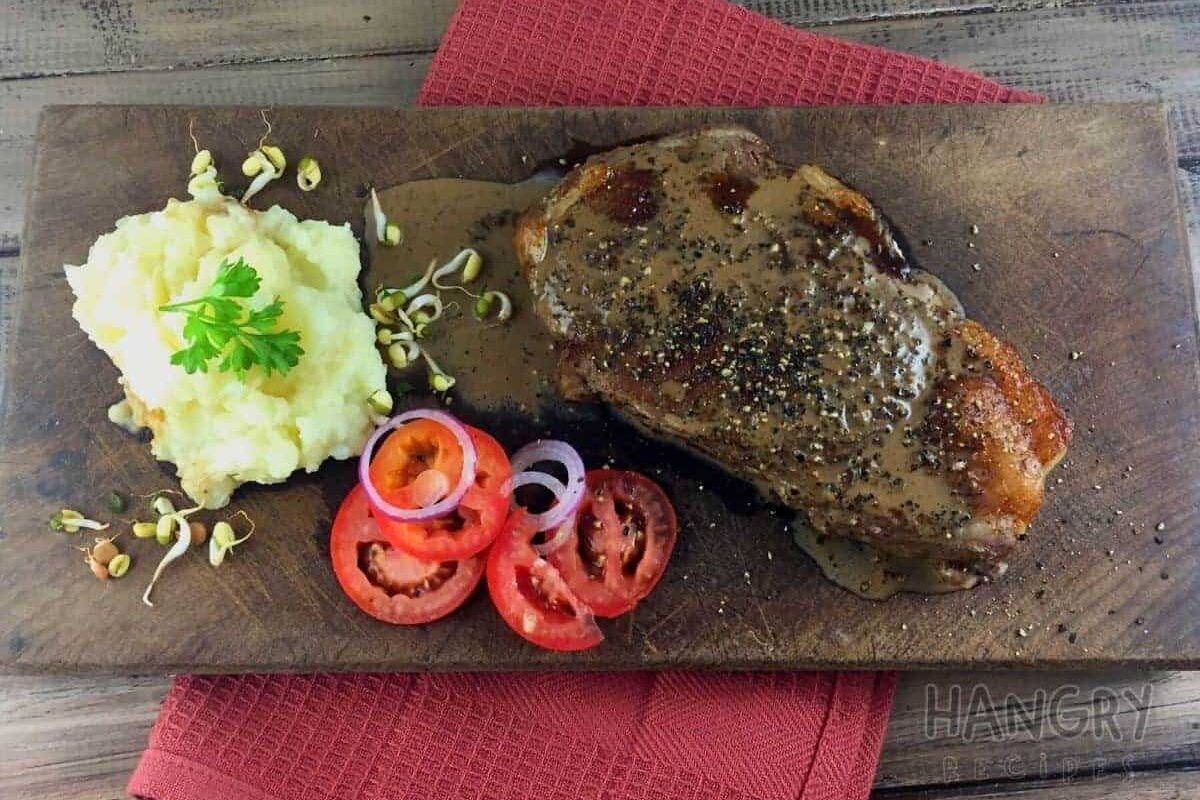 Ingredients
800

g

Scotch Fillet Steak

(5 thick slices of Scotch Fillet Steak)

4

tbsp

butter

3

tbsp

olive oil

½

cup

thick cream

2

tbsp

freshly ground black pepper

1

cup

red wine

Grounded Salt and Black Pepper

5

large

potatoes
Instructions
Drizzle steak with olive oil, season with salt and pepper. Set aside.

Peel potatoes and cut into 2 cm chunks. Place in a pot, cover with water and bring to the boil. Cook the potatoes until tender, about 8-10 minutes. Drain, add the butter and a little cream and mash until smooth. Season to taste. Cover with lid to keep warm.

In the meantime, heat butter in a grill skillet over high heat. Once hot, add steak.  Sear 2-3 minutes before flipping over. Flip about 3 times for a total cooking time of 4 minutes for medium to rare. If you need it well done, flip for longer. Remove from pan and allow steak to rest in an oven tray,  loosely covering with foil. Set in the oven to keep warm. Repeat the process for more steak.

Return used skillet for the steak on the stove, scraping all the little bits loose.  With heat still off add red wine and the 1/2 cup cream. Add in 1 to 2 tablespoons of cracked pepper, stir to combine. Turn on the heat to simmer for 2 minutes, or until slightly thickened. If you need more sauce, add more wine and cream. Season to taste. Remove the fillet from the oven. 

Serve with mashed potatoes and salad of your choice.

When plating, spoon over the sauce and if required add more grounded pepper.