Perfect for the Winter months when red wine is an exciting weeknight treat, this Red Wine Beef Stew with carrots and potatoes is the ideal dish to enjoy when you are longing to feel warm and satiated.
This tasty red wine beef stew consists of tender beef cubes, carrots, and baby potatoes, and is flavoured with silky red wine, garlic, onions, balsamic vinegar, thyme, parsley, bay leaves, and tomato paste.
This recipe calls for a meat cut that has high fat marbling- this adds rich, succulent flavour and juiciness due to the fat content of the meat. Marbling also results in a more tender meat as the fat keeps the meat moist while its cooking. An appropriate meat in this sense would be a Scotch Fillet steak (Ribeye) as it has a high content of fat marbling.   
If you are looking for a quick and simple meal, this recipe might not be for you as it is a rather complex one, requiring quite a few steps and taking almost three hours. However, if you are looking to wow your guests (and yourself of course) and create a luscious and tender meat dish, this one will certainly be worth your while!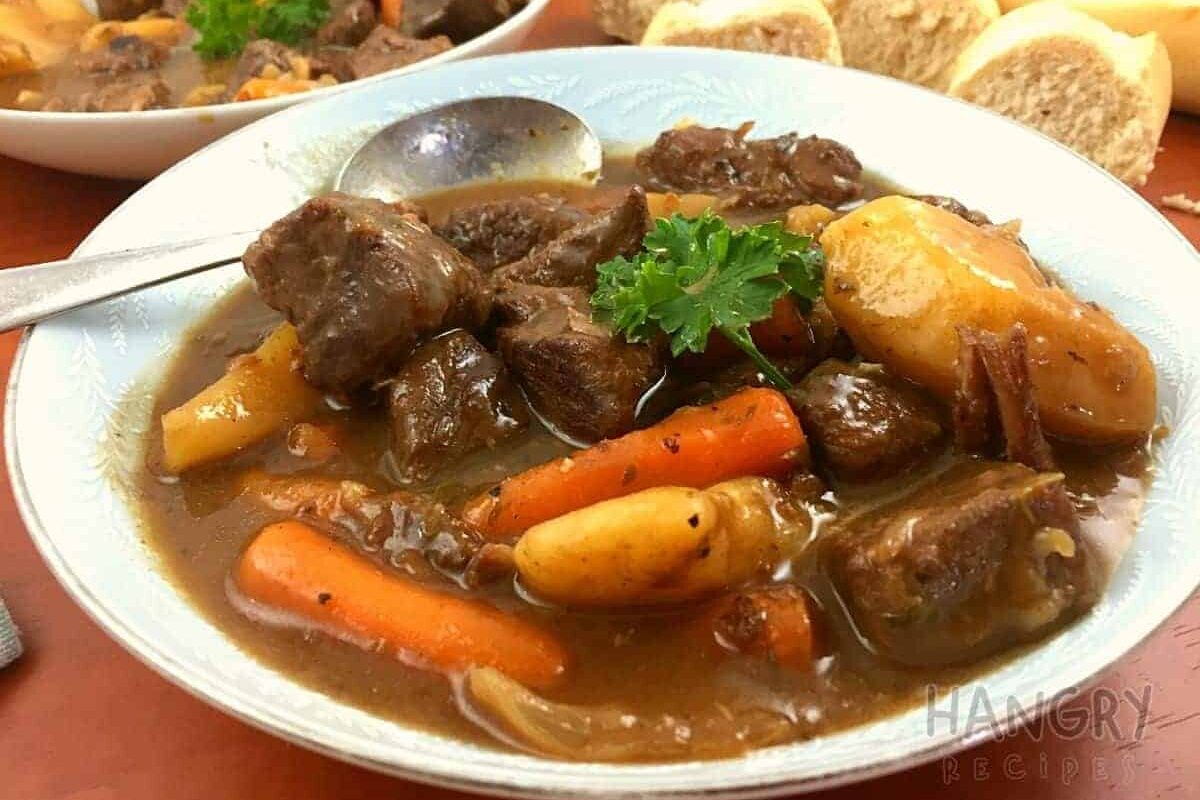 Ingredients
800

grams

boneless beef (well-marbled)

cubed

black pepper

freshly grounded

3

tbsp

olive oil

extr virgin

2

medium onions

sliced (chunks)

6

cloves

garlic

sliced and chopped

2

tbsp

balsamic vinegar

1 ½

tbsp

tomato paste

¼

cup

all-purpose flour

2

cups

red wine

dry

2

cups

beef stock

rich

2

cups

water

4

bay leaves

small bunch of fresh thyme

chopped

1

cup

small carrots

500

grams

baby potatoes

peeled and cut in halves

fresh parsley

for garnishing
Instructions
Pat the beef dry and season with the salt and pepper

In a large heavy based pan, heat 1 tablespoon of the olive oil over medium-high heat until hot and shimmering

Sear the meat in batches on both sides, for about 5 minutes per batch

Add one tablespoon oil for each batch

To sear the meat properly, do not overcrowd the pan and let the meat develop a nice brown crust before turning

Add the onions, garlic, and balsamic vinegar into the pan

Stir with a wooden spoon and scrape the brown bits from the bottom of the pan, for about 5 minutes

Add the tomato paste and cook for a minute more

Add the beef with its sauce back to the pan and sprinkle with the flour

Stir with a wooden spoon until the flour is dissolved, 1 to 2 minutes

Add the wine, beef stock, water, bay leaves and thyme

Stir with a wooden spoon to loosen any brown bits from the bottom of the pan and bring to a boil

Cover the pot with a lid, turn down the heat and simmer for at least 2 hours

Check from time to time to ensure the meat does not burn

After 2 hours, add the prepared carrots and potatoes

Cover and cook for about 30 minutes until the vegetables are cooked, the sauce has thickened and the meat is tender