A traditional dish with versions hailing from Latin America, Southern Europe, and the Philippines, this Baked Empanada with Ground Beef meal is a healthier version of the much-loved savory pastry dish. What's even better, is that these pockets of joy can be made in just under an hour!
What is an Empanada? 
An empanada ('empanar', meaning to cover in pastry) is a savory crescent-shaped pastry made from dough, that is filled with a variety of ingredients such as meat and vegetables. Empanadas are a version of Spanish meat pies that can be eaten with your hands, and are usually deliciously seasoned with warm spices such as cumin, cinnamon, and chili powder, and then baked or fried to a golden and crispy texture. The golden, shiny look of the empanadas comes from an egg wash that the pastry gets right before it is baked or fried.
Healthy Yet Indulgent 
This empanada recipe is a healthier version of the original that is usually served with potatoes and/or grated cheese. These empanadas include beef and nutritious vegetables such as cabbage and red peppers. Feel free to use your creativity and add any other vegetables or ingredients you would like, just make sure not to overfill your pastries (use approximately one tablespoon of filling) as they might burst. When sealing the filled pastries, press the dampened and folded edges with a fork in order to ensure that the empanadas are properly sealed.
Serve with a sour cream or guacamole dip, a fresh salad, or a homemade Pico De Gallo or salsa to stick to the traditional theme.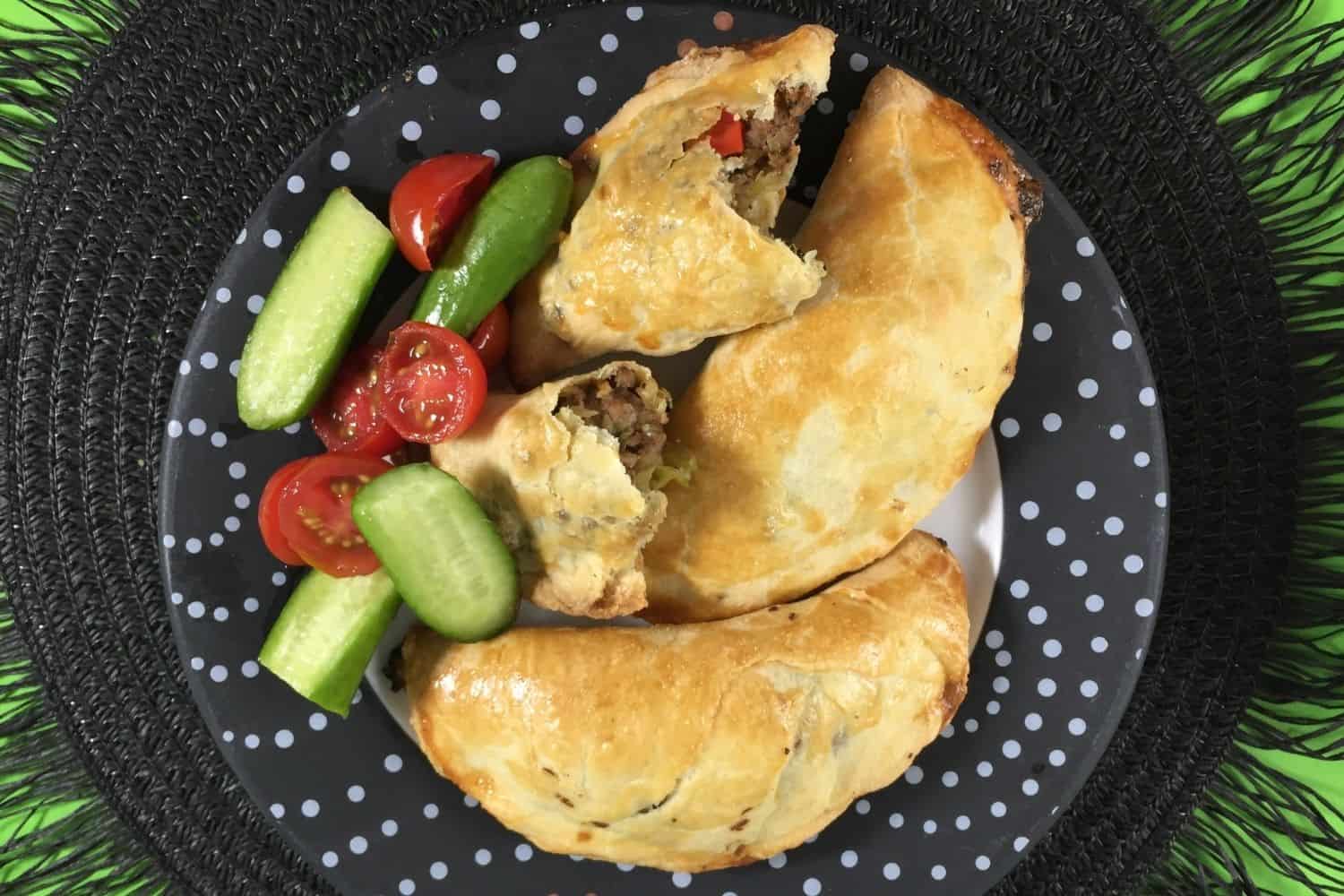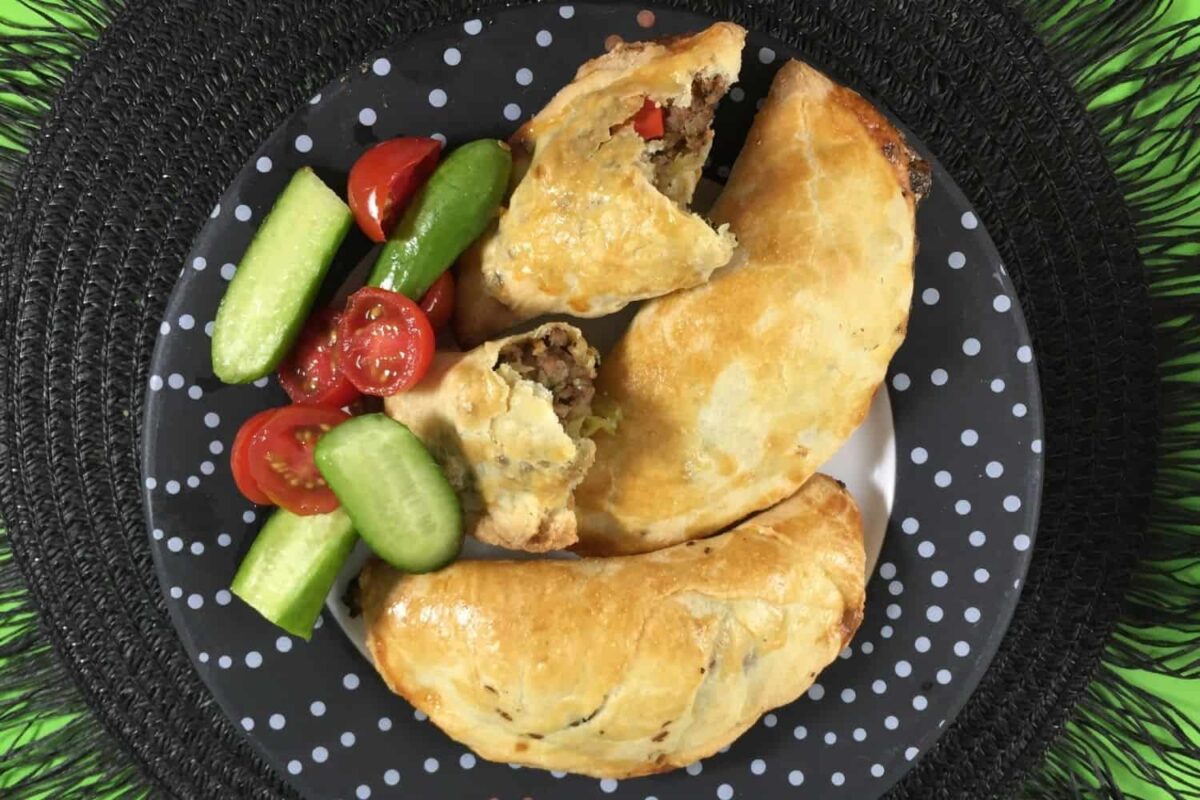 Ingredients
Crust Ingredients
2 ½

cups

flour

2 ½

tsp

salt

½

cup

cold butter

sliced into little pieces

1

egg

beaten

½ – ¾

cup cold water
Filling Ingredients
500

g

ground beef

2

tbsp

oil

1

chopped onion (red or white)

4

spring onions

chopped

3

garlic cloves

finely chopped

1 ½

cup

baby cabbage

finely grated

1

tsp

fresh oregano

finely chopped

1

tsp

ground cumin

½

tsp

ground black pepper

1

tsp

salt

¼

cup

cilantro

finely chopped

1-2

red peppers, (chilies are optional)

finely chopped

1

large

egg

1

tbsp

milk

for the egg wash
Instructions
Crust
Combine the flour and salt in a bowl then whisk it together to combine well.

Add the cold cut butter and use your fingers to work the butter into the flour until it is crumbly then add the beaten egg and mix with a spoon or your hand just until it's mixed in.

Add 1/2 cup of cold water and start kneading with your hand until the dough comes together into a ball, If the mixture is too dry, add an additional 1 tablespoon of cold water at a time until it is right.

Wrap the dough in plastic wrap and refrigerate for 1 hour or more.
Filling
While the dough is chilling, make the filling then heat the oil on medium/high heat and sauté the onion for a couple of minutes with a pinch of salt until it just starts to become translucent.

Add the ground beef, breaking it up with a spoon as it cooks then cook until the meat is brown and the onion translucent.

Add the minced garlic and cook for another minute, add the grated cabbage, oregano and cilantro, chillies or red pepper and stir it around and let the spinach completely wilt.

Season with salt and pepper to taste, make it spicier if needed, stir then set aside to cool.
Making the empanadas
Prepare 2  or 1 large baking tray with baking paper or non-stick spray, make your egg wash and set it next to your work surface.

Place half of the dough on a floured surface and put the other half back in the fridge until you are ready to work with it, then dust the dough with flour and roll it out until it is as thin as you can get it without tearing.

Using an 11.43 centimetres inch biscuit cutter, bowl or cup, cut out the rounds, you should get 8 from each half of the dough.

Take one round, run the roller over it just a couple of times to do a final stretch and thin of it, then place 1 heaping tablespoon of filling on the almost centre.

Using your finger or a brush, dampen the bottom half edge of the dough with the egg wash, pull the top of the dough round up and over the filling and press it down on the dampened edge so that you are left with a half-moon.

Using a fork, seal the edges of the pastry, place the pastry on a lined baking sheet or baking sheet that has been sprayed with a non-stick spray.

Brush the top of each empanada with the egg wash so that it gets a nice golden colour and a good crust, place in fridge then continue until you have 18 empanadas, keep in the fridge for about an hour or longer.

Preheat oven to 200 degrees Celsius / 392 degrees Fahrenheit, remove the empanadas from the fridge, place both baking sheets in the oven and bake for 18-25 minutes, rotating them after about 10 minutes.

My oven took a total of over 20 minutes until my empanadas were perfectly puffed and browned, serve hot or at room temperature with yoghurt and chilly sauce (optional).