Healthy food does not have to be boring with these Fruity And Healthy Flapjacks. Made with nutritional ingredients that are naturally low in sugar and fat, and served with sweet raspberries and refreshing star fruit, these healthy pancakes are surprisingly tasty for such a healthy flapjack replacement!
Tastefully and Nutritiously Guilt-Free
These fruity flapjacks are made up of healthy ingredients that have high nutritional value. Rolled oats, bananas, apple sauce, and 'Futurelife' cereal make up the base of these flapjacks. They are wheat free, and contain minimal fat and sugar. Due to the nutritious value of the ingredients, these flapjacks are also loaded with vitamins and minerals such as vitamin C, E, B vitamins, potassium, manganese, biotin, and magnesium. These healthy flapjacks are also free of refined sugar, and use natural ingredients for sweetness, such as honey, raspberries, and apple sauce. Apple sauce also acts as a great oil/butter/or fat replacement!
Simple and Ready in under Half an Hour!
These fruity flapjacks are made by mixing all of the ingredients in a blender, and frying them in a pan, taking under 30 minutes to be made! The flapjacks themselves take only 3 to 5 minutes to cook on each side, but make sure not to cook them on a high heat as you don't want them to burn. When the flapjacks are done, they are served with raspberry sauce that is made in a pot with honey and xanthan for thickness, and some fresh star fruit that adds a sweet and mildly sour flavor to the dish.
Try this healthy flapjack recipe if you are looking for healthy dessert replacements, or are just wanting to get those vitamins and minerals in in a tasty way. They are surprisingly toothsome and enjoyable, and you certainly won't be missing the sugar and carbs!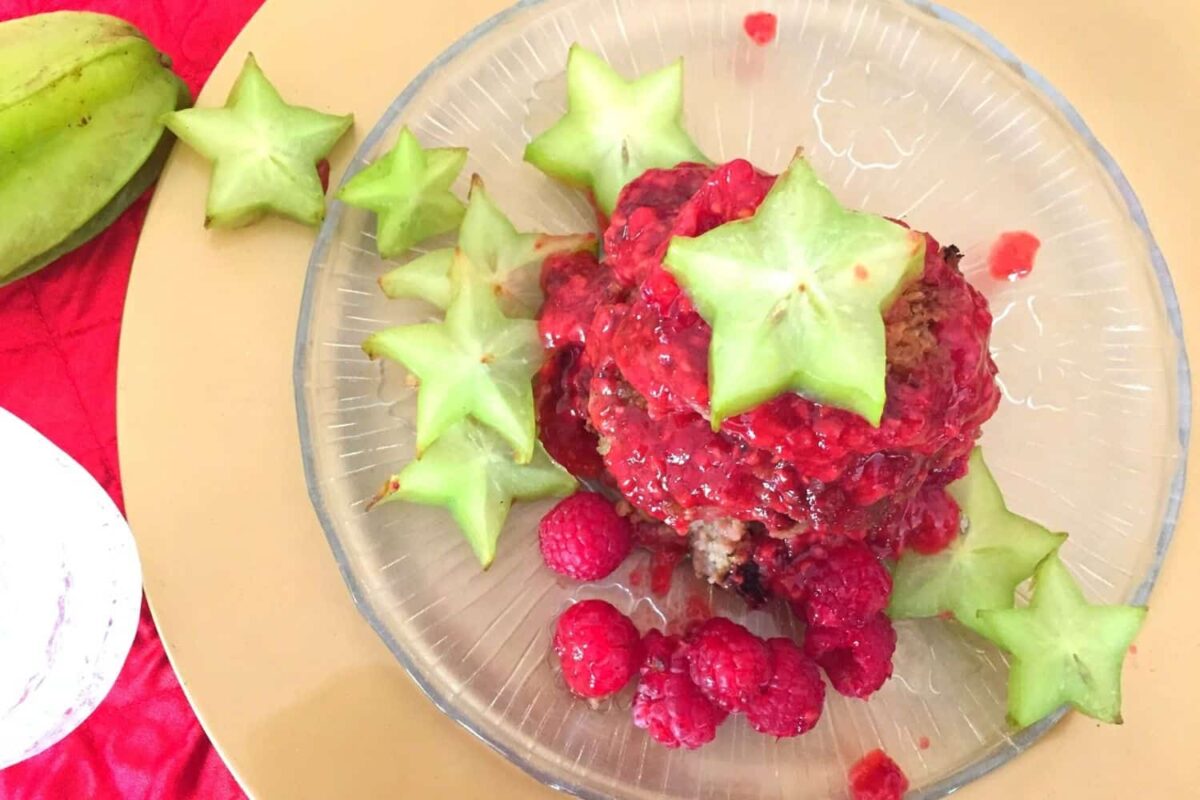 Ingredients
1

cup

rolled oats

1

cup

coconut milk or rice milk

2

large bananas

¼

cup

natural apple sauce

1 ¼

tsp

baking powder

¼

tsp

cinnamon

2

tbsp

'futurelife' cereal chocolate flavour  or any other cereal of your choice

Butter for frying (coconut oil Optional)

2 to 3

tbsp

honey

1

cup

raspberries

¼

tsp

xanthan for thickening of the sauce

2

star fruit
Instructions
Put all the ingredients into a blender and blend until the mixture is completely smooth. Pour the batter into a bowl and let it sit for at least 1 hour for the batter to thicken before cooking. It will be very soupy at first but will thicken as it sits, as the oatmeal absorbs the milk.

Heat a skillet to medium heat, if you have a gas stovetop, rather keep it on low.   Melt a teaspoon of butter in the skillet. Test to see if the skillet is ready by letting a drop of the pancake mixture fall in and if it sizzles, it's ready.

Cook the pancakes for 3 to 5 minutes per side covered.  When they are ready to turn, the entire uncooked side will be covered in bubbles and the edges will look brown. Continue until all is done, you should have about 6 to 8, depending on the size you are making.

Add ¾ of the raspberries in a saucepan with a little water, bring to boil, add the xanthin to the sauce, stir until dissolved and thickened. Add honey, sweeten to your taste. Set aside to cool.

Plate the flapjacks with the sauce, garnish with the star fruit and raspberries.