The perfect winter warmer for when you are strapped for time but still want to get those veggies in, this Red and Green Pepper Soup is a great weeknight meal that is as tasty as it is nutritional! Just throw some basic ingredients together, cook them, blend them, and you have got yourself one rich and creamy yet healthy soup.
A hearty soup that is filled with so many different types of healthy vegetables, such as tomatoes, onions, and red, yellow, and green peppers.
A Pepper Soup that is Nutritious and Delicious
Peppers are a winner in the nutrition department. All kinds contain ample amounts of vitamin C, vitamin A, potassium, folic acid, and are a great source of fiber. Although all peppers are healthy, you should not skip the addition of the red peppers, as they contain 11 times more beta-carotene and 1.5 times more vitamin C than the others. The peppers contribute to great flavor too, offering a slightly sweet taste. The coconut milk adds a creamy indulgence to the soup, with a unique taste that is sweet and slightly nutty. If you would like to add some spiciness to the soup, include some chili peppers! These are also incredibly healthy as they are high in vitamins and minerals, and it has been said that they may boost metabolism too!
We cannot fault this pepper soup- it is nutritional without any compromise on the flavor or texture. It is also a great way to get the kids to eat their veggies (by concealing them in one delicious soup). If you would like, add some carrots or butternut for even more vitamins!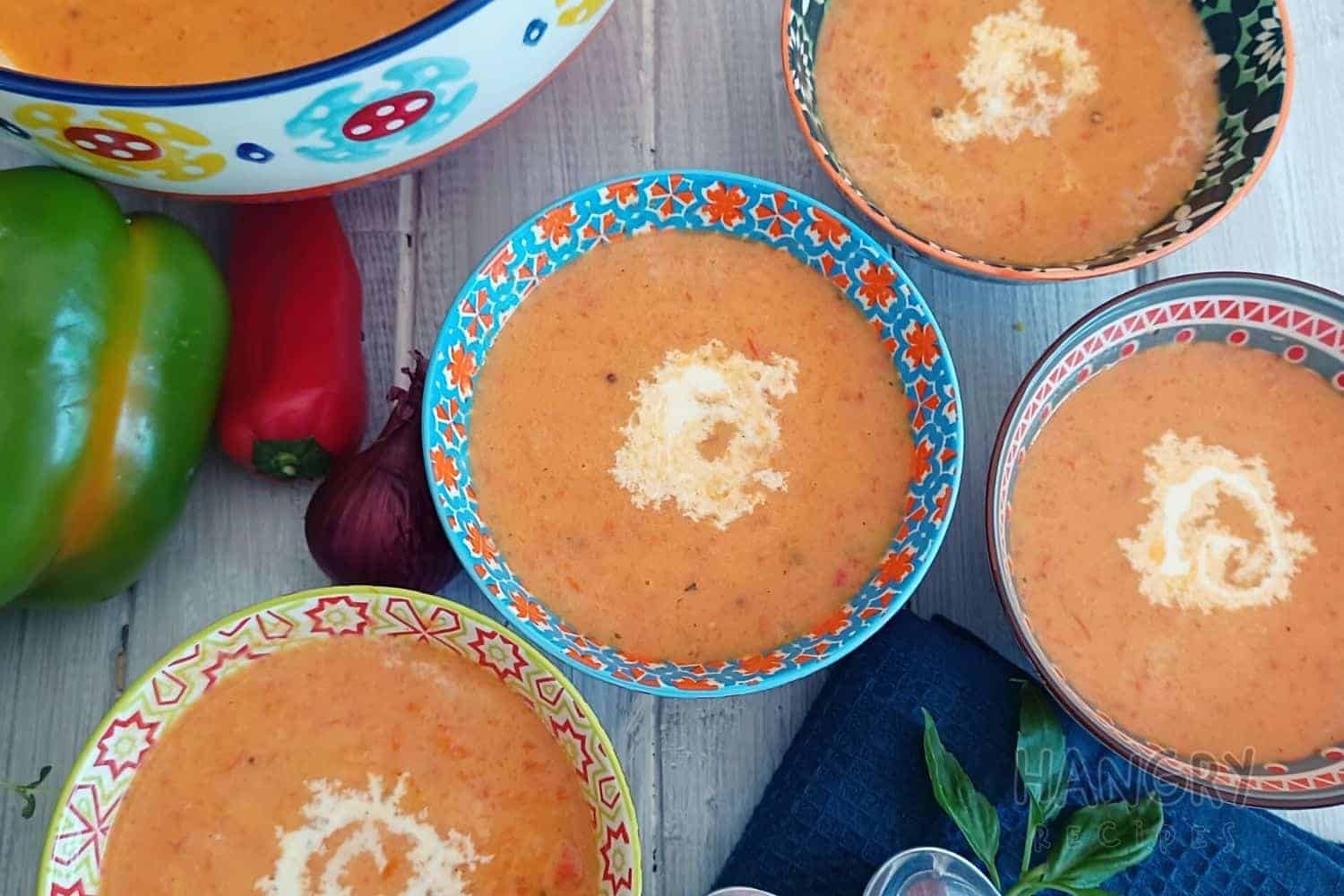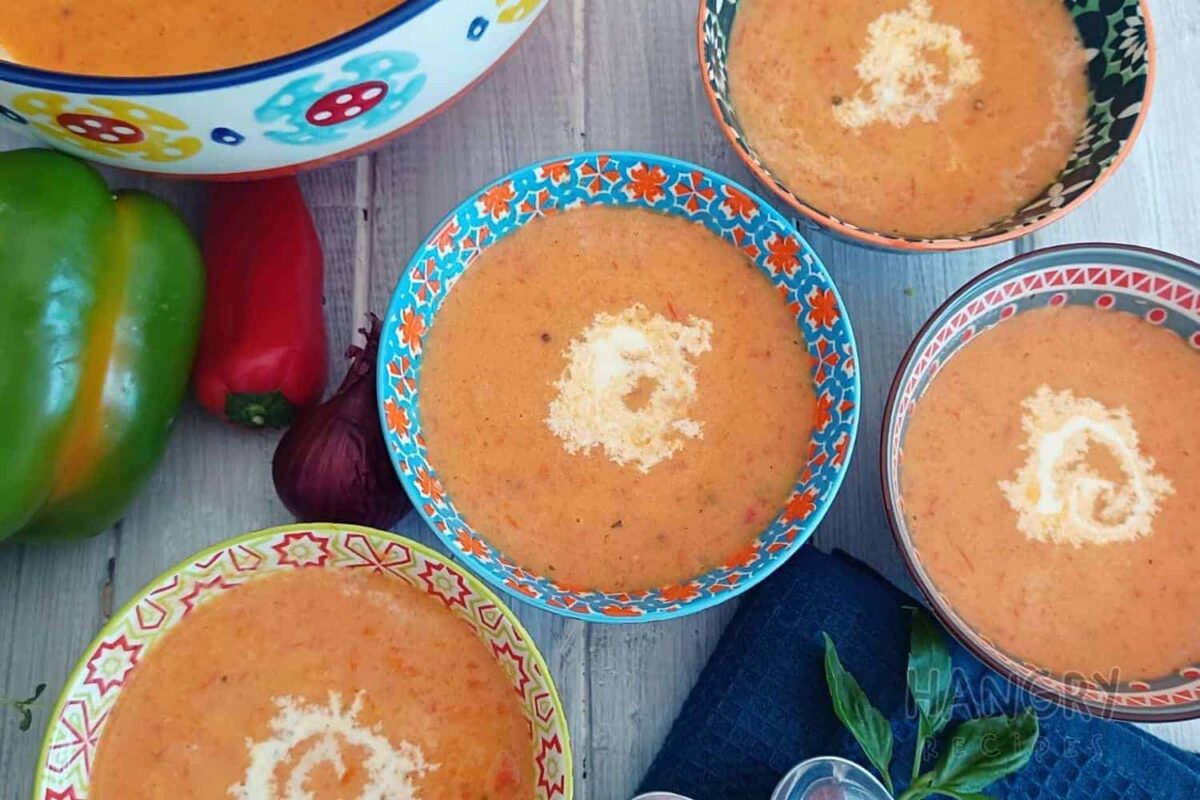 Ingredients
olive oil

virgin

6

large tomatoes

cut in quarters

1

red onion

sliced in quarters

1

red pepper

de-seeded and sliced

4

seedless peperino peppers

sliced

1

green pepper

de-seeded and sliced

1

red chili

chopped and deseeded

1

tsp

coriander seeds

1

cup

veg

good quality stock

1

handful

basil leaves

3

cloves

garlic

kept whole

1

tsp

peppercorns

1

tin

coconut milk

½

cup

red peppers

cut into cubes

salt and pepper
Instructions
Preheat the oven to 170 ° C / 338 °F for the fan oven and 180 ° C /  325 F for a conventional oven.
Place the vegetables in an oven dish, sprinkle with oil, mix well and place in the preheated oven until cooked through and charred.

In a large pot or saucepan, saute the coriander seeds and black peppercorns in 2 tablespoons of olive oil. 

Add the roasted vegetables to the pot, mix through.

Add the veggie stock, and the coconut milk, adjust seasoning and bring to a boil.

Remove from heat. Let the soup cool slightly, place a towel over the top of the blender. Blend the soup.

Pour pureed soup into a pot of a bowl.
Serving Suggestion
Garnish with fresh basil and chopped red peppers and coconut milk (optional)
Notes
Serve this super delicious soup hot or cold