A hot and spicy peri peri chicken meal is one with a traditional sauce hailing from South African cuisine. The most juicy, tender, and crispy chicken pieces are coated with flavors of chili and paprika, packing a delicious punch for those tastebuds!
What is Peri Peri Chicken?
Peri Peri is a hot sauce mix that is made from chilis, olive oil, garlic, paprika, lemon, salt, and black pepper. The chicken legs marinate in this mixture for at least 1 hour, and the flavor locks in perfectly. For this recipe, paprika is used for some heat, as well as chili flakes, but if you can take even more heat, add some crushed chilis instead. Lime juice is used instead of lemons for this recipe- this gives the chicken less of a bitter taste, and more of a tart, "zingy" taste due to the fruity and spicy notes. Chicken legs are used in this recipe as they are sure to leave you with juicy, tender chicken pieces, with a crispy and flavorful skin. However, you can choose any chicken pieces you would like. These mouthwatering chicken pieces are paired with a unique coconut and lime rice and corn on the cob, making for a full and satisfying meal. This is how you can make Nando's Chicken Peri Peri at home or at least as close as you will get to it.
Easy and Convenient
Make this Peri Peri Chicken in advance, as it can marinate in the fridge for up to 24 hours! It also takes just under an hour to make, with 30 minutes being cooking time in the oven, and is easy to prepare too. It can also be grilled on the barbecue!
Enjoy this meal at a dinner party or at a barbeque with friends, served with some homemade fries or a fresh green salad.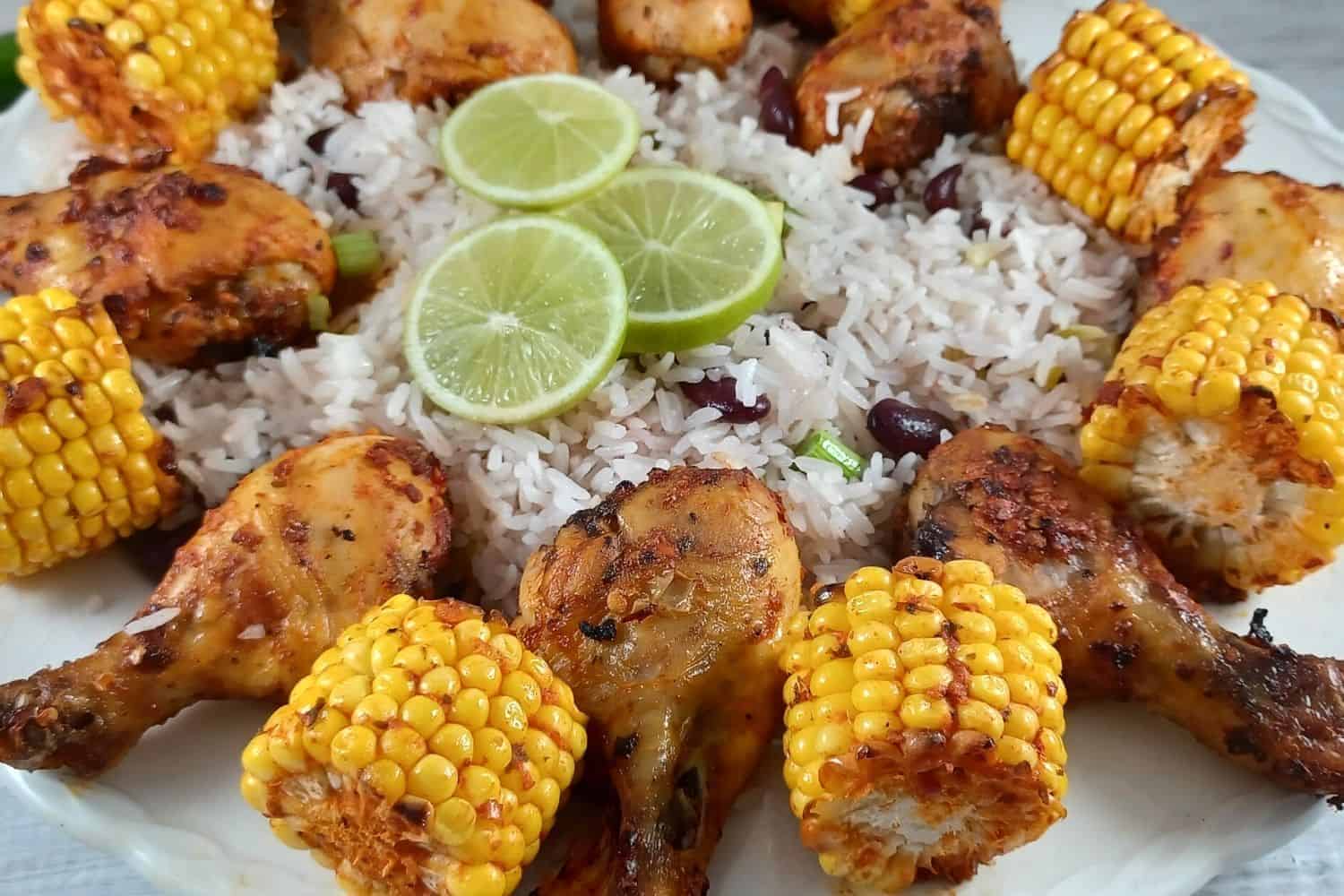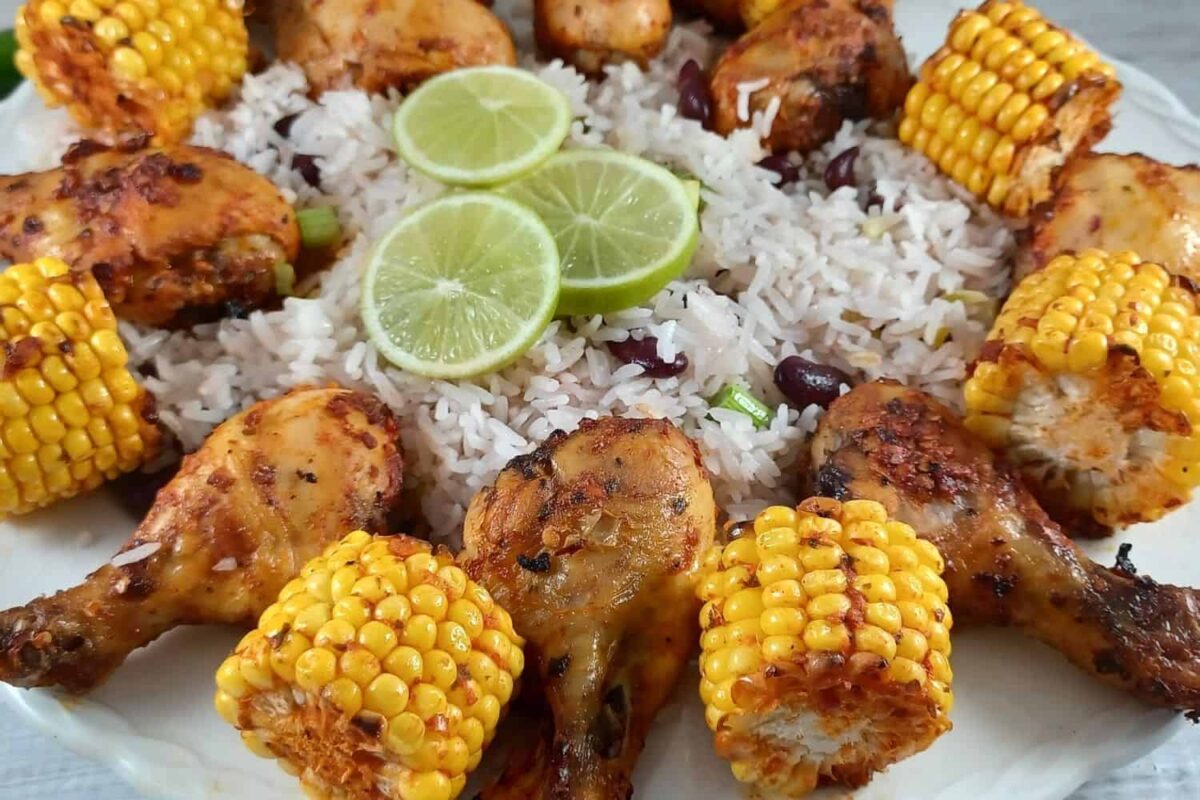 Ingredients
2

tbsp

olive oil

2

tsp

chili flakes

4

cloves

garlic

crushed or grated

2

limes

juiced

2

tsp

smoked paprika

2

tsp

fresh oregano

dried will do too

½

tsp

salt 

black pepper to taste

8

chicken legs

4 – 8

small corn on the cobs 

sweetcorn mini cobs
Coconut Lime Rice
300

g

basmati or long grain rice

400

ml

tin coconut milk

200

ml

water

½

tsp

salt

400

g

tin black-eyed peas or kidney beans

drained

1

lime

juiced

4

spring onions

sliced

sliced spring onions and lime wedges

for garnish
Instructions
Peri-Peri Chicken & Corn
Marinate the chicken for about 1 hour plus

Preheat your oven to 220C / 428F  ~ 392F – 200C (Thermo Fan)  

Mix together all of the Peri-Peri Chicken ingredients (apart from the corn on the cobs and the chicken!) in a large bowl. 

Score the skin of the chicken with the point of a sharp knife and place the chicken in the bowl of marinade, turning to coat each piece of chicken with marinade.

Marinate the chicken for 1 hour in the fridge or up to 24 hours if you have the time. 

Place all the chicken pieces on a rack in the roasting tray and then place them in the preheated oven.

Roast the chicken for 30 minutes, remove the tray from the oven, turn the pieces chicken, add more of the marinating sauce over, then add the corn underneath the rack with the leftover marinating sauce, mixing them in the well in the marinating sauce, then return the tray to the oven for a further 10 to 15 minutes.
Coconut Lime Rice
While the chicken is cooking, place the rice, coconut milk, and water in a pan and bring to a boil. Cover with a lid and cook for a further 8 minutes, or until the rice has absorbed almost all the liquid.

Add the drained black-eyed peas, or red kidney beans, lime juice, and spring onions and cook with the lid on for a further 2 minutes or until the black-eyed peas or beans have warmed through and the liquid is all absorbed.

 Keep the lid on until needed.

Arrange the rice on a serving platter, top with the chicken pieces, and corn on the cobs. Drizzle over any juices from the chicken pan and then scatter over the spring onions and lime wedges.