Pineapple Fried Rice is such a refreshing combination of sweet and spicy flavours. This dish is super easy and quick to make, and will you leave your tastebuds wanting more and more.
First thing you need to know when making this dish, whether as a side or as a meal on its own, is that once you start, everything needs to happen quite fast. So make sure that you have prepped everything beforehand. In the case that you will be using leftover rice, your prep time shouldn't take more than 15 minutes. Should you be making freshly cooked rice, be sure to take the extra time needed into account.
CHEF'S TIP FOR FRIED RICE
A great element of Pineapple Fried Rice is that it actually works best with leftover rice. The reason being that leftover rice doesn't clump together the way freshly cooked rice does. This way all the ingredients will be mixed evenly with the rice. What a great way to prevent food wastage!
The use of those fresh Thai flavours is what really sets this recipe apart. With the sweetness coming through from the caramelized pineapple, and the spiciness from the peppers and sriracha sauce, no one can escape the deliciousness. Top it off with some cashew nuts and fresh coriander, and you can't go wrong. The cashew nuts add a richness that binds all the flavours together.
An added bonus with this healthy dish is that it's already vegetarian and it is so easy to convert it into a vegan dish. All you have to do is make it without the eggs, and voila!, time to enjoy your vegan Pineapple Fried Rice.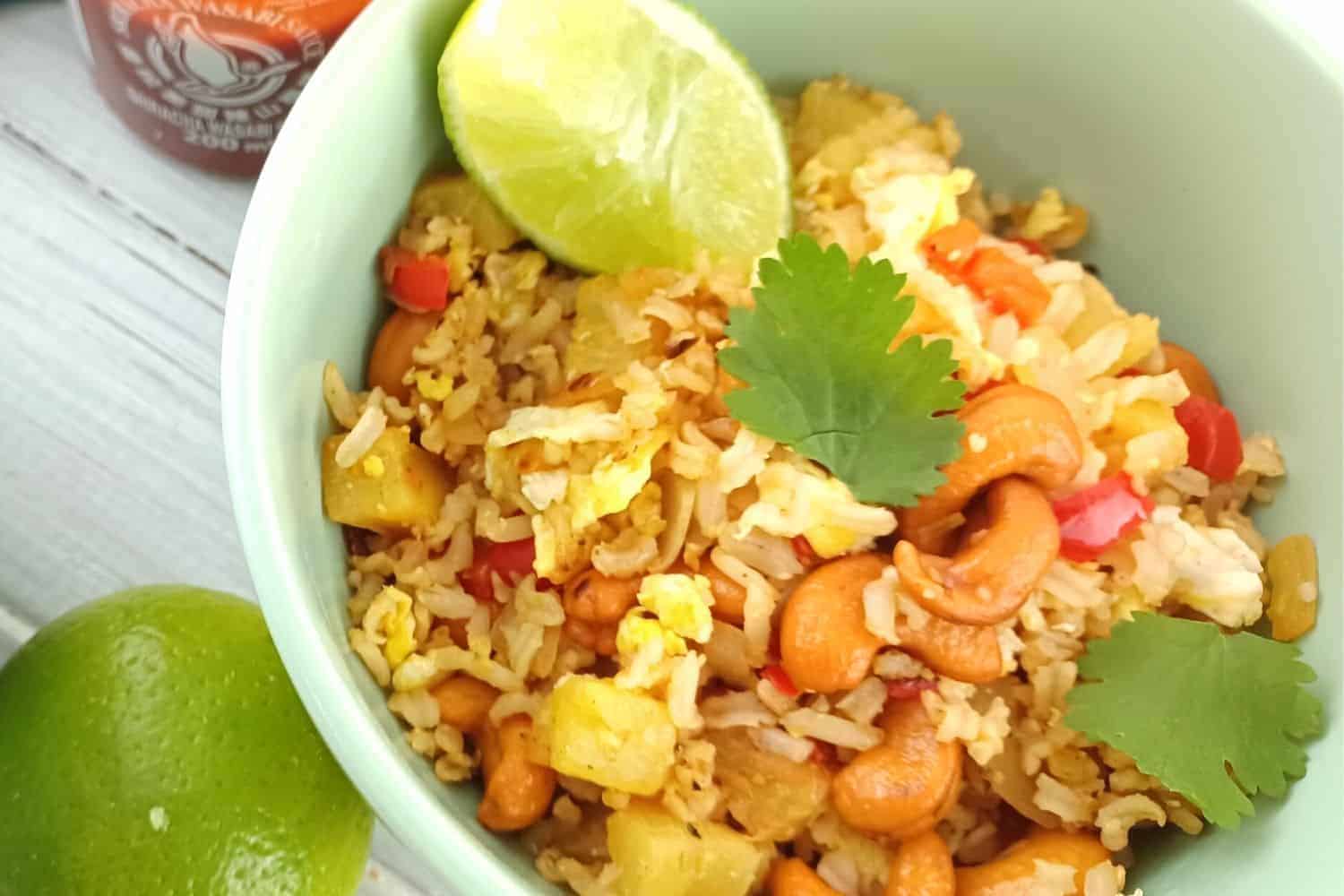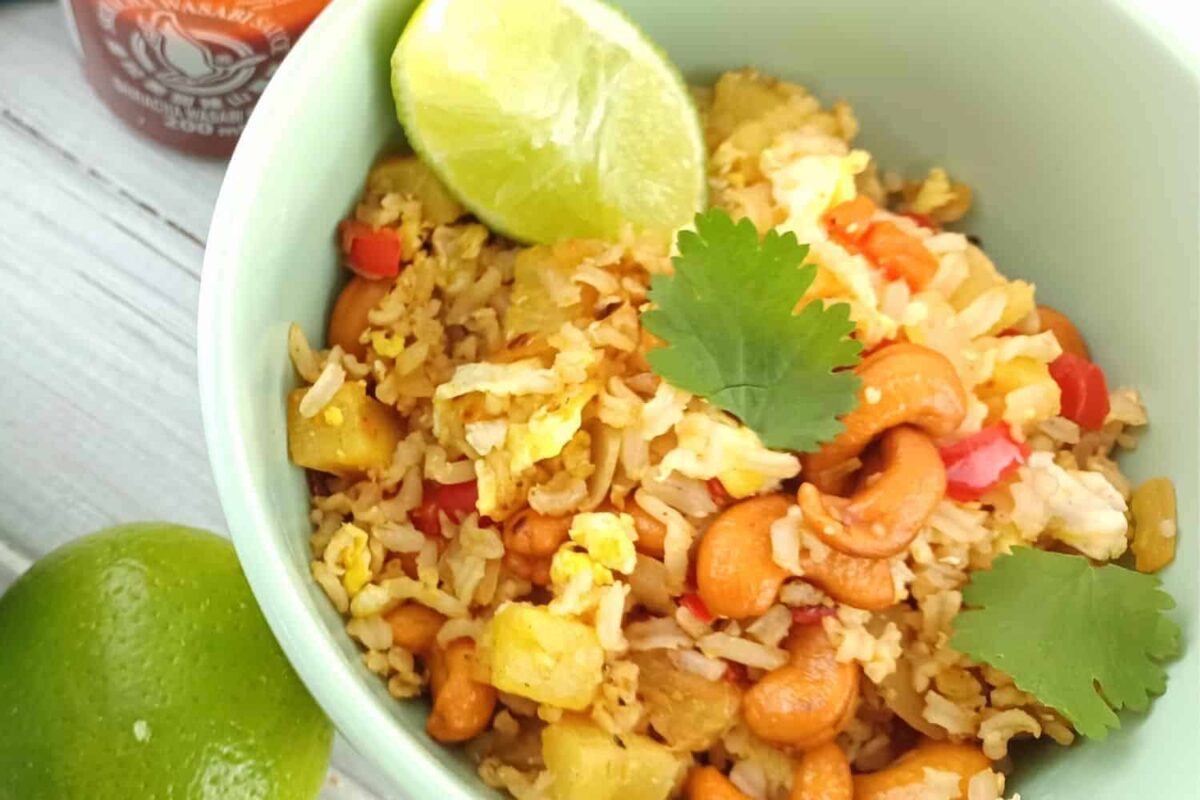 Ingredients
1

tbsp

coconut oil

2

eggs

2

cups

chopped fresh pineapple

4

red peperino peppers

diced or one large red bell pepper

½

cup

chopped green onions or 1 small onion

thinly sliced

2

cloves garlic

minced

½

cup

chopped cashews

3

cup

cooked brown rice

1

tbsp

sriracha wasabi sauce

optional

1

small lime

halved

salt

to taste

1

handful

fresh coriander leaves for garnishing
Instructions
Heat a large wok, cast-iron skillet, or non-stick frying pan over medium-high heat and place an empty serving bowl nearby. Once the pan is hot enough, add 1 teaspoon coconut oil. Pour in the eggs, scramble with a wooden spoon continuously until the eggs are scrambled and lightly set, about 30 seconds to 1 minute. Transfer the eggs to the empty bowl.

Add 1 tablespoon coconut oil to the pan and add the pineapple and red pepper. Cook, stirring constantly until the liquid has evaporated, and the pineapple is caramelized on the edges, about 3 to 5 minutes. Then add the green onion and garlic. Cook until fragrant while stirring constantly, about 30 seconds.

Reduce the heat to medium and add the remaining 2 teaspoons of oil to the pan. Pour in the cashews and cook until fragrant, stirring constantly for about 30 seconds. Add the rice to the pan and stir to combine. Cook until the rice is hot, stirring occasionally, about 3 minutes.

Pour the eggs back into the pan and stir to combine, breaking up the scrambled eggs with your spoon. then remove the pan from heat. Sauté until all is warmed through.  Add the sriracha and squeeze the juice of ½ lime over the dish and stir to combine. Season to taste with salt and set aside.
Notes
Slice the remaining ½ lime into 4 wedges. Serve in large bowl, or in separate bowls.