There is really something about juicy and tender pork chops spiced and cooked to perfection that we really just cannot resist!
The combination of lemon and herbs is a classic that is popular with many. The thyme adds a fragrant aspect to the tang of the lemon and creates a unique savoury taste experience. However, if you would like to spice it up a bit, feel free to add some garlic flakes or spice into the mix, or kick it up a notch by adding some chili powder.
To lock in the flavour and create a crunchy and golden caramelized texture, searing the pork chops once salted is completely necessary. You should not skip this step! Another great tip for this dish is to not cook the pork as they have come straight out of the refrigerator- let them sit for at least 30 minutes until they are at room temperature. This will encourage the pork to cook evenly throughout. Pork chops are infamously easy to overcook, therefore, in order to prevent this, choose pork chops that are at least 1- inch (2.5cm) thick.
Serve these succulent pork chops with a buttery potato mash or with some oven roasted vegetables. If you are searching for low carb or low calorie sides, you can make a cauliflower mash.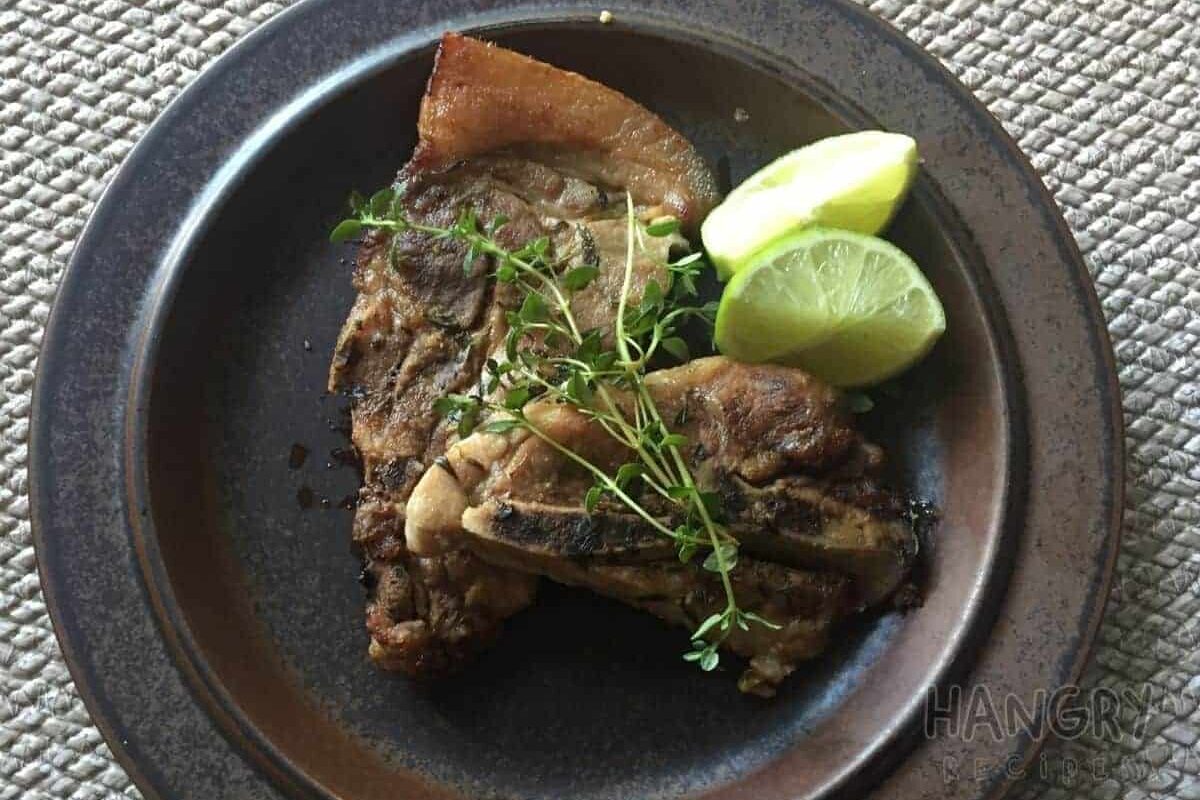 Ingredients
4

Pork Chops or more

(if making more chops adjust ingredients accordingly)

4-6

cloves

Garlic

Minced or Grated

1

tbsp

Fresh Thyme

leaves removed from the stems and chopped

1

tbsp

Olive Oil

½

tsp

grounded Black Pepper

½

tsp

grounded coarse Salt

1

tbsp

Butter

1

Lemons, halved
Instructions
In a bowl, combine the garlic, thyme, olive oil, black pepper, salt, and juice from about ¼ of a lemon. 

Rub the mixture all over the pork chops and allow them to rest for 15-20 minutes. 

While the pork chops are resting, place a  cast-iron skillet in a 190°C / 374°F degree oven. Let the skillet sit in the oven for 20 minutes so it's super-hot, then place on medium heat.  If not using a skillet for the oven, place the skillet on medium heat until super-hot.

Add the butter. Once the butter is melted and bubbly, add the pork chops. Allow them to sear for 2 minutes on each side. Set aside and repeat. Slice half of the lemons and arrange the slices around the prepared oven dish and one slice on each chop. Take any additional thyme sprigs and arrange them around the skillet. Cover with aluminium foil.

Place the skillet or oven dish with the pork chops into the preheated oven for 45 minutes. Good idea to check if chops are tender before removing them from the oven. Remove the aluminium foil.

Squeeze any leftover juice from lemons on the super delicious tender chops and serve.