If you are in the mood for some fried and fulfilling indulgence, tuck into these Chinese inspired fried pork nuggets! This dish is based on the traditional sweet and sour pork dish but made slightly easier.
Sweet and sour are 2 of the 5 classic Chinese taste combinations that are used in the cuisine. The marinade is based off of sweet and salty flavours- sweet flavours from the brown sugar and ginger are perfectly balanced with the salty soya sauce. The sour flavour comes in when you add your sweet and sour sauce of your choice. You can make your own by combining soya sauce, granulated sugar, vinegar, and cornstarch. If you would prefer a slightly healthier sweet and sour sauce, and rather use natural sugars, use pineapple chunks and the juice from some canned pineapples instead of refined sugars. You can also add some natural lemon juice for more of an authentic sour taste.  
This recipe takes an hour and a half to make, but the ingredients required are very simple and are possibly items that you may already find in your pantry or kitchen at home.
Serve these mouth-watering Sweet and Sour Pork Nuggets with some fluffy Jasmine rice or traditional rice noodles and eat up!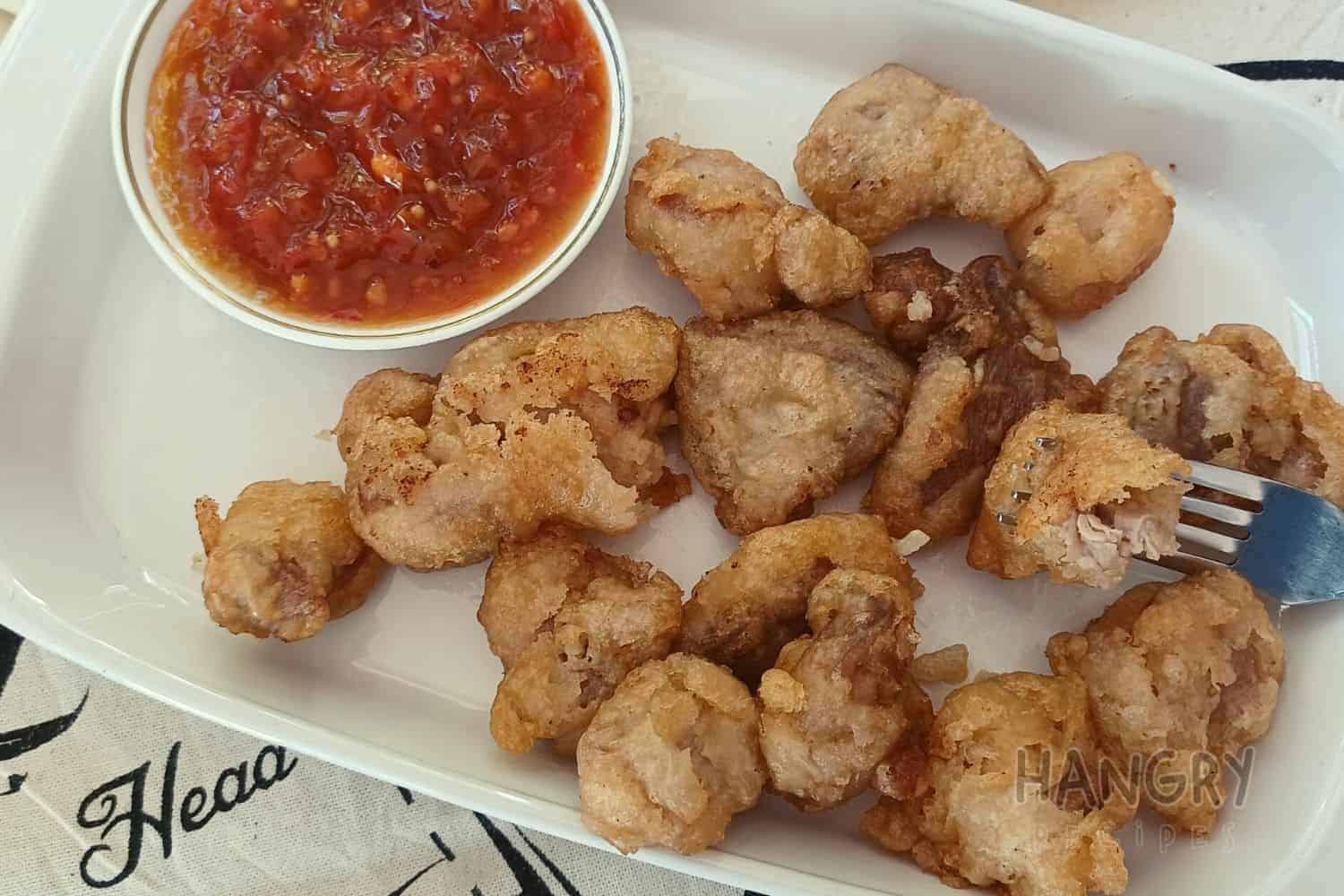 Ingredients
1

kg

Pork chops, deboned, fat trimmed then the meat is cut into cubes

½

cup

cornflour

more if needed

Canola oil for deep-frying

sweet and sour sauce of your choice
Marinade:
120

ml

light soy sauce

80

ml

dark soy sauce

60

ml

brown sugar

1

knob

ginger

peeled and grated

5

ml

olive or sesame oil
The batter for Frying the Nuggets:
300

g

self-raising flour

100

ml

cornflower

10

ml

baking powder

1

tsp

cayenne pepper

330

ml

sprite

must be cold
Instructions
Whisk all the ingredients together, add this to the cubed pork, mix well and refrigerate for at least 1 hour or longer.

Mix all the dry ingredients for the batter together. 

Mix in the sprite slowly just before you will be dunking the pork, ensure there are no lumps.

Drain the marinated pork in a colander, then sprinkle the dry ingredients with the cornflour, ensuring all the cubes have been covered.

Heat 750ml oil, test the heat with a little batter, it must bubble immediately and not flow to the bottom.

Dip a few cubes of pork in the batter just a few at a time and fry until golden brown.

Drain on a paper towel.  repeat until all the meat has been fried.

*Serve with a sweet and sour sauce of your choice, with rice or noodles.