This Bacon Wrapped Pork or Chicken Fillet dish with Braised Red Cabbage, Roast Potato and Broccoli is an indulgent meal, simple enough for a weeknight treat, and scrumptious enough for a dinner party where you might be wanting to impress your guests. This dish is a full meal on its own and does not require any extra sides at all!
The Steps
Chicken or pork fillets are marinated in an olive oil, garlic, thyme, and wholegrain mustard marinade for 2 to 6 hours. The longer you marinate the fillets, the more your flavors will develop, and the juicier the fillets will become too! The chicken or pork fillets are wrapped in streaky bacon and cooked in the oven, until the bacon is crispy, and the fillets are cooked through. The fillets should cook in the oven for about 35 minutes, depending on their size. Smaller fillets will need less time in the oven. If you are wanting to lessen the calories in this dish, opt for turkey bacon.
A Well-Balanced Meal
This dish is served with braised cabbage, roast baby potatoes, and blanched broccoli. The cabbage is braised in a red wine, balsamic vinegar, sugar, and butter glaze, that is spiced with cinnamon and star anise. This adds a warmth and distinct flavor to the cabbage, that takes on the flavor so well. Both the cabbage and the broccoli contribute greatly to the overall nutritional value of this dish, as they are packed with vitamins and minerals such as vitamin K, vitamin C, folate, and manganese.
Serve this flavorful meal as a weeknight dish, or for a dinner party with friends and family. Either way, anyone who indulges in this meal will be delighted by its distinct flavors and guaranteed tastiness.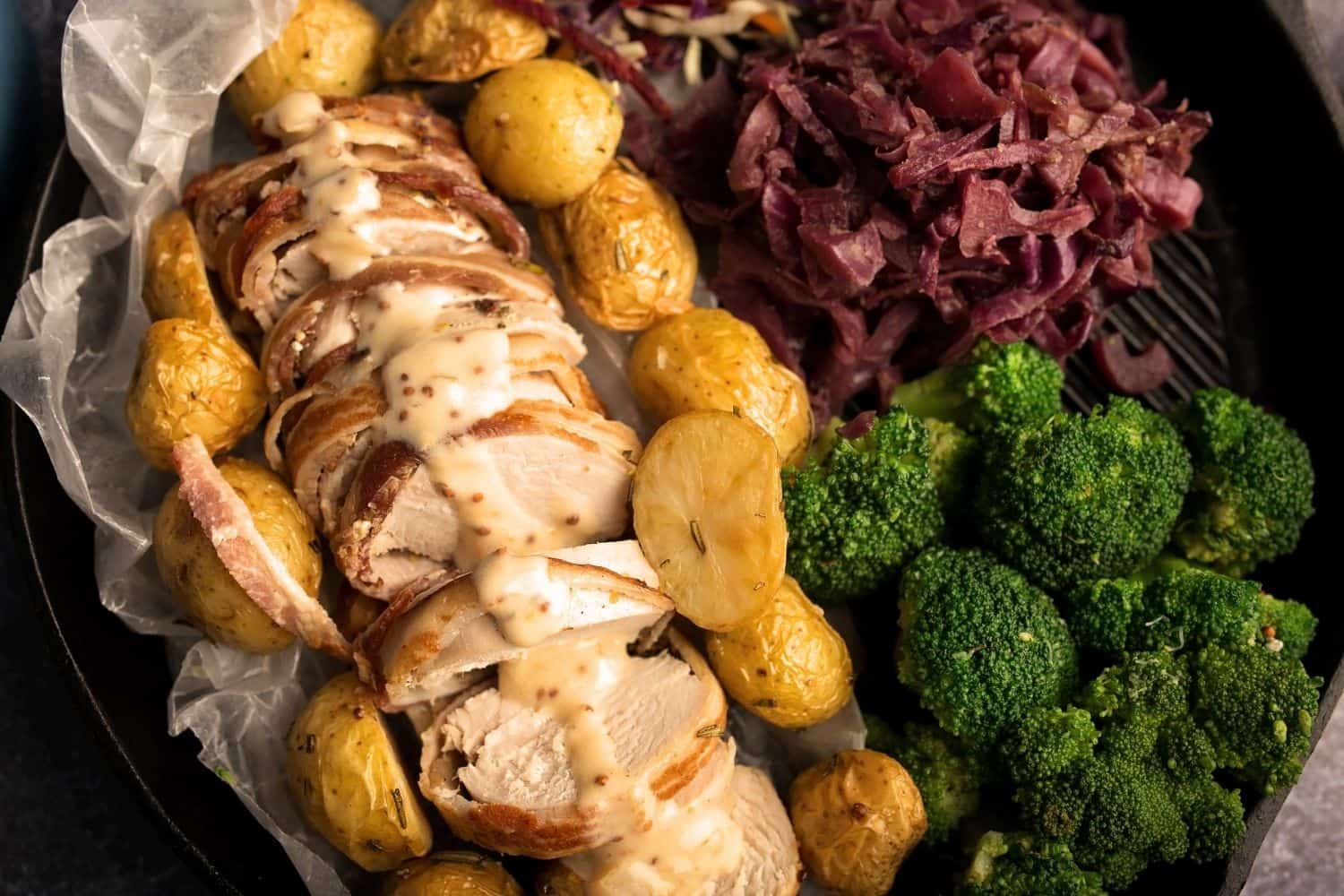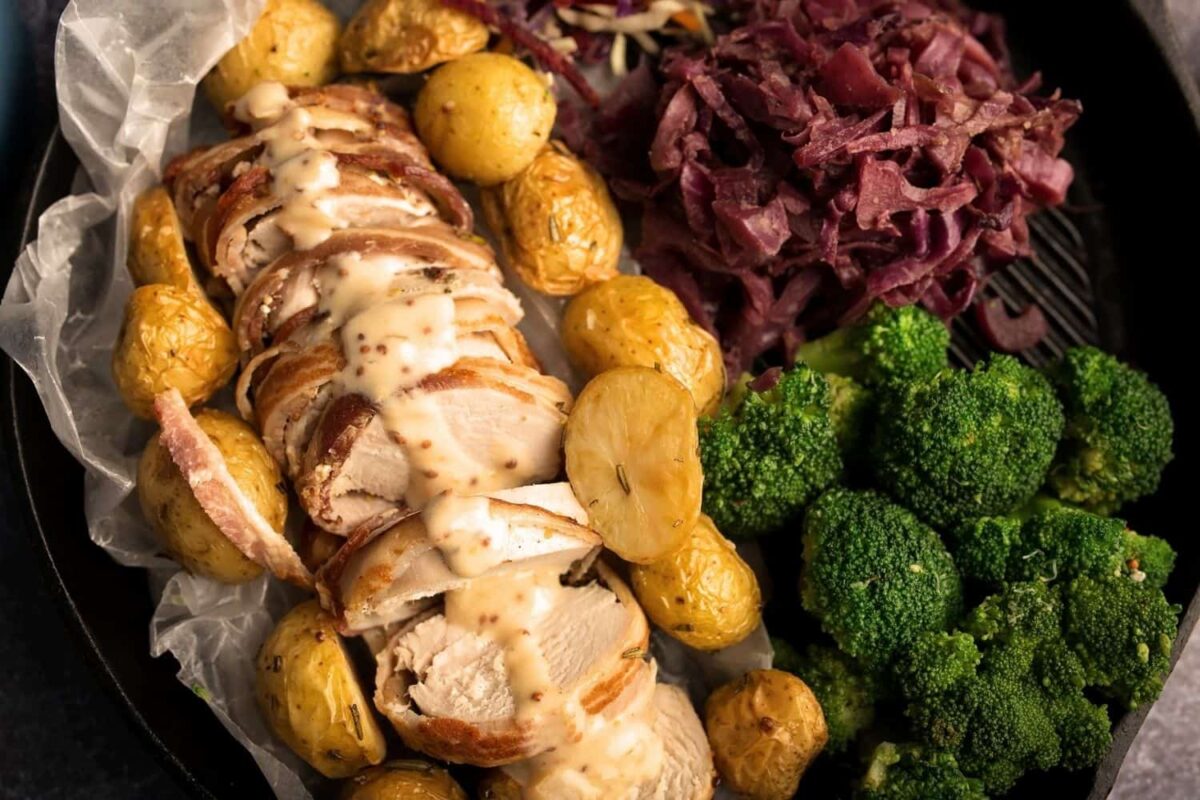 Ingredients
For the Marinade
10

g

Garlic

Chopped

10

g

Thyme

Chopped

15

ml

Olive Oil

10

g

Wholegrain Mustard

2

g

Fine Salt

200

g

Pork Fillet

200

g

Chicken Breast

50

g

Streaky Bacon
For the Mustard Sauce
10

g

White Onion

Finely chopped

2

g

Garlic

Chopped

10

g

Dijon Mustard

30

ml

White Wine

30

ml

Cream

1

g

Thyme
For the Braised Red Cabbage
90

g

Red Cabbage

Shredded

30

g

Red Onion

Thinly sliced

10

g

Brown Sugar

10

ml

Balsamic Vinegar

20

ml

Red Wine

10

g

Butter

1

g

Cinnamon Sticks

1

g

Star Anise
For the Roasted Potato
200

g

Baby Potato

1

g

Fine Salt

1

ml

Olive Oil

5

g

Rosemary
For the Broccoli
80

g

Broccoli

1

g

Fine Salt

1

g

Coarse Pepper
Instructions
For the Marinade
Place garlic, herbs, olive oil, mustard & seasoning in a blender. Blitz until smooth.

Place pork or chicken in a vacuum bag, add marinade & rub to coat the meat. Seal & marinade for a 2-6 hours.

After marinating, remove from the vac bag. Scrape off excess marinade.

Wrap fillets in bacon strips, drizzle with oil & bake until crips & cooked through.
For the Braised Red Cabbage
Place cabbage, onion, sugar, balsamic vinegar, red wine, butter & spices in a large pot.

Bring the mixture to a simmer, cover with a lid, lower heat & cook for 1 1/2 hours, stirring often.

Remove the lid & continue cooking for 30 minutes until tender.
For the Roasted Potato
Place the baby potatoes in a baking tray. Drizzle olive oil, sprinkle with seasoning & rosemary. Toss to coat.

Roast at 180'C until golden & crisp.
For the Broccoli
Blanch the broccoli in salted boiling water until cooked (with a crunch).