Lasagna is a classic dish that every chef should try at some point. It is easier than one would think and a great staple meal to have under your belt! With just a few simple ingredients that you might already find in your fridge or pantry, this Lasagna Layered with Fresh Baby Leaf Spinach is a fool proof, succulent, and substantial pasta meal. 
Once you have cooked your pasta sauce and your protein, you can get to layering your lasagna dish and baking it in the oven. What we love about this recipe is that there is no need to cook your lasagna pasta sheets, as the pasta sauce will moisten and heat them up, and cook them further in the oven.
Talk about flavour! This lasagna brags big flavour and many different textures. The pasta sauce is smooth, rich, and creamy, with notes of spice in the background, while the mincemeat is tender, spicy, and piquant. This recipe suggests to layer mozzarella cheese in the lasagna, as it is a somewhat neutral cheese that won't compete with the other flavours and overwhelm the dish. However, feel free to choose whichever cheese you would prefer for a more personalized flavour.  
Make sure to let the lasagna sit for 15 minutes once it is out of the oven. This will let it firm up and keep it from becoming runny and losing its shape when served. Top with fresh baby spinach leaves and enjoy!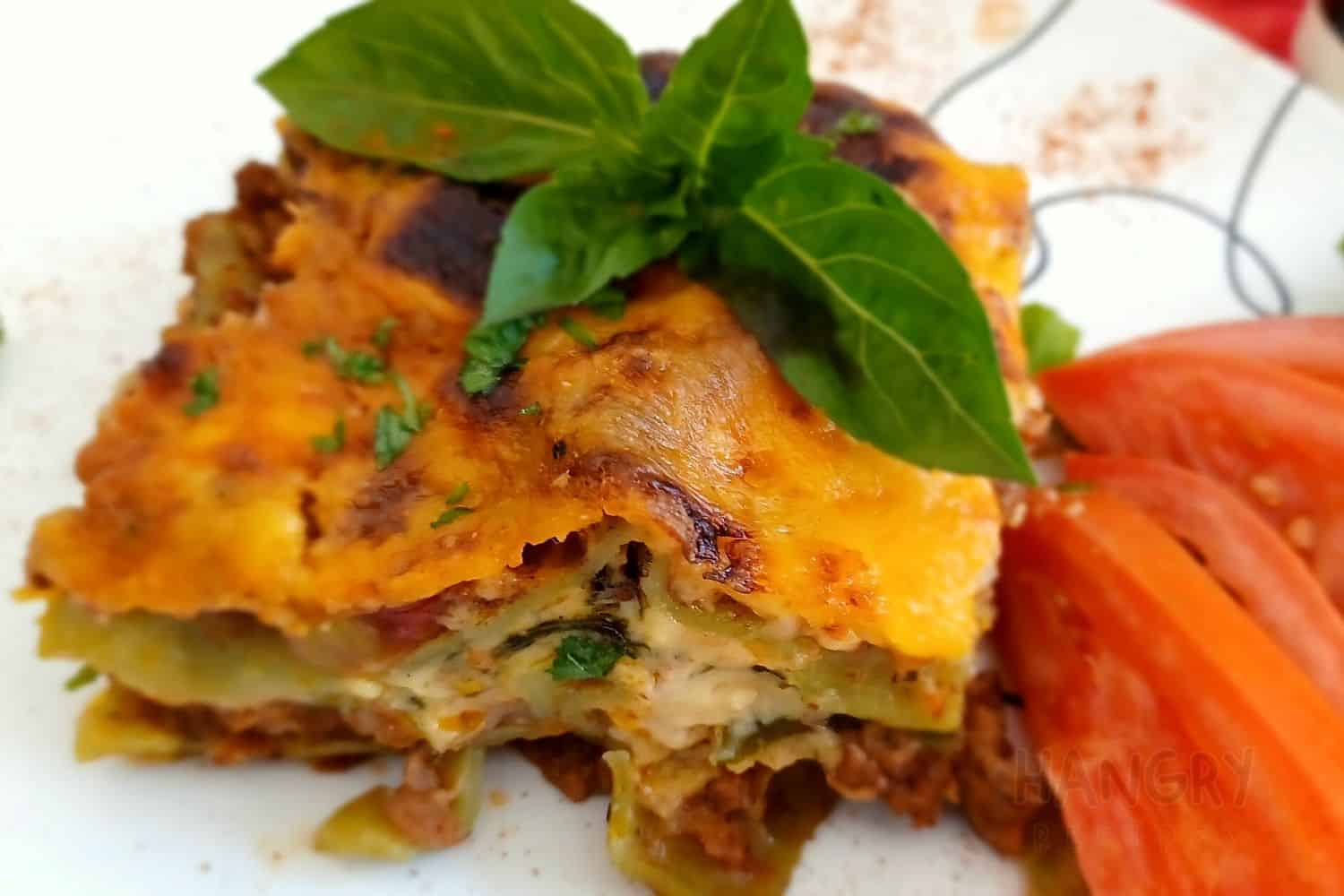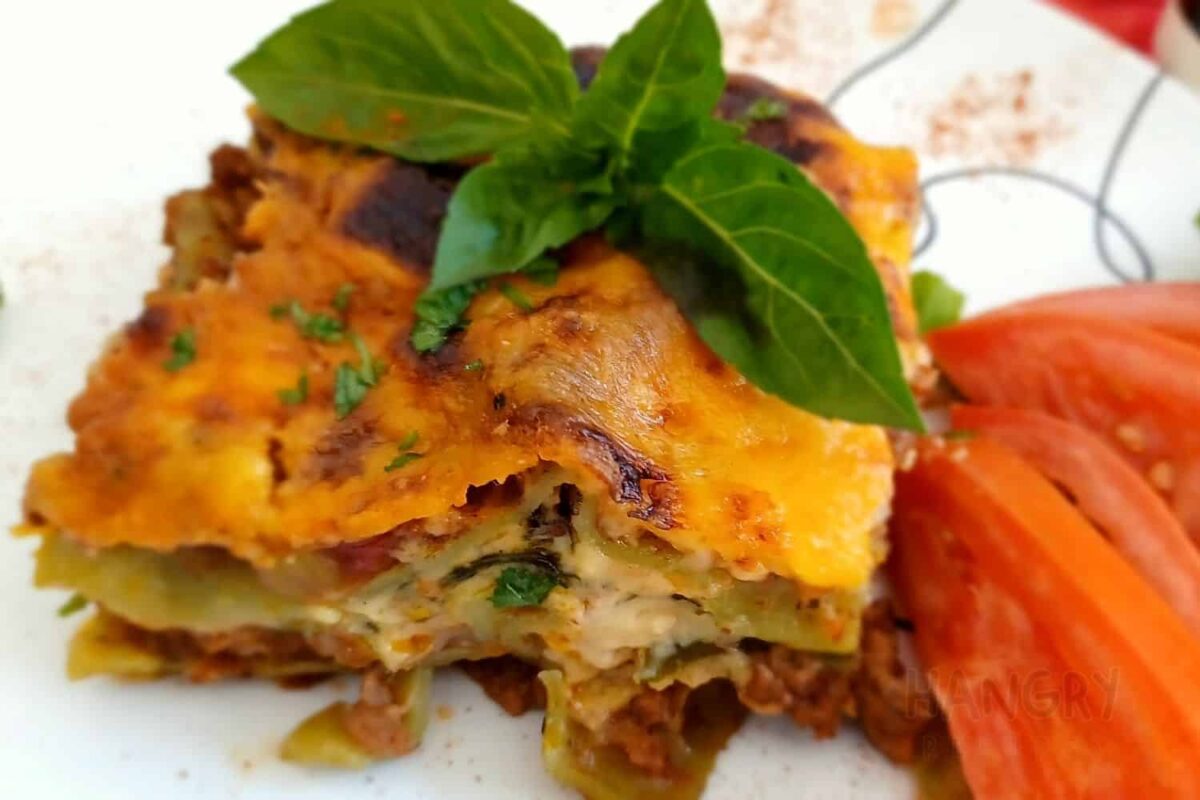 Ingredients
12-16

lasagna sheets

(the quantity depends on the oven dish you are using)

1

kg

lean mince

2

cloves

garlic

minced

1

red pepper

deseeded and diced

1

green pepper

deseeded and diced

few mushrooms

diced (optional)

2

tbsp

olive oil

extra virgin

400

g

tin of diced tomatoes with freeze-dried herbs

280

g

single leaf baby spinach

1 small packed
Sauce
1

cup

mozzarella cheese

extra for sprinkling

2

eggs

1

onion

chopped

2

tbsp

brown onion soup

2

tbsp

tomato puree

¼

tsp

cayenne pepper 

for garnishing

fresh oregano leaves

to sprinkle when layering the lasagna

200

ml

flour

150

ml

butter

1

tsp

mustard

¼

tsp

cayenne pepper

pinch

salt

pinch

pepper

2

eggs

whisked

1 ½

liter

milk

depending on how you want your cheese sauce, add more milk

salt and freshly ground black pepper
Instructions
Preheat oven to 350 degrees F /175 degrees C

Prepare a large oven dish with nonstick spray

Place a saucepan on medium heat.  Add the butter, remove from the heat, and mix in the flour until a thick consistency.  

Replace the saucepan to the heat and add milk, little by little, whisk well ensuring there are no lumps, add the mustard and cayenne pepper, season to taste. 

Add whisked eggs, mixed with a little hot mixture to heat the eggs, then add eggs. Set aside  *The sauce will cook the lasagna pasta, so ensure it is not too thick.  Just add a little more milk if necessary. 
For the mince
In a skillet over medium-high heat, cook mushrooms, onions,  garlic, green and red pepper in olive oil until onions are tender. Add the mince and sauté until completely browned. Add the tomato puree, brown onion soup, and tinned tomato, mix well.  Set aside.

Lay uncooked lasagna noodles at the bottom of the baking dish. Spread one-third of the mince, layer with spinach then spread 1 cup of the pasta sauce and some of the mozzarella cheese sprinkled over this. Repeat layering 2 times until all has been used.  Cover with leftover sauce, add more mozzarella, and sprinkle with cayenne pepper.

Cover dish with aluminum foil (optional) and bake in a preheated oven for 1 hour. Cool 15 minutes before serving.