If you are a fan of Chinese takeout, this Sticky Cashew Chicken will hit the spot! Made fresh in your own home, you can curate this dish however you would like. Served with the fluffiest Jasmine Rice and crunchy Asian Greens, this is a balanced meal, made healthier than your takeout could ever be!
What's in it? 
Sticky Cashew Chicken is a popular Asian dish that is made with cubed chicken breasts that are coated in a mix of cake flour, corn flour, and paprika, fried, and then cooked in a sweet and savory sauce. The sauce is made from soya sauce, hoisin sauce, sriracha, tinned butter beans, and flavored with chopped garlic and minced ginger. The soya sauce adds a deeply savory flavor to the sauce, while the hoisin sauce will create a sweet and sticky flavor and texture. This sauce will act as a glaze as it will cook down and coat the fried chicken pieces. Cashew nuts are added to the mix and add a crunchiness and a nuttiness– we suggest you don't leave them out as they add so much to this dish! 
Served with Traditional Sides 
This cashew chicken dish is served with fragrant Jasmine rice that is mixed with pumpkin seeds to add a little crunch to the fluffiness. The pumpkin seeds also add a mild salty and slightly nutty flavor to the rice. This dish is also served with Asian greens that consist of Pak Choi (also known as Bok Choi), a type of Chinese cabbage, along with white cabbage, baby spinach, and sugarsnap peas for some sweetness and extra crunch. These greens are seasoned with olive oil, lemon juice for some tartness, turmeric for color, and a dash of fine salt. These Asian greens add a complementary crunch to the tender and chewy chicken.
There really is nothing more satisfying than recreating your favorite restaurant dishes at home for you and your friends and family to enjoy. This dish also does not take long to make, it might even be quicker than your usual Chinese takeout! If you are a lover of Asian food, don't sleep on this recipe!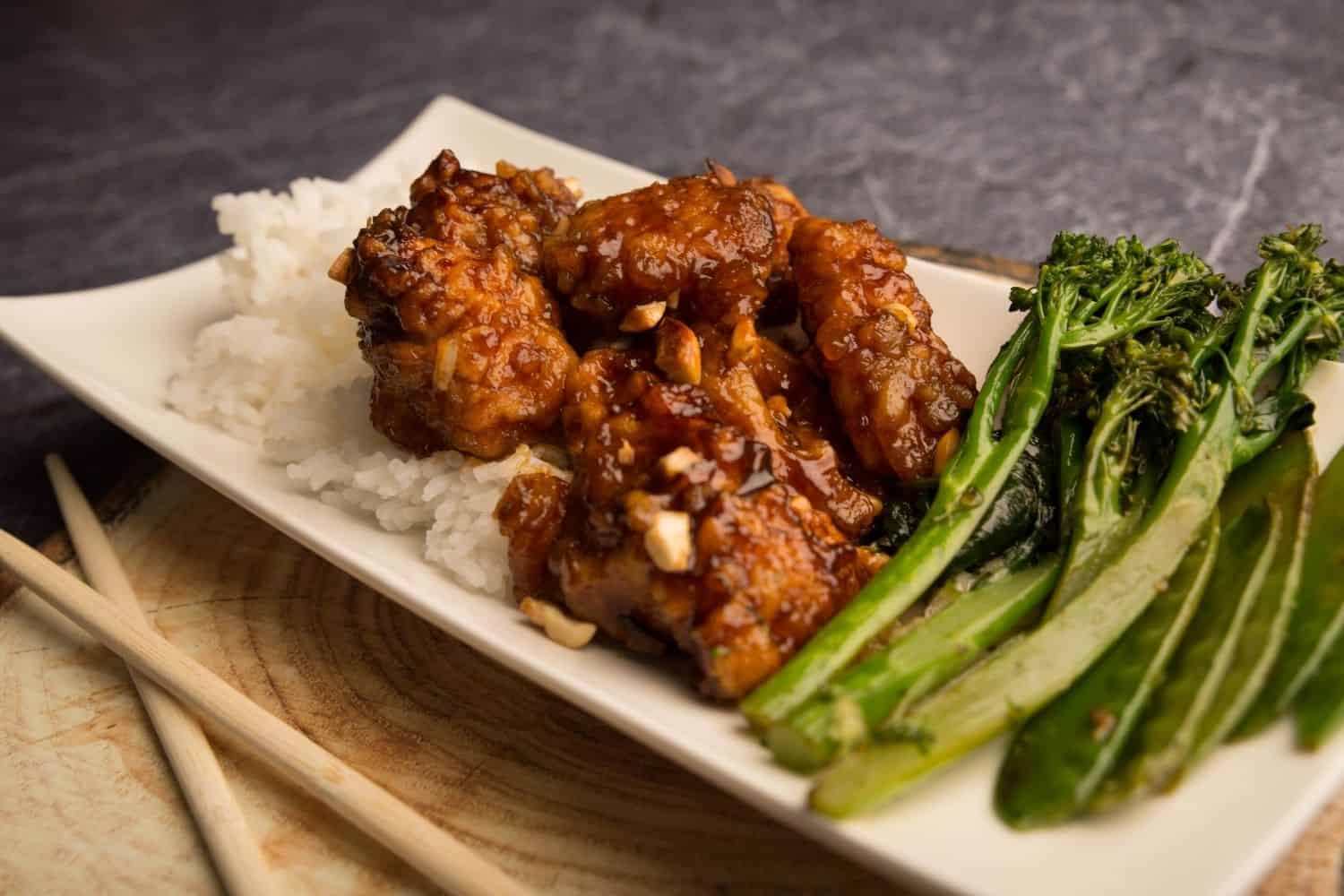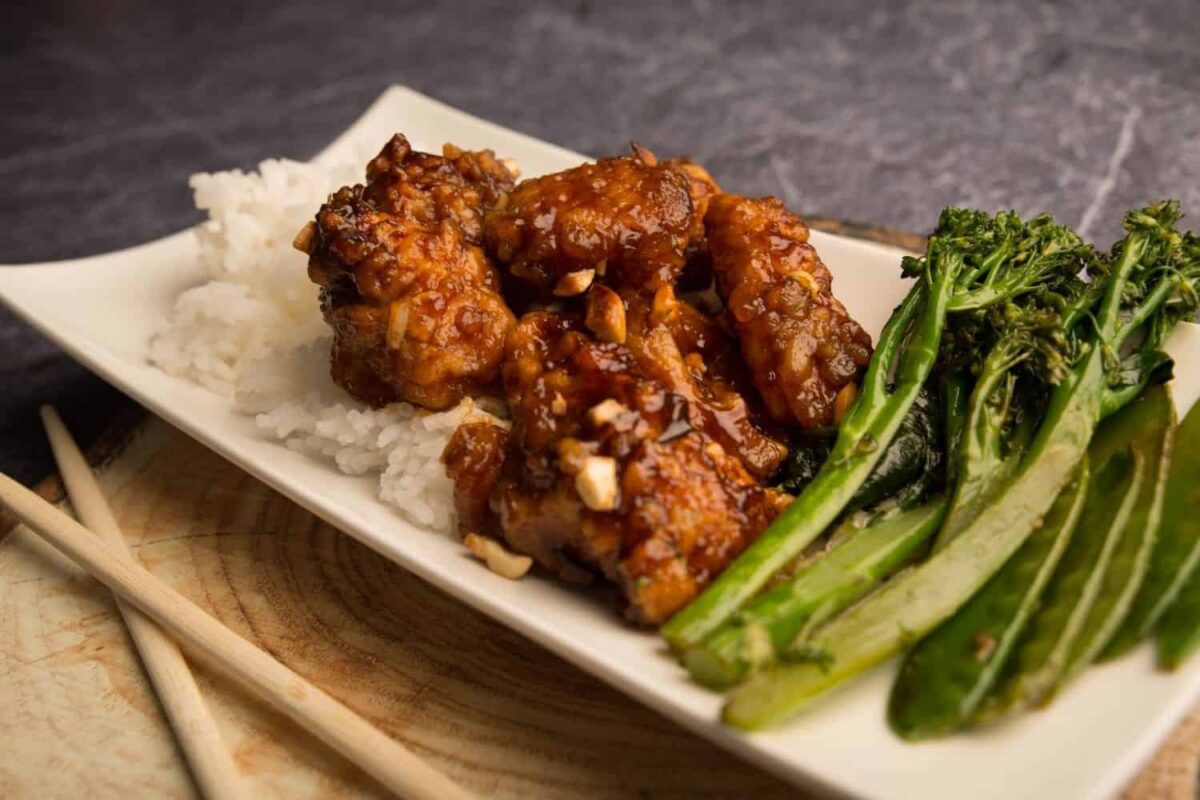 Ingredients
For the Sticky Sauce
40

ml

Hoison Sauce

20

ml

Soya Sauce

5

ml

Sriracha

15

g

Tin Butter Bean

3

g

Garlic

Chopped

2

g

Ginger

Minced
For the Chicken
30

g

Cake Flour

30

g

Corn Flour

2

g

Tumeric

0.5

g

Fine Pepper

150

g

Chicken Breast

Cubed

10

g

Cashew Nuts
For the Jasmine Rice
60

g

Pumpkin Seeds

Cooked
For the Asian Greens
40

g

Pak Choi

40

g

White Cabbage

30

g

Baby Spinach

10

g

Sugarsnap Peas

5

ml

Olive Oil

10

ml

Lemon Juice

1

g

Tumeric

1

g

Fine Salt
Instructions
For the Sticky Sauce
Combine all the ingredients together & mix well. Set aside.
For the Chicken
Mix flour, corn flour, salt & paprika together. Divide in half.

Combine one half of the flour mix with water to make a loose batter.

Dust the chicken in dry flour mix then dip into batter. Shallow fry in hot oil for 3 minutes on each side.

Remove from pan & drain excess oil on paper towel.

Put the chicken back into the pan, add sauce & cashew nuts.

Stir for about 1 min until coated.
For the Jasmine Rice
Cook & serve with chicken.
For the Asian Greens
Heat oil in a pan. Add veg & seasoning.

Fry until wilted then add lemon juice. Cook until juice has evaporated.