On a miserable, cold day when staying indoors is the only option this Creamy Chicken Casserole with Broccoli & Bacon is what you will be yearning for.
A not so traditional dish, this Creamy Chicken Casserole with Broccoli & Bacon is juicy and bursts with flavour. Its originality is what makes it so exciting and versatile. You can pair it with whatever your hanger is craving. Whether its pasta or rice, this meal is like your favourite pair of sweats providing comfort and satisfaction! Don't have any chicken pieces in the house? No problem, you can alternate the chicken pieces for shredded chicken breasts as well!
Chefs Tip for Creamy Chicken Casserole with Broccoli & Bacon
Make sure to leave at least 3 cm space between the casserole and the top of the dish so that you can ensure that your delicious meal doesn't cook over into the oven. This will save you a lot of time and effort having to clean the burnt food from the oven surface!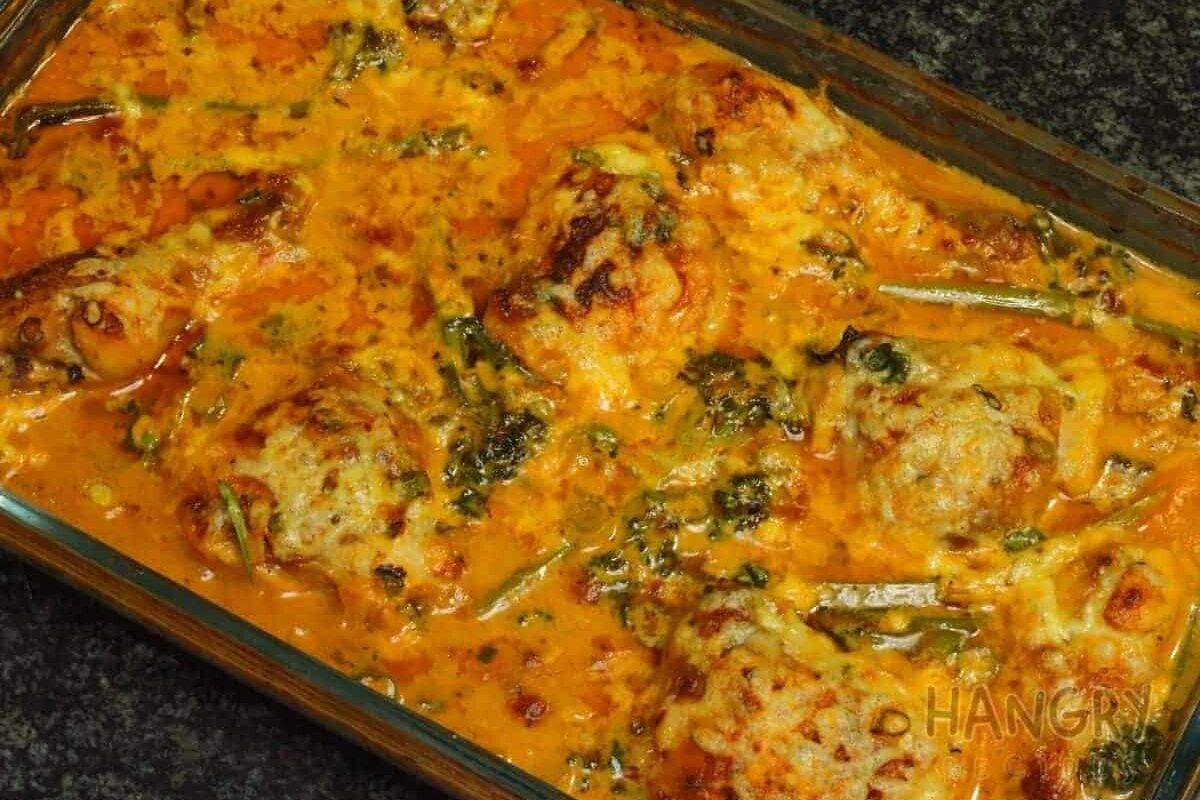 Ingredients
1

tbsp

Coconut Oil

200

g

Bacon

800

g

Skin-on Chicken Pieces

(+- 8pcs)

500

ml

Chicken Stock

250

ml

Cream

100

g

Tender stem Broccoli 

1

tbsp

Garlic

Minced (+/- 3 Cloves)

2

tbsp

Corn-starch

2

tsp

Chicken Spice

1

cup

1 Water

1

White Onion

Large

1

Leek

½

tsp

Coriander

Ground

½

tsp

Cumin

Ground

1

tsp

Paprika

Smoked

½

cup

Mozzarella

Grated

2

tsp

Thyme

Fresh Thyme or Basil

to Garnish
Instructions
Add coconut oil to a large saucepan on medium-high heat.

Brown the chicken pieces on both sides (10-15min).

Check regularly to avoid sticking or burning.

Whilst chicken is browning dice the leek, onion, spring onion and bacon.

In a large casserole dish add the water, browned chicken pieces and 1 tsp chicken spice onto the chicken, and place into the preheated oven.

Add bacon into the same saucepan and fry on medium-high heat for 3-5min or until the fat starts to render out.

Add Leek and onion to the bacon and continue to fry for 5 min.

Reduce heat to medium and add the broccoli, garlic, cumin, coriander, thyme, remaining chicken spice and paprika.

Cook until the onions are translucent and the vegetables begin to brown.

Deglaze the pan with the chicken stock and make sure to loosen all of the fond.

Add corn-starch, mix thoroughly, then add the cream.

Remove the chicken from the oven and add the contents of the pan to the casserole dish and make sure to mix the water into the sauce.

Return to the oven for 15 minutes.

Sprinkle the cheese and spring onion over the top of the dish and return it to the oven until the cheese is brown.

Serve with your choice of rice or pasta and garnish with fresh thyme/basil.