Perfect for the ones who love a bit of spice but can't really take the heat, this Classic Paprika Chicken Bake is a milder, spicy chicken dish that is packed with loads of flavor, minus the uncomfortable mouth burning sensation!
Full of Spice, Low in Heat 
This chicken bake consists of chicken thighs that are seasoned with salt and pepper and paprika– the spice that does all the work in this dish. Paprika is a powdered, red colored spice that comes from peppers, and has an earthy, sweet and peppery taste. The pepper flavor gives the chicken a spicy touch, minus the heat of actual chili. The paprika is sprinkled over the chicken skin with some olive oil. This ensures that the chicken is super crispy after it has baked in the oven. Flavor is not lacking at all in this recipe, as besides for the spices that are used, bone-in chicken thighs are too- meaning that you use chicken thighs that are still on the bone. These chicken pieces will carry more flavor due to their bone marrow content.  
Chef's Tip 
An important step to ensure that your chicken is crispy, is to pat the chicken thighs so that they are dry. This is necessary as if there is any moisture left on the outside skin of the chicken, it will create steam once exposed to heat, and won't allow the skin to get crispy. The chicken skin will seal the meat underneath, and allow for steam to get inside and tenderize the actual chicken thighs. This means that you are left with an outer crispy, crackling skin, and a tender meat inside!
This chicken bake includes onions, and baked potatoes, paired perfectly with chicken that is fall-off-the-bone tender! Serve this flavorful chicken bake with some roasted vegetables such as butternut, carrots, broccoli, and asparagus, or a side salad of your choice. This dish will be a great weeknight meal to spice up and add some excitement back into your chicken meals!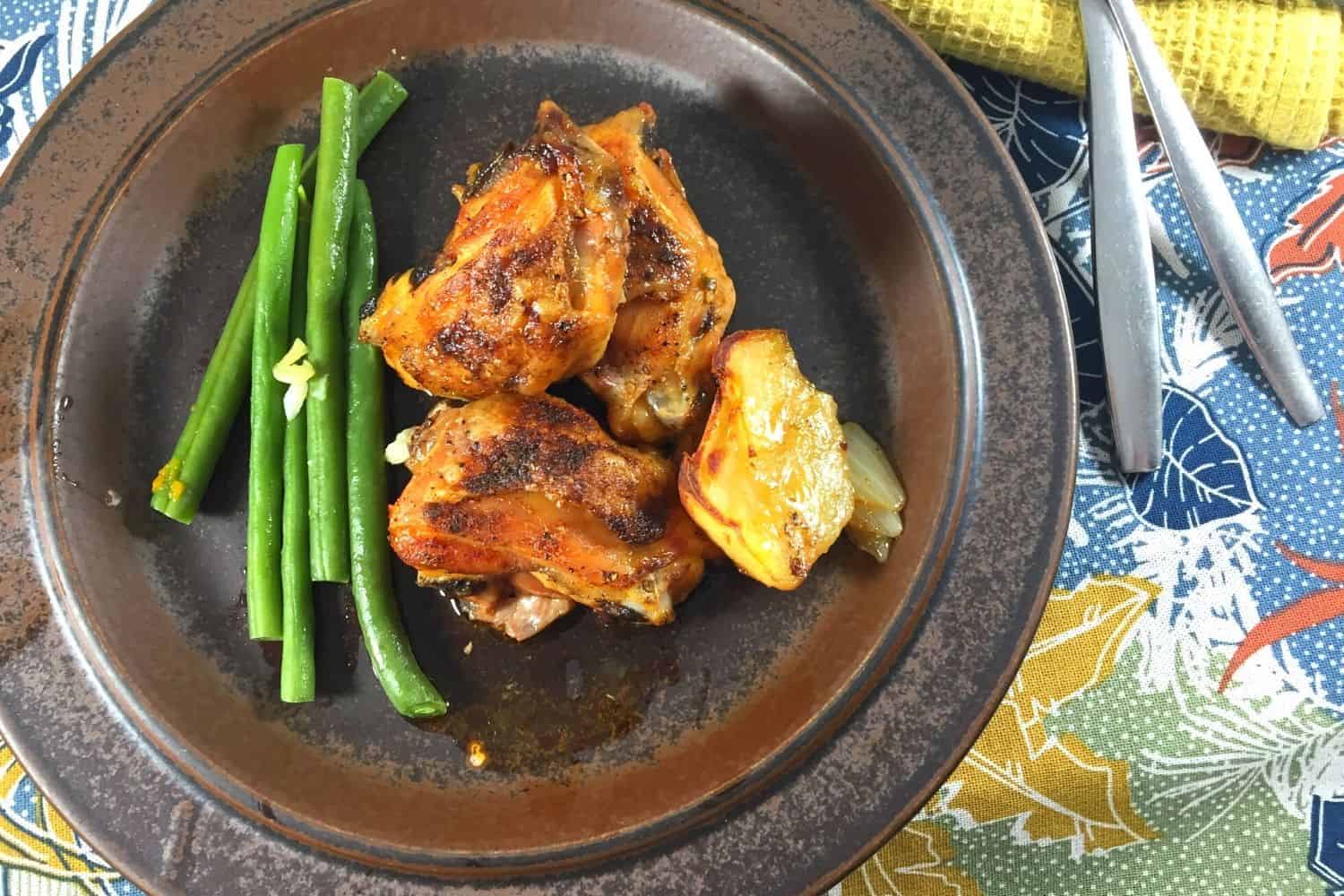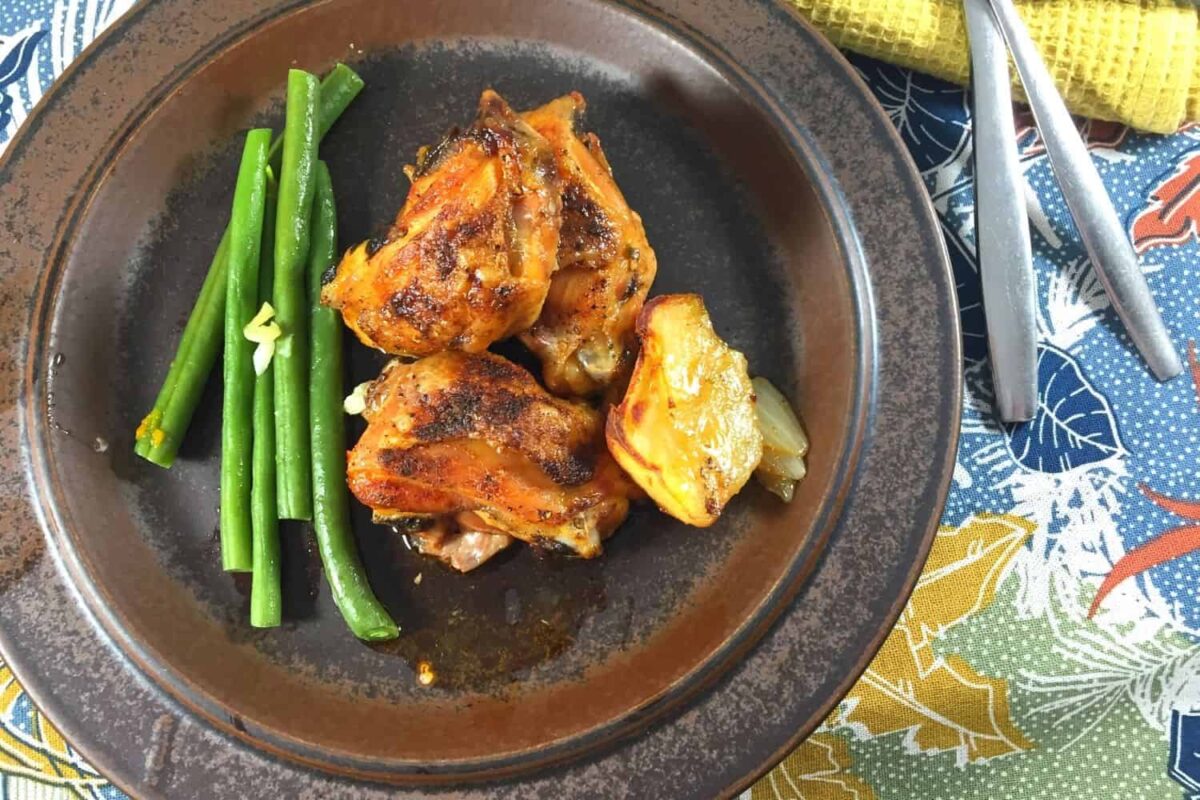 Ingredients
2

tbsp

smoked paprika

8-12

bone-in chicken thighs

with skin, optional

1

tbsp

olive oil

2

medium onions, quartered and thinly sliced

salt and freshly ground black pepper

4

large

potatoes, peeled and halved

2

knobs

butter

2

cups

low-sodium chicken stock
Instructions
Preheat oven to 200 Celsius (C) / 392 Fahrenheit (F).

Combine the salt, and freshly ground black pepper then pat the chicken dry and rub the mixture all over.

In a prepared oven dish, arrange the chicken thighs so that you can add the potatoes and onions later.

Add small knobs of butter under each skin, sprinkle generously with the smoked paprika then the olive oil, this will make the skin super crispy.

Transfer the chicken to the preheated oven and let them brown, remove from the oven, add the broth, organise the potatoes and onion slices between chicken thighs.

Reduce the oven's temperature to 170 Celsius (C) / 338 Fahrenheit (F), transfer the chicken back in the oven and let it bake until the chicken is cooked through and almost falling apart.

Serve with vegetables and salad of your choice.