Tortillas can be a fun crowd-pleasing snack, or a full meal on its own. This recipe might seem a bit daunting, but fear not, even the beginner chef will be able to conquer this flavourful dish.
This recipe also gives you the freedom to control the level of spice since you will be working with flavours like chilli, paprika and Cajun spice. If you and your guests like it muy caliente, the extra jalapeño sauce will be the perfect add-on to the dish. Another fun option for your guests is to present the meal as a build-your-own, this way you won't be held liable for any burn injuries and guests can control their own level of spice.
The ingredient list for all the different components of the dish can be quite overwhelming at first, however, you'll soon find out that it is a lot simpler than you expected. All you have to do is take it one step at a time. You will be making the tortillas, the salsa, the pickled onion, and the peri-peri chicken from scratch, so this is truly the time to show off your skills in the kitchen.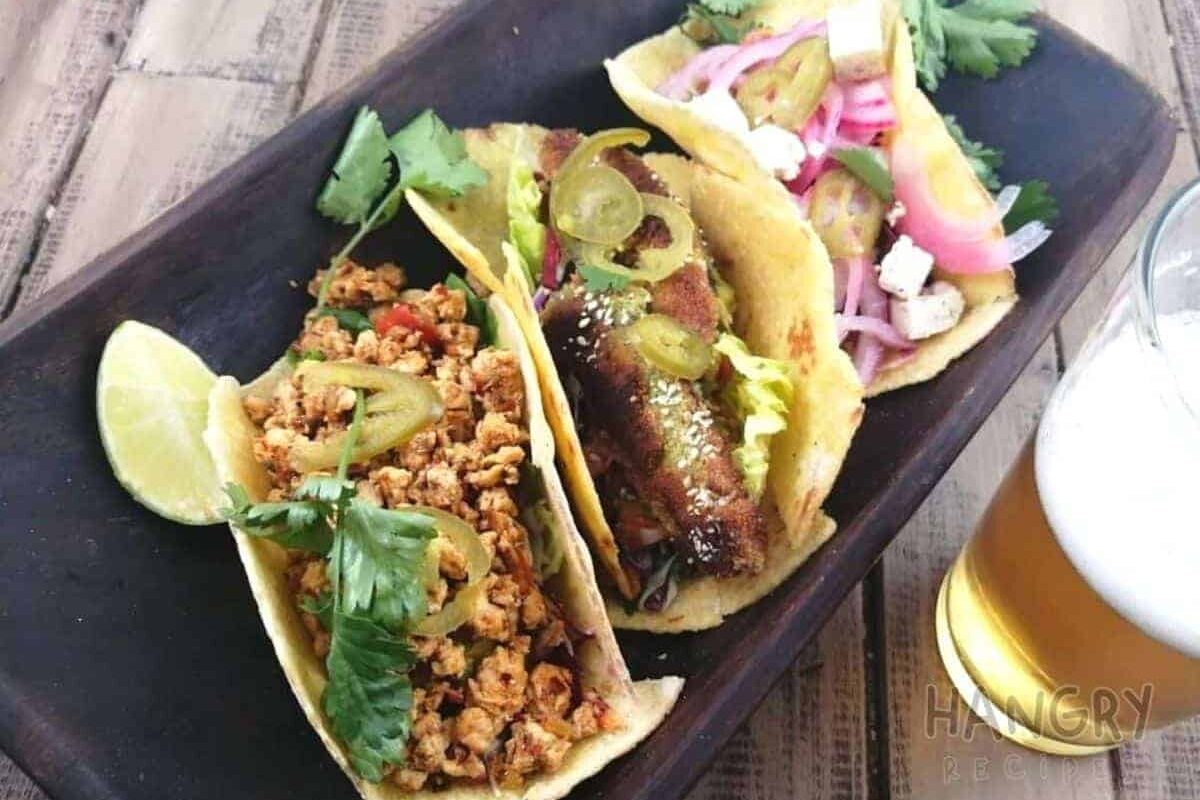 Ingredients
TORTILLAS
2

cups

polenta (yellow cornmeal)

4

cups

all-purpose flour

1/4

lime juice

10

tbsp

olive oil

extra virgin

2

cups

lukewarm water

1

tsp

salt
BASIC SALSA
4

tomatoes

chopped

2

green bell peppers

chopped

1

red bell pepper

chopped

1

yellow bell pepper

chopped

1

red onion

sliced

1

tbsp

coriander

1

tsp

cajun spice

2

tbsp

thyme
PICKLED ONION
2

red onions

finely sliced

1

artificial sweetener

1/2

cup

vinegar and water
PERI-PERI CHICKEN
500

gram

chicken breast

minced

1

red bell pepper

chopped

1

red onion

chopped

1

tsp

smoked paprika

1

tsp

cajun spice

2

tbsp

chilli flakes

olive oil

extra virgin

Jalapeno Sauce

for garnishing

feta cheese

crumbled for garnishing
Instructions
TORTILLAS
Mix all ingredients in a bowl and mix through with your hand until it is not sticking to your hand

Cover with a cloth and set aside to rest from about 3 minutes to 1 hour

Add a little flour to a working space, remove the dough, divide the dough to make 20 little balls the size of golf balls

Roll out and place on a plate, make sure you do not add too much flour to the surface to prevent tortillas to be too dry.

If you don't have a pizza stone you can use a skillet on high heat

Bake the tortillas for 2 minutes on each side,  when bubbles appear, turn over, when the sides lift, it's ready

When using a pizza stone in the oven, preheat the oven to 220 °C for 30 to 45 minutes ahead of starting the tortillas

Place one tortilla at a time on the stone, when bubbles appear, turn over, when the sides lift, it's ready
BASIC SALSA
Place ingredients in a blender or food processor and mix, be careful not to puree
PICKLED ONION
Combine all the ingredients, cover, and set aside

Drain off the vinegar before serving
PERI-PERI CHICKEN
Place skillet on medium heat with little olive oil added, saute onion and pepper with spices for 3 minutes

Add the mince and saute until the chicken is cooked

Serve the tortillas with Jalapeno sauce, chopped Jalapenos, and Feta Cheese. 
Not satisfied yet? Keep searching for delicious recipes here.