Butternut salads are full of interesting flavor combinations that we can't get enough of. Paired with a sweet and salty cider date dressing, this Healthy Roasted Butternut Salad with Pomegranates is as delectable as it is nutritious!  
Complementary Combinations 
This salad consists of butternut, feta, pomegranate seeds, salad greens, and chopped almonds. The soft texture and sweet flavor of the butternut pairs so well with the rich and savory feta, and with the added crunch of pomegranate seeds and chopped almonds, this salad is full of complementary ingredients that you will absolutely love! The butternut itself is seasoned with distinct spices such as cumin, coriander, cinnamon, and cayenne pepper, adding some warmth, nuttiness, and a tiny kick from the cayenne pepper.  
What is a Roasted Butternut Salad withut a Daring Date Dressing! 
This roasted butternut salad not only has complementary ingredients, but it is paired with a unique cider and date dressing. The dressing is made pitted dates, apple cider vinegar, olive oil, lemon juice, and is seasoned with salt and pepper, garlic, and cumin. These ingredients are simply mixed in a blender until smooth. If your dressing is not quite the correct consistency (it is not thick enough) add a tablespoon of water at a time and blend until it is right. This dressing is savory and zesty from the apple cider vinegar and lemon juice, and the sweetness comes from the dates. This cider date dressing pairs beautifully with the warmly spiced butternut and the savory feta.  
Enjoy this salad as a side for a main dish with protein such as a steak fillet or roast chicken, or feel free to add the protein into the salad itself! You can also simply enjoy this dish as a vegetarian meal on its own, you certainly won't be missing out on any flavor!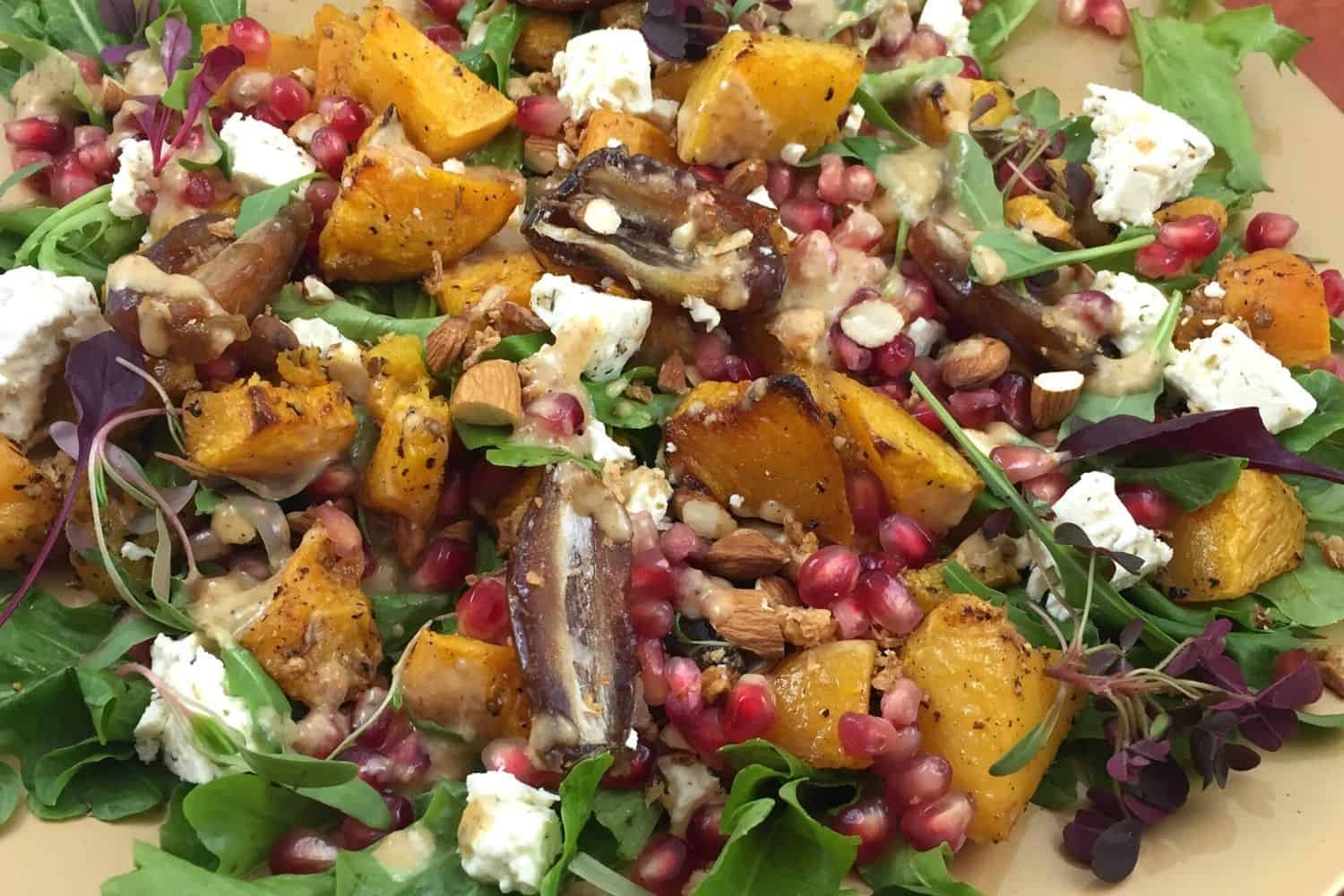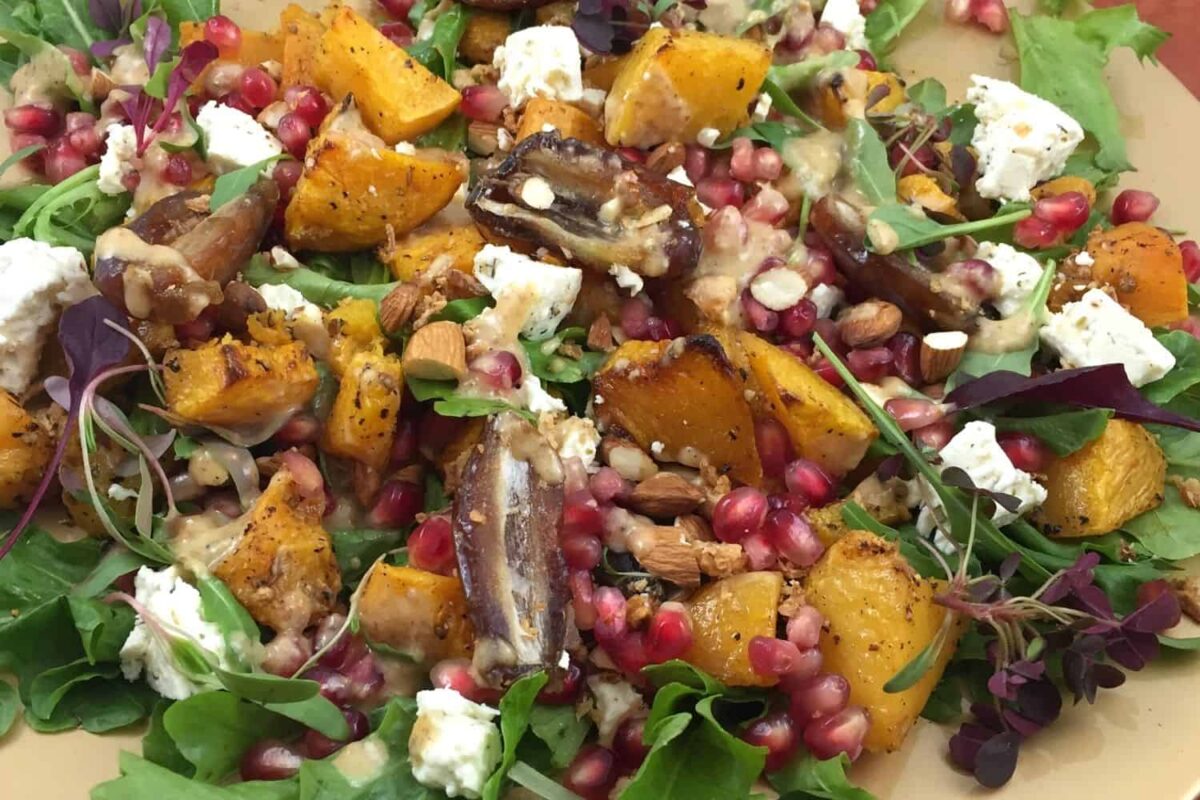 Ingredients
1

small butternut 

peeled and cubed

½ to 1

tsp

virgin olive oil

½

tsp

freshly ground cumin

½

tsp

ground coriander

¼

tsp

cinnamon 

½

tsp

cayenne pepper

Washed salad greens of your choice

Hand full of petite herb leaf salad

2

rond pieces

Fetta cheese

crushed

6

dates

pitted and halved

½

cup

pomegranate seeds

¼ to ½

cup

almonds

chopped

Freshly ground salt and black pepper
Date Dressing
5

tbsp

virgin olive oil

2

tbsp

apple cider vinegar

21

lemon 

juiced

1

date

pitted

1

clove of

garlic

½

tsp

ground cumin

Freshly ground salt and black pepper

2 to 3

tbsp

water

add more water if needed to blend
Instructions
Preheat the oven to 218°C / 425°F

Line a large baking sheet with baking paper, or spray with Cook & Spray.

Place the butternut squash cubes on the sheet and drizzle with olive oil, sprinkle with salt and pepper. Toss to coat and spread evenly on the baking sheet. 

Roast for 30 to 35 minutes, or until tender and browned around the edges.

Remove from oven and let it cool slightly.
Spice mix for butternut: 
In a small bowl, stir together the cumin, coriander, cinnamon and cayenne. Set aside. While roasted butternut is still warm, toss with the spice mixture.    
Cider Date Dressing: 
In a blender, combine the olive oil, vinegar, lemon juice, date, garlic, cumin, salt, pepper and water. Add 1 to 2 more tablespoons of water if needed to blend.
Salad Bowl Plating:
Assemble the salad starting with the salad leaves and layer half of the roasted butternut.  

Drizzle with half of the cider dressing, layer again with the salad leaves, roasted butternut and sprinkle the petite herb leaf salad and date halves. 

Add the pomegranates, almonds and fetta cheese on top of the salad and add the remaining cider dressing. 

*Serve immediately.