Scrambled eggs are quick and easy to make and are high in protein which makes them not only tasty but also healthy!
The best breakfast is the one that has eggs in it, which is why this silky scrambled eggs recipe is simply irresistible. If you have a big family to cater for, scrambled eggs are also ideal to make as you can easily fry up a huge batch that will fill everyone and leave them satisfied.
How many eggs should I use per person when making scrambled eggs?
The average serving when making scrambled eggs for a group of people is to work on three eggs per person. This amounts to a total of 18 grams of protein per person. However, that being said with this recipe we'd advise using at least four eggs per person because we can guarantee your hangry guests will be dishing up extra when they smell the sweet aromas of comfort food.
Breakfast and protein, how much should I get in?
Talking about breakfast, just how much protein is recommended for a good healthy breakfast? To keep your energy levels stable throughout the day and to balance your blood sugar it is recommended that you get in anything between 15 grams to 30 grams in a breakfast meal. Thus, making this recipe ideal at 18 grams just from the eggs alone!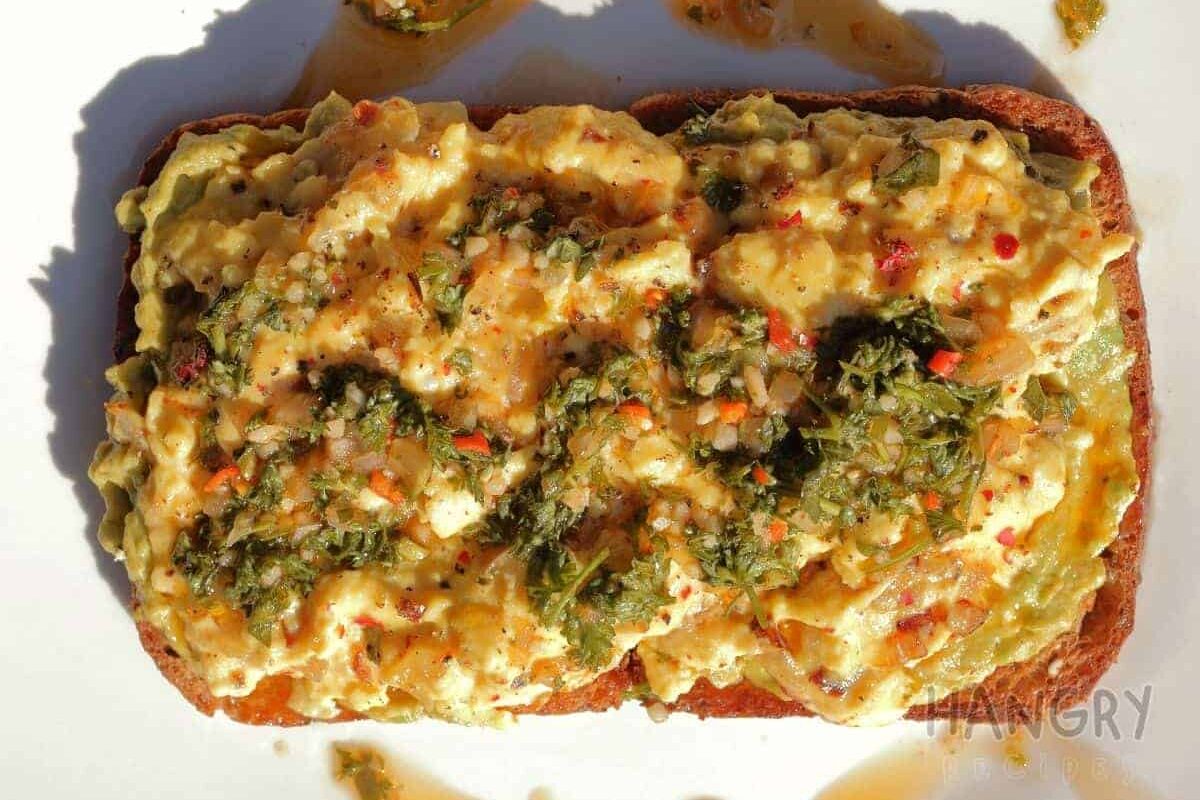 Ingredients
3 Large Eggs

1/2 Onion

1 tbsp peanut oil (Can be substituted with any heat resistant oil)

1/2 Avocado

1/4 tsp Smoked Paprika

Pinch Chilli Flakes (Optional)

2 Slices of your favourite bread

1/3 Cup Cream

Salt & Pepper
Instructions
Dice the onion and, in a medium sized frying, cook on a medium-high heat for 8-10 minutes in the peanut oil.

Stir regularly to avoid sticking and remove into a bowl when brown.

Whilst the onion is cooking add the eggs, cream, paprika into a bowl, season with salt and pepper and mix well until smooth.

Scoop the avo half into another bowl and mash it with a fork until smooth then season lightly with salt and pepper. When the onions are done and out of the pan, reduce the heat to low-medium.

Add egg mixture to the pan and stir continuously using a spatula. Make sure not to let any egg cook onto the bottom of the pan. If there is any sizzling then reduce the temperature further. 

Start toasting the bread and spread the avocado over the toast when it is ready. Set aside near the stove.

If the egg close to the bottom of the pan gets "dry" then stir faster and/or reduce heat. Cook the eggs until they start to hold their shape and are no longer a liquid, making sure to flatten any chunks of egg that form.

Add the onions back into the pan and mix into the eggs.

Remove the eggs from the heat just before they appear to be cooked as the residual heat will complete the cooking process.

Mixing in a small knob of cold butter at this time will halt the cooking process and add extra silkiness to the dish.

Dish the eggs onto the avocado and garnish with fresh basil or Chimichurri.
Not satisfied yet? Keep searching for delicious recipes here.