These delectable meatballs are smothered in a creamy gravy sauce and served with caramelized and tender roasted carrots, as well as crispy and golden potato rostis. These Swedish Style Meatballs are the perfect weeknight dinner for when you want to indulge just a little bit!
What Makes Swedish Meatballs Unique? 
Swedish meatballs are a traditional dish from Sweden. They are similar to normal meatballs and are made from beef and pork mince. What makes Swedish meatballs unique, and gives them their distinct flavor, is the gravy they are coated and cooked in. The gravy is a roux-based creamy sauce that is made from butter, flour, and the ingredient responsible for all the creaminess- sour cream! The sour cream does not just add a creamy aspect, but it also adds a slightly tangy flavor to the savory gravy. The gravy is seasoned with some brown sugar for sweetness, turmeric, salt, and parsley.
Showstopper Sides! 
These traditional meatballs would be absolutely perfect on their own, but why eat them on their own when you could serve them with sides that are just as good? For this recipe, carrots are roasted twice in the oven, after a quick drizzle in olive oil. First, they roast at a high temperature for a short amount of time to achieve a crispy and caramelized skin, and then they are put back into the oven at a lower temperature to cook the inside. This leaves you with crispy and tender roasted carrot goodness! Potato rostis are also prepared as a side for this meatball dish. Potato rostis are savory potato cakes that are made up of grated potato and onion, melted butter, turmeric, and fine salt. This mixture is fried in the pan in disc shapes and cooked until crisp and golden on the outside and cooked through.  
This dish ticks all the boxes for a full-bodied meal – meat, veg, and carbs! It is perfect to serve as a weeknight meal for the family, or to get creative with and personalize for some friends at a dinner party! This dish is also a super convenient meal to pack as lunch for long days at the office.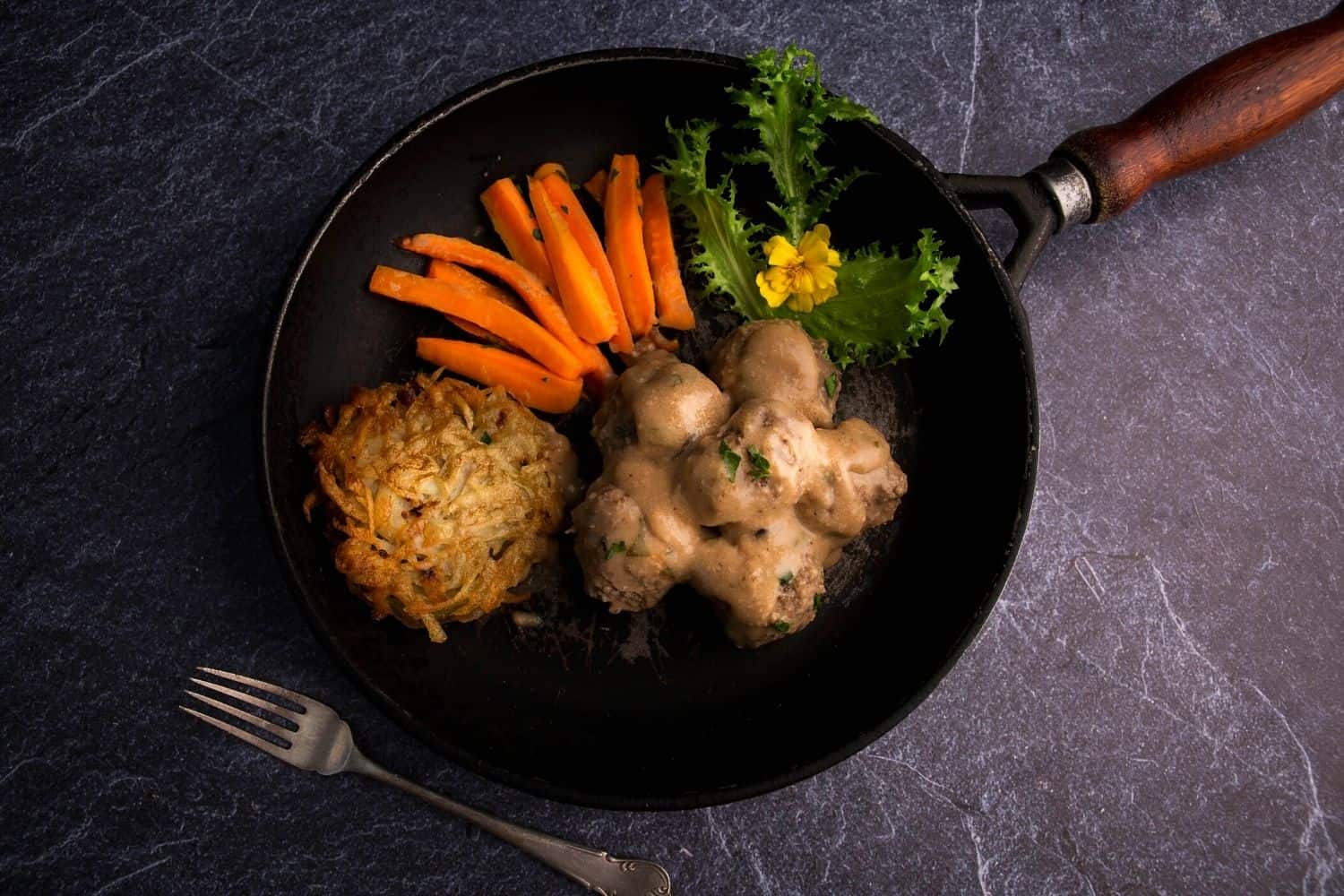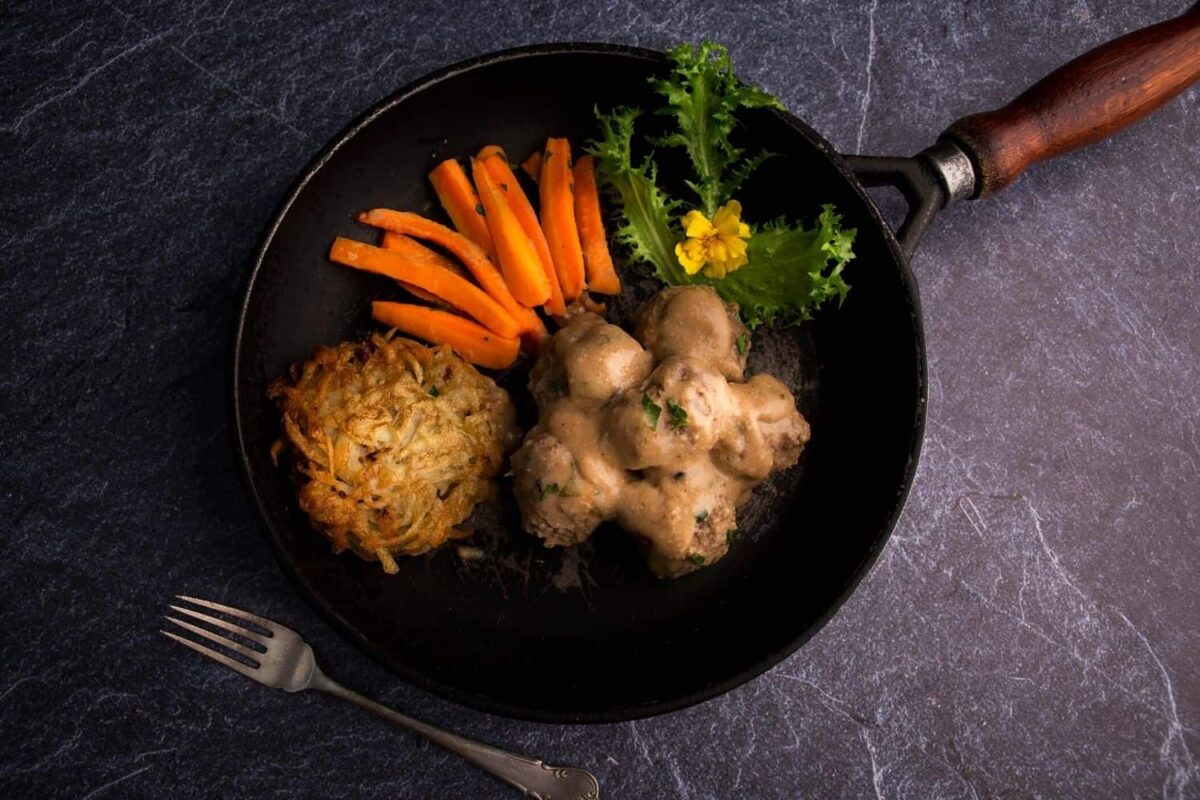 Ingredients
For the Meatballs
15

g

White Onion

Finely chopped

10

ml

Olive Oil

100

g

Beef Mince

100

g

Pork Mince

10

g

Breadcrumbs

0.5

Egg

1

g

Ground Cardamom

1

g

Smoked Paprika

2

g

Tumeric

1

g

Fine Salt
For the Gravy
13

g

Butter

11

g

Cake Flour

0.25

g

Brown Sugar

30

ml

Sour Cream

1

g

Tumeric

1

g

Fine Salt

2

g

Parsley

Finely chopped
For the Roasted Carrots
11

g

Carrot

Sticks

5

ml

Olive Oil

5

ml

Dried Yeast

1

g

Tumeric

1

g

Fine Salt

10

g

Butter

5

g

Bamboo Shoots

2

g

Parsley

Finely chopped
For the Potato Rosti
200

g

Potato

Grated

10

g

White Onion

Grated

6

g

Butter

1

g

Tumeric

1

g

Fine Salt
Instructions
For the Meatballs
Heat half of the olive oil in a large pan & fry onions over medium heat for 2-3 minutes.

In a large bowl, combine all the remaining ingredients & cooked onion.

Mix everything until well combined then divide into 40g portions.

Roll into balls with oiled hands.

Heat the remaining olive oil in a frying pan. Add meatballs, in batches, cooking until all sides are browned.

Set aside (will continue cooking in gravy).
For the Gravy
Melt butter in a pan. Whisk in flour to make a slighly brown roux.

Gradually whisk in chicken stock & cook over medium heat. Whisk constantly for about 2 minutes until slightly thickened.

Stir in sour cream, salt, pepper & parsley.

Add meatballs to the sauce, reduce heat & cook for about 10 minutes.
For the Roasted Carrots
Spread the carrots on a baking tray. Drizzle with olive oil & stir to coat.

Roast for 10 minutes @ 240'C until dark brown, even a bit burnt on the edges, but not fully tender.

Transfer to a bowl & leave to cool slightly. Add vinegar, salt & pepper. Leave to marinade for a few minutes.

Spread carrots out on a baking tray again, dab with bits of butter, sprinkle with sugar & roast @ 180'C until caramelised & tender.
For the Potato Rosti
Place grated potato & onion in a colander. Use your hands to squeeze out as much excess liquid as possible.

Transfer to a bowl & add melted butter & seasoning. Stir to combine.

Add enough oil to a large to reach a depth of 1 cm & place over medium heat.

Spoon 1/2 cup portions of potato into oil & use spatula to flatten into a disc.

Fry for 3-4 minutes on each side until golden brown & cooked through.