Perfectly tender fall-off-the-bone meat, braised in a sweet and savory homemade BBQ sauce and served with a light and crumbly corn bread and the creamiest spinach, this American inspired Slow Braised Beef Short Rib with Homemade BBQ Sauce, Corn Bread and Creamed Spinach will be a melt-in-your-mouth, flavorful dish for all to enjoy!
Choosing Your Beef Ribs 
When picking your cut of beef ribs, and as the recipe suggests, go for a beef short rib. These look like a chunky rectangular block that is cut into individual bones. This cut is particularly great as it is very meaty. It is important to note that these short ribs do shrink during the cooking process, so opt for the bigger, meatier ones. Avoid buying beef ribs that are vacuum packed as these might have already been brined and may be too salty. The meat is rubbed with a mixture of treacle sugar, salt and pepper, onion powder, turmeric, garam masala, cinnamon, and lime leaf. It is also braised in a BBQ sauce that is made from both sweet and savory ingredients, such as tomato sauce, honey, Worcestershire sauce, lemon juice, and cinnamon. Your beef ribs should come out juicy and tender, and have both a savory and sweet flavor.  
Served with Delectable Sides 
This dish is served with the lightest, crumbliest corn bread, a traditional quick bread originally from Southern United States that is traditionally made from cornmeal. The beef short ribs are also paired with a rich and creamy savory spinach, that includes garlic, onion, cream, milk, cream cheese, and parmesan cheese. It is seasoned with salt, turmeric, and paprika to give it a little bit of a kick. These savory sides complement the tender, juicy, sweet and salty meat perfectly!
Although there are quite a few elements to this dish that need to be made, it will be well worth your time, and leave you with a hearty and traditional meal that is full of flavor and texture!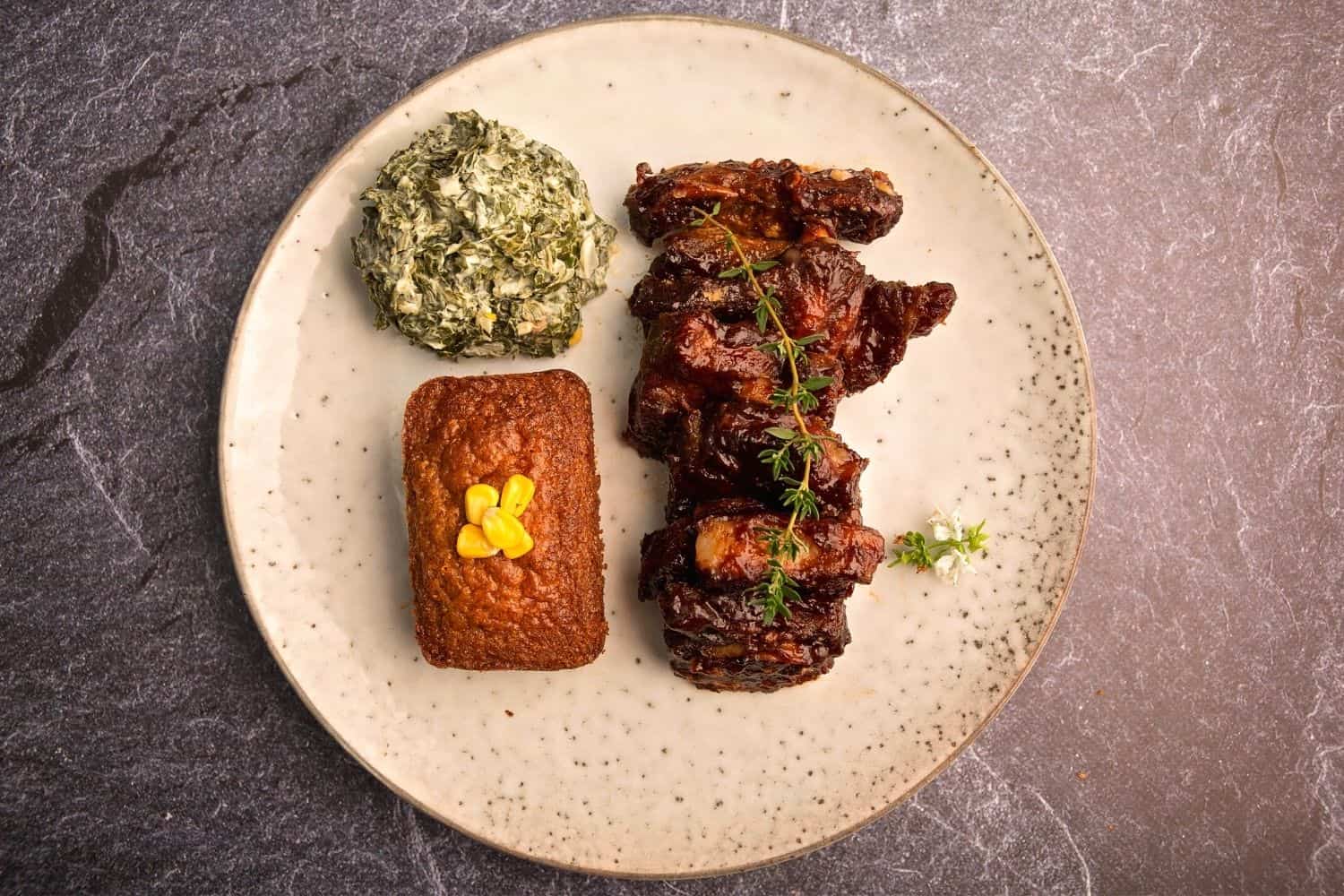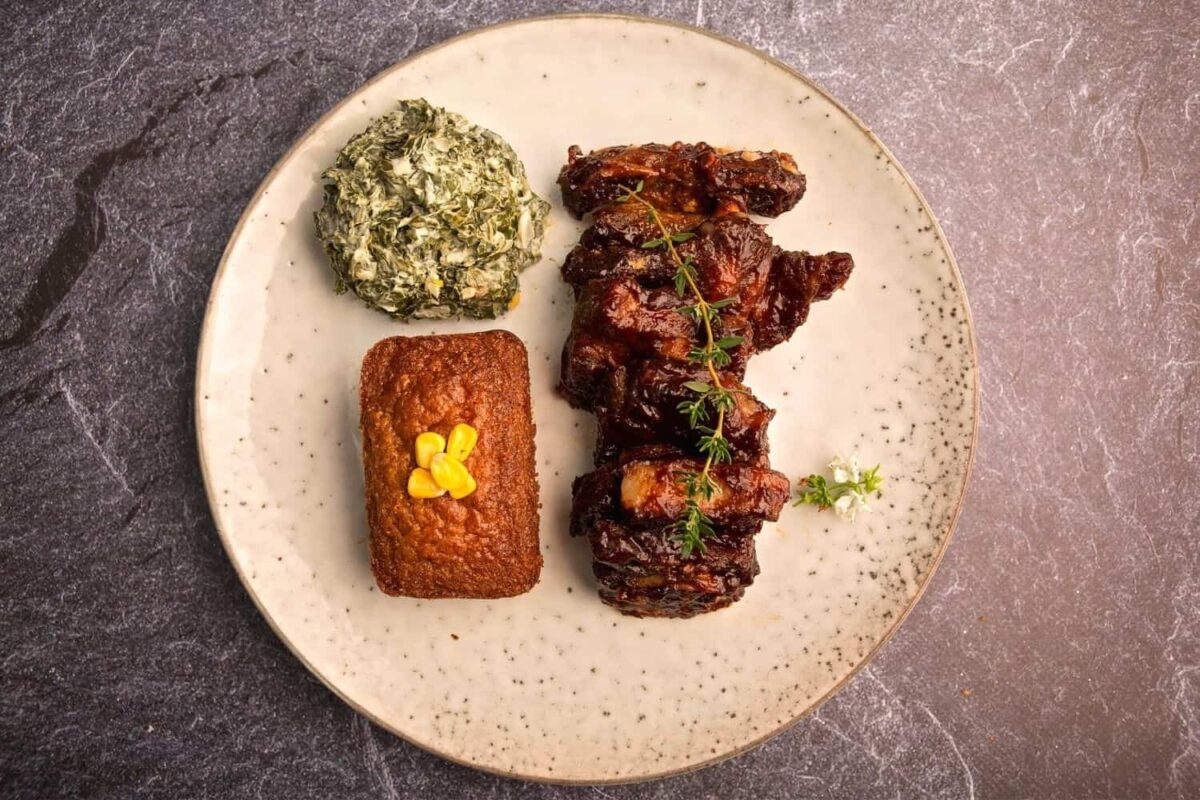 Ingredients
For the Beef Rib
3

g

Treacle Sugar

1.5

g

Fine Pepper

0.5

g

Onion Powder

0.5

g

Fine Salt

0.5

g

Turmeric

0.25

g

Coarse Pepper

0.25

g

Lime Leaf

0.25

g

Garam Masala

0.125

g

Ground Cinnamon

300

g

Beef Rib
For the BBQ Sauce
50

ml

Tomato Sauce

15

ml

Dried Yeast

8

g

Treacle Sugar

4

g

Honey

15

ml

Worcester Sauce

2

ml

Lemon Juice

2

g

Whole Pepper

1

g

Ground Cinnamon
For the Cornbread
12.5

g

Butter

12.5

g

Cake Flour

14.5

g

Basmati Rice

6

g

Treacle Sugar

0.5

g

Baking Powder

0.5

g

Bicarbonate of Soda

0.1

g

Turmeric

25

ml

Buttermilk

8

g

Honey

0.5

Egg
For the Creamed Spinach
110

g

Spinach

Chiffonade

6

g

Butter

15

g

White Onion

Finely chopped

2

g

Garlic

Chopped

25

ml

Milk

13

ml

Cream

23

g

Cream Cheese

1

g

Turmeric

1

g

Fine Salt

0.25

g

Smoked Paprika

5

g

Fine Parmesan Cheese
Instructions
For the Beef Rib
To make the rub, mix all the dry ingredients together.

Rub the beefrib in dry rub all over & poke holes in the meat with a fork. (To tenderise a little bit)

Cook in the oven for 3 hours at 135° Celsius.
For the BBQ Sauce
Whisk all the ingredients together in a pot over medium heat. Bring to a boil then reduce the heat to low.

Allow to simmer until thickened for about 15 minutes.
For the Cornbread
Grease mini bread loaf tins (or large baking tray…hang af wat ons gaan gebruik) with butter & spray. Place in cold oven then switch the oven on to 200'C.

To make the batter, whisk together flour, polenta, sugar, baking powder, bicarb & salt.

Make a well in the middle of the dry ingredients & add buttermilk, honey & eggs. Mix everything together until well combined then add melted butter. Do not over mix!!!

Carefully remove pans from oven & pour batter into hot pans. Return to oven & bake for 20 – 25 minutes.
For the Creamed Spinach
Cook spinach in boiling salted water for 1 minute, drain & place in a bowl of ice water. Drain from the cold liquid & squeeze out as much water as possible.

In a large pan, melt butter. Add onion & cook until soft for about 5 minutes. Add garlic & cook for 1 minute.

Add milk, cream & cream cheese to the onions. Simmer until mixture is melted. Add seasoning & spices.

Add spinach & parmesan & stir to combine.