Are you a fan of spicy Mexican food? This recipe takes jalapeño poppers to the next level with a jalapeño that is filled with three cheeses and wrapped in bacon. You may never want to have a regular jalapeño popper ever again…
If you can take the heat, get eating these spicy peppers as they have a great nutritional profile, consisting of only 4 calories per raw pepper, and containing vitamins and minerals such as vitamin A, C, B, K, potassium, and folate. They also contain carotene, an antioxidant that is responsible for fighting damage to your cells. Studies have also shown that eating spicy peppers may speed up metabolism and therefore help promote weight loss over time!
As juicy and tasty as these peppers may be, they might not be suitable for everyone. You might want to avoid jalapeños if you get regular heartburn, or have bowel conditions such as IBS (Irritable Bowel Syndrome) or digestive system problems. This is due to the fact that the peppers contain capsaicin which contribute to the peppers' acidity. You can however lower the spiciness of the peppers by soaking them in salt water for half an hour! 
The ingredients in this recipe for Bacon Wrapped Jalapeños result in wonderfully paired flavours and textures. The mix of grated mature cheddar cheese, cottage cheese, and Mascarpone cheese creates a rich and creamy yet chunky consistency when you bite into the crunchy peppers. The bacon adds a richness and saltiness to the dish and elevates the flavours completely. Enjoy at your own discretion…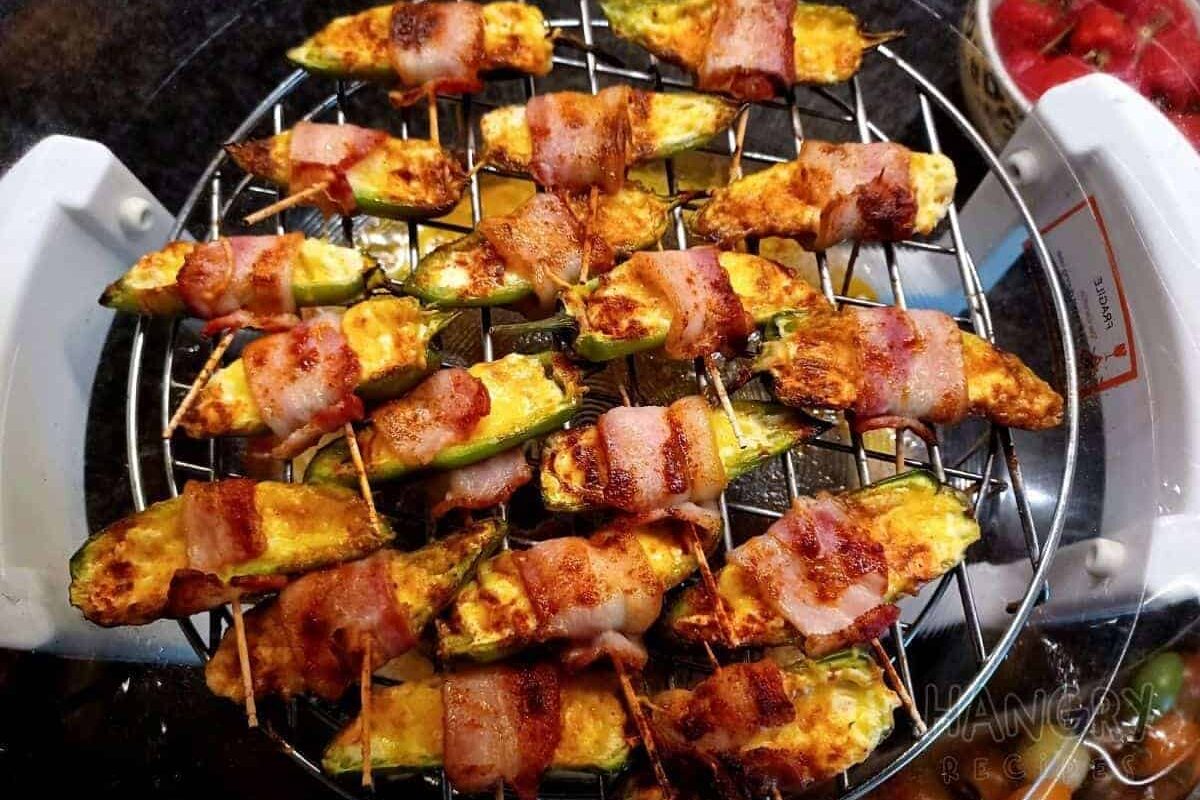 Ingredients
125

g

Smooth Cottage Cheese

125

g

Mascarpone Cheese 

1

cup

Matured Cheddar Cheese

grated

1

tsp

Garlic 

crushed

Smoked Paprika 

Bacon – rindless

(halved to fit around the jalapeños pepper)

9

Jalapeños or more
Instructions
Make the filling by combining both kinds of cheese and garlic.

Fill the Jalapeños peppers. Spoon the cheesy filling equally among all Jalapeños halves.

Sprinkle each pepper with the shredded cheese.

Wrap a piece of bacon around each cheese-filled Jalapeños. Stick a toothpick through the centre to ensure the bacon stays in place.

Sprinkle the paprika on all the Jalapeños.

Bake the peppers until the bacon is crisp in a conventional oven at 170° Celsius/338° Fahrenheit for 15 to 20 minutes and then grill on highest heat for a minute to ensure the bacon is crispy, or you can bake in the oven at the same temperature until they are ready and crisp under the grill.