This Croque Madame Sandwich is one of those ultimate breakfasts that can be served in a cafe or in your very own kitchen for those lazy mornings when your hanger won't give you enough time to get dressed and go to your local bistro.
The simplicity of this recipe is what really excites me about cooking, because it just reiterates that incredible food does not need top shelf ingredients or fancy equipment that can only be found in a master chefs kitchen.
This recipe is truly delectable and can be prepared from start to finish in under 30 minutes, perfect for the wake up and chow down feeling when your hanger starts to kicks in! I've also found that this super quick and easy dish really impresses guests who have stayed over. So, if you want to impress your guests with breakfast or brunch, this is one of those perfect recipes to do that with!
Chefs Tip for Croque Madame Sandwich
Add some extra items from the pantry to enhance the flavour to what your palate is craving. One item I love to add to my Croque Madame Sandwich is caper berries as it adds that perfect umami flavor with a bit of a sour tase and then a ever so slight bitterness!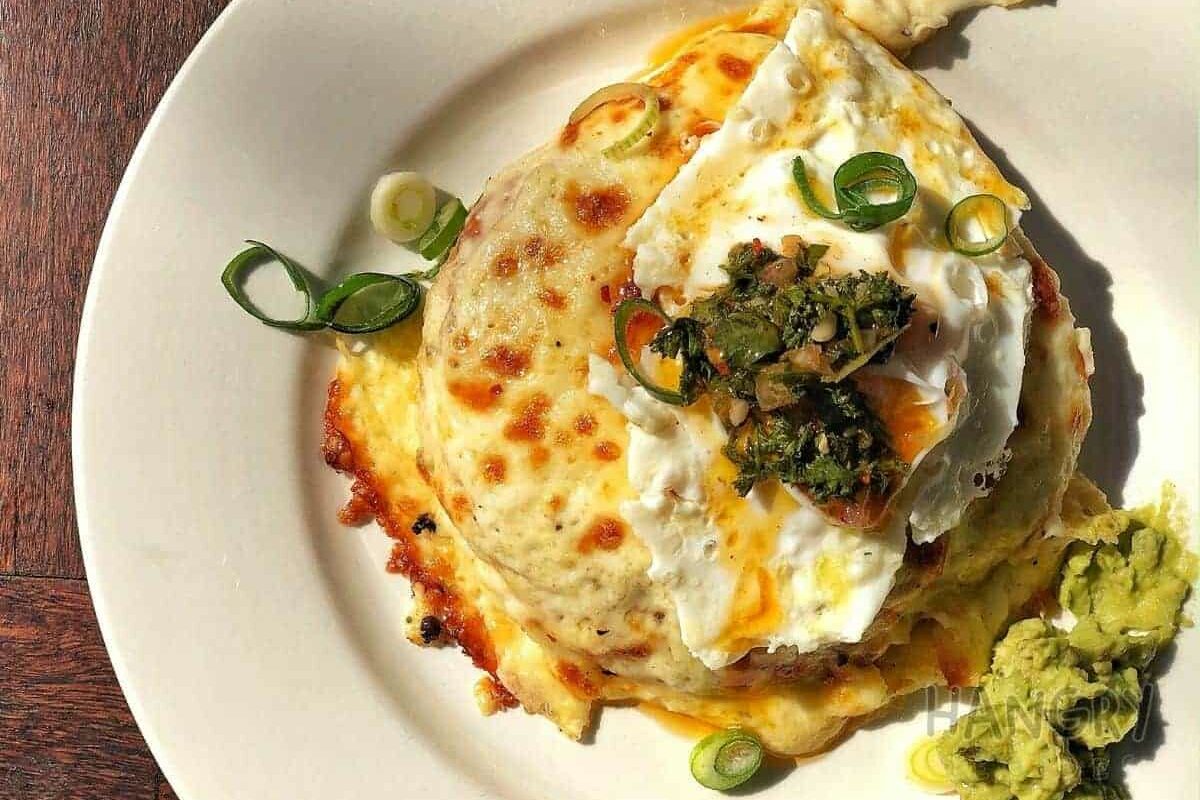 Ingredients
Bechamel Sauce
½

cup

Milk (Preheated)

½

cup

Grated Mozzarella

1

tbsp

tbsp Flour

1

tbsp

tbsp Butter
For the Sandwich
1

large

Cheese Roll

(Hamburger Roll)

1

Egg

1

slice

Ham

1

slice

Salami

½

Spring Onion

Chilli Flakes

(Optional)

Chimichurri, Basil or Avocado for garnish.
Instructions
Grate cheese, slice spring onion & basil.

Preheat the grillIn a small saucepan, on low-medium heat, melt down the butter.

Add the flour and mix into a paste. Whisk continuously on a medium heat for 2-3 minutes to cook out the taste of the flour. You do not want the mix to turn brown as this will change the flavour.

Add the milk 2 tablespoons at a time, whisking together into a silky paste before adding more milk. Repeat this until all the milk has been added. If you add the milk too quickly you will end up with a lumpy sauce. 

Bring this mixture to a boil, add salt and pepper to taste and immediately reduce the heat and cook for a further 3 minutes before setting aside for later.

Cut your bread roll in half, add 2 tablespoons of your Béchamel (White Sauce) to the bottom half of the bread followed by your ham, salami, half of your spring onions and half of your cheese.

Replace the top half of the roll and place into a toasted sandwich machine. This will flatten your sandwich whilst browning the bread and adding some crunch. A preheated oven (200°C) will do a similar job.

When the sandwich is desirably toasted (+- 4 minutes) move it to a baking tray.

Pour the remaining Béchamel, then add mozzarella, spring onions and lastly chilli flakes over the top of the sandwich.

Place into the middle of the oven (so that it does not burn the cheese) and allow to grill for 5-10 minutes, removing when the cheese is starting to brown and bubble.

Whilst the sandwich is grilling fry your egg sunny side up or to your taste and set aside.

Remove from the oven, place the egg on top of the sandwich and season with salt, pepper and your choice of chimichurri or fresh basil.
Not satisfied yet? Keep searching for delicious recipes here.